Official Statements
EPHLA and EHF sign Memorandum of Understanding
EPHLA and EHF sign Memorandum of Understanding
The European Handball Leagues are one of the groups of stakeholders which is part of the Professional Handball Board (PHB).
The general assembly of the European Professional Handball Leagues Association (EPHLA) took place in Sant Joan Despí (Barcelona/ESP) on 17 February 2011.
At that occasion the EPHLA presented new statutes, which are in conformity with the requirements of the European Handball Federation (EHF).
The EPHLA consists of the handball leagues of the following seven European countries: Austria, Denmark, France, Germany, Norway, Spain and Sweden. According to the new statutes also joint members will be allowed.
At the general assembly the EPHLA a new Executive Council with President Reiner Witte (GER) and Vice President Arne Josefsen (DEN) was elected.
On behalf of EHF President Tor Lian, EHF Vice President Jean Brihault and EHF Secretary General Michael Wiederer signed a Memorandum of Understanding with the EPHLA.
This document lays the foundations for the participation of representatives of the leagues as the third concerned party at the next meeting of the PHB on 9 March 2011 in Vienna. The EPHLA will be represented by their Executive Council.
At the occasion of the general assembly of the EPHLA the EHF also started talks with the European Handball Players Union (EHPU), representing professional handball players, in order to provide a mutual basis.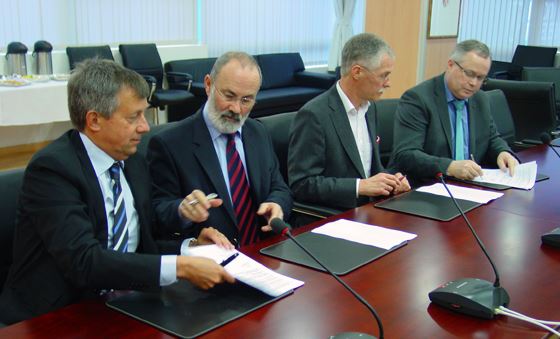 The Signing of the Memorandum of Understanding, from left to right: EHF Secretary General Michael Wiederer, EHF Vice President Jean Brihault, EPHLA President Reiner Witte, EPHLA Vice President Arne Josefsen (DEN)