EHF Champions League
Four legends put the VELUX EHF FINAL4 under the microscope
Thierry Omeyer, Dominik Klein, Laszlo Nagy and Victor Tomas have all travelled to LANXESS arena many times, and all of them lifted the EHF Champions League trophy in the arena at least once.
The French goalkeeper won the first ever EHF FINAL4 – "the craziest handball event you could imagine at that time" – in 2010 with THW Kiel, while Klein made it to Cologne seven times, taking two wins, in 2010 and 2012.
Nagy was part of the winning Barcelona team in 2011 and made it with Veszprém several times, while Victor Tomas returned from Cologne as a winner twice, in 2011 and 2015.
All four take a deep look at the upcoming VELUX EHF FINAL4 2020 and share their opinions.
What does it take to become VELUX EHF FINAL4 champions?
Dominik Klein: "You need to have two high-class performances within 24 hours if you want to win the FINAL4 – sometimes even more than 60 minutes per match. You need a deep squad and you have to get into this flow. And sometimes you need to be the underdogs, if you want to win in Cologne – or you must be clever enough as the favourites. But this year, there are definitely no underdogs, only potential favourites."
Laszlo Nagy: "Good luck and good games. Anything can happen during the weekend. All four teams want to win and only nuances decide who is the best. You need to focus on your own game and the goalkeepers have to be in their best form."
Victor Tomas: "What you need to win in Cologne is to be very consistent in your game both days because you're playing great teams – the best in Europe. Defence and goalkeeping need to be on a high level. I think the team with the best percentage in the goal are the team who will get the trophy at the end of the day."
Thierry Omeyer: "You have to be able to handle two top-level games in two days, with many twists in the scenario. Often, games in Cologne are played on details in the very last minutes, so it's mandatory that you keep focused for 60 minutes in order to win. Players have to keep their heads cool, to keep their heads up if the game turns out different than they thought it would, because anything can happen at the FINAL4."
Which team will win this edition and why?
Dominik Klein: "This is a really tricky question, to look into the crystal ball, as you do not even know right now which players will be on court in Cologne, due to Covid or quarantine. The decisive point is to have a deep squad and all four teams can count on many top players – this is the top of the top of handball. But to be more precise: Ultimately, Barcelona are the most eager to make it this year, though I am sure that THW Kiel can play a big role. So I go for a final Barcelona versus Kiel. In the end, a kind of 'psychological urgency' speaks for Barcelona. But again: There are no underdogs this time, all four are favourites – the current biggest teams are on court in Cologne."
Laszlo Nagy: "I am not going to guess, because usually it does not work out. Interestingly, in the last couple of years, the most underestimated teams have won. Barça are in great form this year as well, however we [Veszprém] can also not complain. Naturally, Paris Saint-Germain Handball and THW Kiel will play in Cologne and not just by accident. From my heart, I want to see our players from Veszprém celebrate, but for that, we need to defeat ourselves, tear down our walls. Whichever squad has the best performance between the posts and has the best mental condition in those 48 hours will triumph. You need to be confident and to believe in yourself to succeed."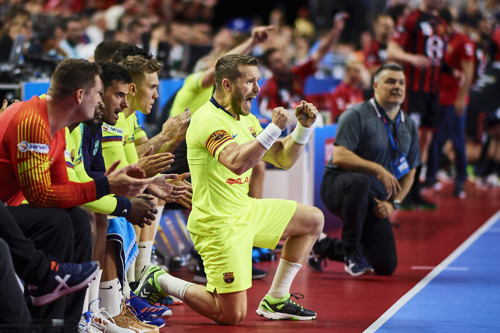 Victor Tomas: "I think, I hope and I wish the champions will be FC Barcelona. I think they're the strongest team at the moment but, as we know, talking about favourites in Cologne is almost a joke because sometimes it just happens that the team who started the competition as the underdog is the team raising the trophy the last day. I think the strongest team is Barcelona but all teams can win the competition."
Thierry Omeyer: "Predictions are not something I'm fond of. Four amazing teams will be in Cologne – maybe the four best teams in Europe right now, from four great clubs as well. It's almost impossible to say who will win the title, but I'm sure there will be two exciting semi-finals on the court."
Who will be named MVP?
Dominik Klein: "I have two options: It could be Niklas Landin, because he was the one who steered Kiel to the final, but it could also be Aron Palmarsson in this great final against his former club. So, I go the easy way: Landin gets a new award as best goalkeeper and Palmarsson will be the MVP."
Laszlo Nagy: "It is impossible to say right now. This year had huge challenges for each team. Anybody could be named, from any club – there are not only one or two great players in the sides."
Victor Tomas: "I have two players that I think have the quality and the consistency to be the MVPs and I wish for them to be the MVPs because I'm close to them: I think maybe Dika Mem or Gonzalo Perez de Vargas. And if they are, of course, it will be very good news for me and for Barça. I want them to win the trophy."
Thierry Omeyer: "I don't want to do predictions there either. There are so many good players in all four teams that it's so hard to know who might be picked."
Where will you watch the VELUX EHF FINAL4 2020?
Dominik Klein: "The best option, of course, would have been in LANXESS arena, but this is not possible this year. So I will be at home, sitting in front of the TV with my family and watching the matches on Eurosport Germany."
Laszlo Nagy: "I would like to be there with the guys as much as possible. I want to help them live as the FINAL4 is the biggest club event in handball."
Victor Tomas: "I will be in LANXESS arena as a commentator for Esport 3 TV, the Catalan TV. I will be close to the team and competition. It's going to be very different for me. I will suffer much more than I did in previous years as a player, but I need to be at an event like that – close to the team and close to handball."
Thierry Omeyer: "This year will be my first FINAL4 as part of the staff for Paris Saint-Germain. This will be a whole different experience for me, from the stands. I want my club to win as bad as I did when I was a player but, when you're watching the game, once the ball has been thrown off, there is nothing you can do anymore. I do everything in my power for the players to have every chance to win the game but, when you're watching it, you still don't get the same adrenaline as you used to get on the floor. It's different, but I'm still very much looking forward to travelling to Cologne."