World Championship
France take on Qatar in World Championship Final
France take on Qatar in World Championship Final
EHF EURO 2014 champions France will face host country Qatar in the final of the 24th Men's World Championship.
The participants for Sunday's encounter were decided on Friday, when Qatar became the first nation outside of Europe to get this far, thanks to a 31:29 win over Poland in the first semi-final, while France overcame Spain 26:22 later in the evening.
Poland held a two-goal lead several times within the first quarter of an hour against Qatar at Lusail Multipurpose Hall in Doha.
Already before half-time, however, the hosts had managed to turn the tide and went 16:13 ahead after the first 30 minutes.
After the break, Qatar extended their lead to five goals, and although Poland did their best to fight back into the game, they were never closer than two goals down. Qatar held on to that lead until the end and the scoreboard read 31:29 to Qatar.
"As Poland have never lost a second half at this championship, we realised that we would probably need a two or three goal lead at half time, and fortunately we did," Qatar coach Valero Rivera said.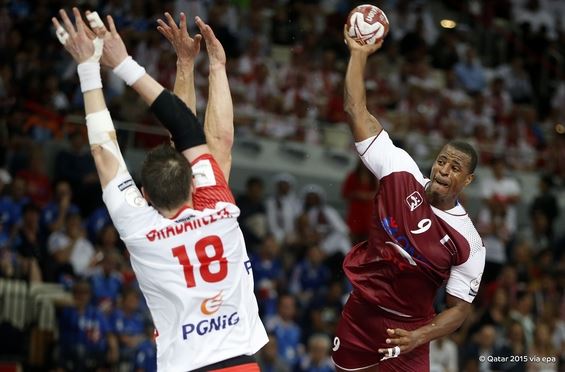 The second semi-final between 2011 world champions France and 2013 title holders Spain became an intense and physical, but at times also very well-played affair, particularly in the first half, where France soon got the upper hand and went ahead 12:7.
At half-time, 'Les Bleus' were still leading by four, 18:14, but in the second half, the Frenchmen had increasing scoring problems and Spain came back within one goal.
However, the scrappy second half opened up in the final minutes, allowing France to close the match at the end and win 26:22, partly due to an outstanding performance by goalkeeper Thierry Omeyer.
"We are used to playing tight and physical matches against Spain and we are also used to one player being the deciding figure in the last minutes. This time, this deciding figure was Thierry Omeyer," said France coach Claude Onesta after his team's triumph.
Poland and Spain will meet in the bronze medal match in Lusail on Sunday at 14:30 CET, while the final between France and Qatar will be played in the same arena at 17:15 CET.