EHF Champions League
Key players in different positions set to clash
Key players in different positions set to clash
When Viborg HK and Metz Handball come face to face in main round Group 2 of the Women's EHF Champions League on Monday evening, two of the key players will know each other well from a recent meeting
Viborg´s Swedish international Isabelle Gulldén and Metz´s Dutch international Yvette Broch ran into each other back in December, as Sweden and the Netherlands drew 30:30 in the preliminary round of EHF EURO 2014.
"I remember that match and that draw very well, and I definitely also remember my meeting with Yvette Broch on that occasion," 25-year-old Isabelle Gulldén tells ehfCL.com.
"Broch was a tough opponent in that match, and I am sure she will be just as tough to deal with Monday," adds Gulldén, who expects to get a lot to do with Broch, although they play different positions, Gulldén being a playmaker and Broch a line player.
"I expect to run into her a lot in our attack, as she is playing in central defence, and I also expect to meet her a lot in our own defence, where she plays on the line in their attack."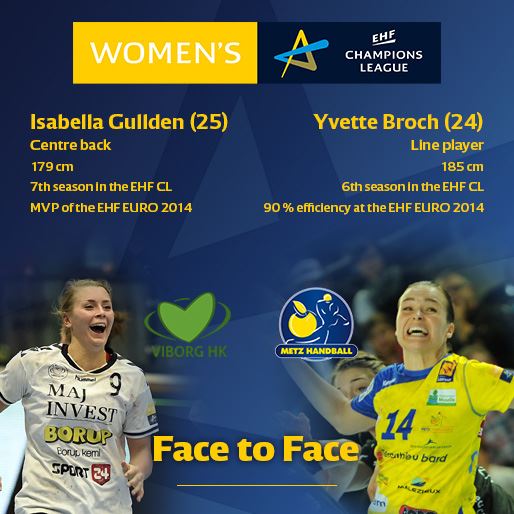 Mutual respect
There is mutual respect between the two players before their meeting in Viborg Stadionhal.
"Isabelle Gulden is probably one of the best players in the world right now. She totally deserved her EURO MVP title. Even though we don't play on the same position, I really like the way she leads her team. We managed to defend well against her at the EURO, forcing her to take shots from outside the 9m line.
"But the problem with players as strong is that she is able to find solutions all the time. Playing against such girls forces you to become a better player, and to evolve faster," says Broch about her Swedish adversary and Isabelle Gulldén does not hesitate to return the compliment.
"Yvette Broch is very difficult to play against, partly because she is so tall (185 cm) and physically strong. She is a very good reader of the game and this also makes her good at intercepting the ball.
"Her height and her ability to move at the line also makes her quite easy for her teammates to find in that attack," responds Gulldén in her analysis of the Metz player.