EHF Champions League
Glassverket quietly confident in evenly matched group
Glassverket quietly confident in evenly matched group
For the second year in a row, Glassverket host a qualification group for the Women's EHF Champions League.
This coming weekend, three national champions – Turkey's Ankara Yeminahall BSK, Croatia's HC Podravka Vegeta and Netherlands' SERCODAK Dalfsen – will be joining last season's runners-up in Norway for Quaification Group 1 in Drammenshallen.
"I see the group this year as more equal than the one last year," says Glassverket´s head coach, former Norwegian international Geir Oustorp.
"Last year, Györ (Audi ETO KC) were in our group, and already when the draw place them in our qualification group, we knew that there would not be much we could do," remembers Oustorp who was assistant coach in Glassverket last season.
"In fact, Glassverket were able to put pressure on Györ for a long time in the final of the qualification group last season.
The Norwegian hosts were leading 15:13, and it took Györ until the second half to find a way past their hosts and complete a nine-goal win.
However, the team that will take the court on the weekend will have a different look compared to last season.
Back court players Kristin Nørstebø, Jeanett Kristiansen and Kari Bratset have all left for Norwegian league rivals Vipers Kristiansand, while left wing Hege Bakken Wahlquist has joined Danish side TTH Holstebro and Swedish national team goalkeeper Martin Thörn has signed on for Danish Champions League participants FC Midtjylland.
Icelandic international Birna Berg Hararldsdottir from Swedish IK Sävehof is probably the most prominent among the newcomers to the squad.
A slightly weaker, but deeper squad
"You could probably say that we have lost our top players, but in return, our squad has become deeper.
"However, if we had the same team as last year, I would see us as favourites to reach the group matches.
"As things are now, I see us, Ankara and Podravka as the three teams who will have to decide the group phase ticket among us. I do not see Dalfsen as being strong enough to mingle there," Geir Oustorp tells ehfCL.com.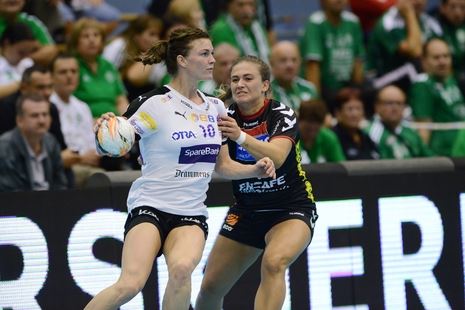 "Of course, it would mean a lot to us to qualify.
"I was coach in Byasen, when they were in the Champions League, and I know how much it develops the players to play those matches.
"Qualifying for the group matches would mean a lot to the club and to the town, and would also mean a lot to Norwegian handball to have a team in the group matches besides Larvik," finds Geir Oustorp, who can look forward to meeting Buducnost, Thüringer HC and Metz Handball in Group A, should his team win this weekend.
"Of course, that would be an extreme challenge, but it would also be a great challenge for our team and develop our players a lot.
"First, however, we will have to qualify, and that will be hard enough!" he says.
Strong Turkish opposition
In order to keep their hopes alive, Glassverket will have to overcome Ankara Yeminahalle in their first match Saturday.
"That will be a tough task already.
"Ankara have a strong and experienced team with several foreign players in addition to the greatest star in Turkish women's handball, Yeliz Özel, so there is no doubt that this will be an extremely difficult match for our new team," says Oustorp.
If Glassverket overcome the Turkish hurdle Saturday, Oustorp expects Podravka to be waiting in the deciding match Sunday.
"Of course, Podravka has a proud history in the Champions League, but we also all know that Podravka are not what they once were.
"When I look at their current team roster, they do not have those prominent names they had in the past, but still, they will be another tough task to us, if we make it that far.
"However, playing at home is an obvious advantage to us.
"We are happy that we got the chance to host the group again, and that we did not have to travel to Croatia or Turkey.
"Furthermore, I expect us to get the same enthusiastic support from our home crowd as we did last year.
"Our spectators may be the deciding factor," hopes Oustorp.