EHF Champions League
Grubisic: "The pinnacle of my career"
Grubisic: "The pinnacle of my career"
CSM Bucuresti shook the world of women's handball on Sunday when they lifted the elusive trophy at their maiden Women's EHF FINAL4.

After heroic Clara Woltering claimed the award playing for title winners Buducnost in 2015, another magnificent goalkeeper was named MVP of the FINAL4.

With a staggering 20 saves in the semi-final and 18 in the final, CSM Bucuresti keeper Jelena Grubisic was the unsurpassable barrier in goal as she wrote the final chapters of CSM's fairy tale in Budapest.

With a huge smile on her face, rightfully holding the shiny MVP trophy, Grubisic fought emotions while reflecting on the amazing season.

"We've had a crazy season, and this a marvellous feeling. It looks like we've surprised everyone – although I have to admit that we haven't surprised ourselves," says the 29-year-old.

"We have already won trophies as a team, and our players are top class. However, everything came together in these two days resulting in us showing the handball we're able to play.

"This is really a fairly tale finish, after all the things that happened this season. We finished the main round in fourth place. Back then we were practically written off by everyone, and the label 'outsiders' followed us throughout, but deep in ourselves we knew we could do it."
A difficult road

The 2015/16 season was no bed of roses for either CSM or Grubisic. The talent was there, but it was not until the knock-out stage that all the pieces came together to form the well-oiled machine seen on court in Budapest.

CSM's road to the trophy epitomises Grubisic's career, as the goalkeeper endured very difficult times due to recurring injuries in past seasons.

After her Women's EHF FINAL4 performance it is clear Grubisic's injury woes are well and truly gone, but what exactly did it take for Grubisic to fulfil her potential, after coming to CSM to recover, with a mission to rediscover her form and claim her rightful place among the best in the game?

"I came here in a difficult stage of my career: In a new club, recovering from a difficult injury. It took a lot of work, support and patience to overcome everything, and I owe it all to this team," says Grubisic.

"I did not know how it would turn out, but our goalkeeping coach Linus was extremely supportive and contributed a lot to my form this season. I am the one to take the individual award, but it actually belongs to the entire team."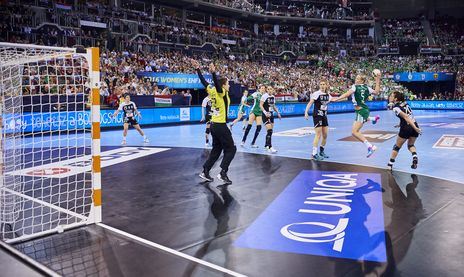 To complicate Grubisic's individual challenges, the Romanian champions took the hardest path to the FINAL4, having to overcome turmoil within the club and facing top contenders Rostov-Don in the quarter-finals after finishing fourth in the group at the end of the main round.

That was when everything changed for the newly-crowned champions, who defeated three-time FINAL4 participants HC Vardar and two-time EHF Champions League winners Györi Audi ETO KC to claim their first-ever European title.

"This is truly a dream come true and a pinnacle of my career. I am overjoyed and thankful to everyone at the club for being able to be here and achieve this," says Grubisic.

"Working with Kim Rasmussen is an amazing experience. We've had so many problems this season, starting with the injuries and departures, and taking the hardest possible road to the FINAL4 as well.

"We've all done a great deal of work this season – had so many obstacles to overcome, but believed throughout, and here we are. The reward [indicating the trophy] is as big as my arm," laughs the MVP.

"We had no plans whatsoever"

Upon securing the Women's EHF FINAL4 berth, playing in, let alone winning the final, was not expected – other than perhaps by coach Kim Rasmussen.

"Honestly, we had no plans whatsoever. The only thing we knew was it was going to be difficult, as it was, but in the end, one penalty shot decided," says Grubisic.

"We only came here to play without pressure and enjoy our game, which is what the coach asked us to do."

"Honestly I think my semi-final performance [20 saves] was even better than today [Sunday], as I conceded several fluke goals in the final. But that's exactly why we have our rotation.

"I know Györ, but they also know me, so the advantage annuls itself," said the goalkeeper, playing down any significance of rivalry.

"Competition is always a good thing. Our goalkeeping tandem is functioning perfectly. We all work hard to help and improve each other. This is a team sport, and it's not important who's better, but how we can function as a team,"

The win, especially the MVP performance, was a special feeling for Grubisic, being a former Györ player (2014/15). But the jovial goalkeeper made friends everywhere she went, and the congratulations therefore came from all over, with her former teammates among the first.

Andrea Lekic, one of Grubisic's closest friends and a former teammate, was one of the first to congratulate the goalkeeper via Instagram, right after the game.

After the historic victory Grubisic looked forward to the many post-match celebrations, in Budapest and Bucharest, to follow:
"I only want to celebrate this success and not care about the morning after. Tomorrow we take the trophy home to join another celebration."