Media Releases
Handball Challenge to promote at the EHF FINAL4
Handball Challenge to promote at the EHF FINAL4
Vienna/Berlin, 03 May 2010 – The German games and software developer Neutron Games GmbH has agreed to cooperate with EHF Marketing GmbH during the EHF FINAL4, the new final phase of the EHF Champions League, which will see Europe's top four club sides meet in the LANXESS arena, Cologne on 29-30 May 2010 in front of over 19,000 people.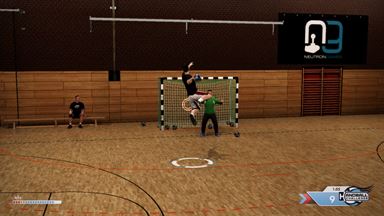 Neutron Games will use the opportunity to present their new computer game, which is going to be released in 2011. "Handball Challenge" is one of the very first handball action games to be produced. At the EHF FINAL4 fans will have the great chance to test the trial version "Handball Challenge Training Camp", designed as a free mini-game series, right at the booth of Neutron Games.
EHF Marketing's Managing Director, Peter Vargo, commented on the deal: "Handball Challenge is new, creative and attractive, in this respect similar to the EHF FINAL4. The event in Cologne will be an optimal platform for the company to present their product to handball fans from across Europe."
Björn Kaminski, Managing Director of Neutron Games, is looking forward to meeting the fans in Cologne: "The biggest club handball event of the year will be a great opportunity for us to meet an international audience and present our game Handball Challenge to them. The great atmosphere of the inaugural EHF FINAL4 will surely contribute to our success with the fans."
About Neutron Games
Neutron Games was officially founded in 2009 in Berlin, Germany. Already since 2007 the two founders, Gregor Ilg and Björn Kaminski, are taking care of building a video-game company in order to develop interactive software for handball. In 2009 the young company was able to win the Serious Games Award of Berlin for a concept regarding a game to learn and teach the sport of handball. The company is funded by Investitionsbank Berlin, the Medienboard Berlin-Brandenburg, the European Regional Development Fund and a private investor. Neutron Games is partner of numerous companies, handball clubs and the German Handball Bundesliga (TOYOTA HBL). For more information see www.handball-challenge.com.
About EHF Marketing GmbH
EHF Marketing GmbH is the marketing arm and daughter company of the European Handball Federation. The agency works closely with marketing and media partners, as well as with Europe's leading clubs to realise the full potential of the sport on the international sports market. EHF Marketing GmbH is responsible for the marketing and media rights of the Men's and Women's EHF Champions League.
Contact:
JJ Rowland
EHF Marketing GmbH
Tel: +43-1-80151218
e-mail: rowland@ehfmarketing.com
Björn Kaminski
CEO, Neutron Games GmbH
Tel: +49 30 46 30 72 22
e-mail: b.kaminski@neutron-games.de