EHF Champions League
Kavticnik fulfilling FINAL4 promise
Kavticnik fulfilling FINAL4 promise
When Vid Kavticnik and Nikola Karabatic came to Montpellier nine years ago, they had one big goal: playing the VELUX EHF FINAL4.

"We kind of promised to ourselves we would go to Cologne. And now it is happening - even though we are not with the same club anymore," says Kavticnik.

While the Slovenian right back has never left Montpellier since, his close friend Karabatic won the Champions League with Barcelona in 2015 and is currently one of the leading players with Paris Saint-Germain Handball.

"Getting to Cologne is something big in a career"

Finally qualifying for the VELUX EHF FINAL4 has been a huge achievement for Montpellier.

"It is exceptional. We have been close two or three times before but failed," Kavticnik says. "It is so hard to get a ticket to Cologne that having this opportunity once is already something big in a career."

Even though he has not yet played in the LANXESS arena, Kavticnik is no stranger to EHF Champions League success.

Before joining Montpellier, he was still a young right wing in the north of Germany when he won European club handball's most coveted trophy with THW Kiel. The German side won it in 2007 and played the final each of the two following years - before the FINAL4 format was introduced.

"To me, the 2007 success is a very good memory, especially since it was the first time for Kiel winning the Champions League. Playing the final of such a competition is like a turning point in a career," Kavticnik says.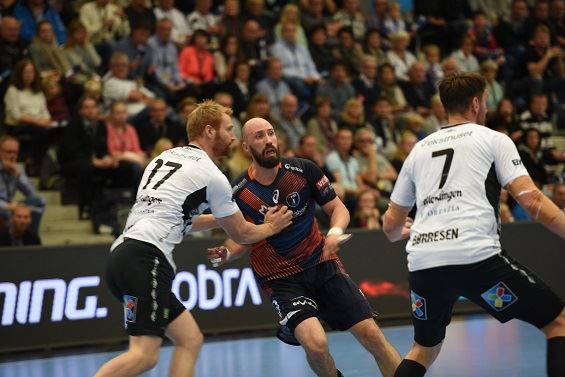 Now he hopes to help the 2003 champions to get to another final. In order to do so, Kavticnik and Montpellier will have to overcome the title holders, HC Vardar, in the semi-final on Saturday at 18:00 hrs (live on ehfTV.com).

"We sure are not coming on holidays to Cologne. We are very glad to be among the four best teams this season, but that doesn't mean we will just enjoy the weekend," says 'Vidko', who turns 34 on Thursday. "We want to play a part, and even if Vardar are an excellent team, we will do our best to beat them."

Montpellier had been looking upon a FINAL4 ticket for quite some time now. In 2010, the first season with Kavticnik on the squad, the French side lost to Chekhovskie Medvedi on a penalty shoot-out. And last year, MHB were close to overcome Veszprém but fell short in the end.

"We learned from out mistakes"

"We were frustrated by how things turned out last season. But we learned from our mistakes and gained some experience," Kavticnik says. "I think it is no surprise that we played our best game of the season in the return against Flensburg. That time, we just knew what we had to do."

It will be another important international game in the career of the Slovenian, who has been in a World Championship Semi-final and an EHF EURO Final before. This will be his first with Montpellier: "It will be different, but the energy and faith I will put in every minute that I am on court will be same."

This season Montpellier have become the first team to snatch a ticket to Cologne after starting their Champions League campaign in Groups C/D. While some might argue that this is possibly the easier way to get deep into the tournament, Kavticnik does not agree.

"We might not play against Barcelona or Kielce in the group phase, but we have got trips that are as exhausting. Going to Skopje or Istanbul is not exactly easy," he says, before recalling that Montpellier "beat Kielce, Barcelona and Flensburg in the past two seasons. We have definitely proven that our presence in Cologne is not a surprise."