EHF Champions League
Kiel take five goals to Spain
Kiel take five goals to Spain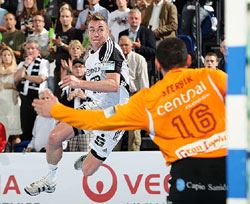 THW Kiel take a five goal lead to the re match of the Champions League Final to Ciudad Real.10250 spectators started a big party after the final whistle as the German champions won the first leg match by 39:34 (18:12). But none of the THW Kiel player wanted to say that the finals are decided right now.
"This was only the first half, we'll have to wait and see what will happen in Ciudad Real," Kiel wing player Dominik Klein said.
Ciudad Real had the chance for a better result until seven minutes from the end when they equalised at 32:32. But then Kiel started their furious run until the very end.
Filip Jicha, top scorer with 10 goals in total, scored three consecutive goals and brought Kiel a slightly big cushion for the second leg.
The match was on a very high level for 60 minutes. In total six Olympic gold medallists, 15 world champions and eight European champions were on the court. And they showed high speed handball at its best.
"Anyone could see that these are the currently best two teams in the world," THW captain Stefan Lövgren said.
His team started better and were in a 7:2 lead before Ciudad woke up and scored five goals in a row. Lead by goalkeeper Árpád Sterbik the Spanish champion improved and scored a lot of easy goals from counter attacks after Kiel mistakes. But the Germans fought back. Filip Jicha, who scored seven goals before the break, was unstoppable and Kiel again went away to the halftime score of 18:12.
As Marcus Ahlm had to leave the court after his third suspension, Kiel was shaken a bit. Ciudad reduced the gap again as the Frenchmen Luc Abalo and Jerome Fernandez (Ciudad top scorer with eight goals) played outstanding in the offence and the Ciudad defence stood like a wall.
Kiel couldn't break through anymore and the match seemed to turn at 32:32.
"But then we were the lucky ones in the end," THW coach Alfred Gislasson said. He added: "Five goals are not too many, but we're happy with them."
Last season Kiel had the lead after the first leg and (two goal-victory in Ciudad), but then lost the return game by five goals.
"We don't think about last season, we want to take our chance now. But it'll be hard work," Klein said after the match.
"I still hope that we can win the title again, but it looks very tough," Ciudad coach Talant Dujshebaev said.