EHF Champions League
Kielce crush Kiel, 14 Mlakar goals not enough for Celje
Kielce crush Kiel, 14 Mlakar goals not enough for Celje
After Veszprém took a lucky win against Flensburg on Saturday, PSG Handball marched in step with their second VELUX EHF Champions League win on Sunday, just leaving Brest behind.

The ehfTV.com Match of the Week saw a kind of demolition for THW Kiel, as PGE Vive Kielce claimed an impressive 32:21 victory.

THW remain on zero points like RK Celje Pivovarna Lasko, after the Slovenian side were defeated in Aalborg despite 14 goals from Zika Mlakar.

• After the Champions League opener against Paris and the Bundesliga match in Wetzlar, the Match of the Week is Kiel's third straight defeat within eight days – and the weakest start to Europe's top competition ever in Kiel's history
• Top scorer Karol Bielecki (eight goals) leads Kielce to their biggest ever win against Kiel
• With 14 goals, Zika Mlakar (Celje) sets a goal record for the new season and tallies 22 after two matches
• PSG are boosted by seven goals from Uwe Gensheimer and six from Sander Sagosen against Brest
• Paris open the season with two victories for the first time since the implementation of the current format in 2015/16
GROUP B
Aalborg Handbold (DEN) vs RK Celje Pivovarna Lasko (SLO) 32:30 (15:13)
It was a pure thriller with a happy end for the hosts, who lost their opener at Flensburg last week. Until the 58th minute, Celje were still hoping for their first point of this year's Champions League, but finally a strike by Jesper Pedersen one minute before the end sealed the deal for Aalborg - despite 14 goals from Celje's top striker Zika Mlakar.
The first 20 minutes were almost a private duel between Mlakar and the hosts. With Celje ahead by 8:4, Mlakar had already scored six. But from minute to minute, the Danes improved, and finally profited from a two-man advantage in minute 23 to turn the match around and take their first lead at 12:11.
From that moment on, the match was on a nearly fully equal level. Celje constantly managed to equalise, even coming back from three goals down at one point.
When Matic Suholeznik received his third suspension (and a red card) with five minutes to play, Aalborg failed to score. But finally two straight goals from 29:29 opened the gate, and when Borut Mackovsek missed the last chance for the visitors, the party started, first on the stands, then on court.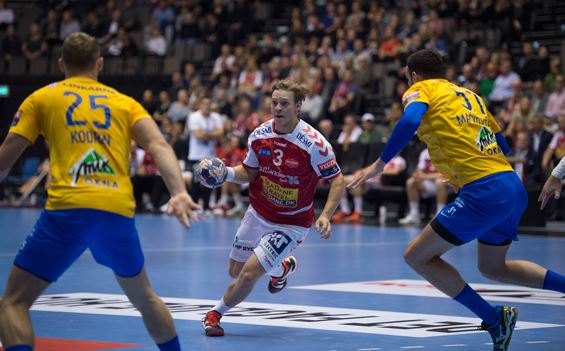 Tough match for Celje
Celje coach Branko Tamse said his team had expected a tough match.
"We started good, but we also had some bad moments. We came back and played well again after half-time despite being down by two at the break. We were in the match until the end and small things decided the outcome," he said.
Aalborg coach Aron Kristjansson praised his men's committment.
"It was a very important win for us in our first home game. It was a good game with high tempo, and the spectators had some good handball to enjoy. We found the right solutions in attack and we had some importants stops in defence," he said.
Paris Saint-Germain Handball (FRA) vs HC Meshkov Brest (BLR) 32:28 (15:14)
Despite his outstanding performance in the opening win at Kiel, Spanish goalkeeper Rodrigo Corrales did not start between the PSG posts. Instead five-time World Champion and four-time Champions League winner Thierry Omeyer showed his class, helping Paris to take a hard-earned win after an easy-going 5:1 start.
Brest were not impressed by PSG's strong start. They had arrived full of confidence after beating 2016 Champions League winners Kielce in their opener.
In minute 16 the result was level at 8:8. At the break, the Belarusian champions were down by only one goal, as they clearly improved in attack.
Even another five goal advance was not enough to provide PSG with more confidence and stability.
Despite being down 18:23, Brest did not give up, but in this period had enormous problems to get past Norwegian superstar Sander Sagosen.
Finally the match was decided when Brest missed the chance to reduce the difference to only one goal difference at 22:24, and in the next two attacks were punished by a double strike from PSG top scorer Uwe Gensheimer and Mikkel Hansen.
When Paris had scored for their first six goal advance at 29:23, the deal was sealed. After their win at Kiel, PSG remain unbeaten with four points.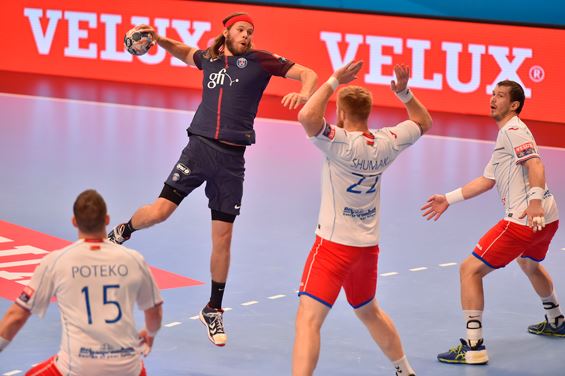 Focus pays off
PSG coach Zvonimir Serdarusic said he was happy with the result.
"I saw Meshkov's previous game and I warned my players about the skills of this team. I asked them to be very focused and they were," he said.
Brest head coach Sergej Bebeshko congratulated their opponents.
"Paris is a very strong team, one of the favourites for the Champions League title," he said. "It's hard to play against them. We did our best but we had too many turnovers and we didn't have a lot of luck as well."
PGE Vive Kielce (POL) vs THW Kiel (GER) 32:21 (18:11)

Five victories, one draw – this is, as of Sunday night, Kielce's impressive balance against Kiel in the last six matches.

Never before have the Polish champions beaten the three-time Champions League winners in a clearer way. Previously, a 34:29 result in the 2013/14 group phase was the biggest margin.

Thanks to Sunday's win, the 2016 Champions League winners overshadowed their 25:28 opening defeat in Brest, and are now equal on points with the Belarusian champions.

Kielce dominant from start to finish

In the absence of THW coach Alfred Gislason, who had to undergo urgent back surgery on Friday, former player Christian Sprenger and injured team captain Domagoj Duvnjak were the coaching duo. They saw an essentially helpless Kiel squad, while Kielce were clearly dominant.

The first key for the seven-goal advantage at the break was Kielce's 5:0 series from 6:5 to 11:5. In that period, Karol Bielecki was unstoppable, contributing to his total of eight goals.

Even with a one-man advantage, Kiel did not score – in contrast, they allowed two counter attack goals for the score of 9:18.

At the score of 17:23, it looked a bit better for the 'Zebras' from Germany, but then Kielce found their rhythm, backed by vocal support from their constantly singing fans. The home team celebrated their first double-figured advantage at 29:19.

Kiel's only player in his usual form was left wing Rune Dahmke, who scored six goals.

In the end, it was Kiel's second biggest Champions League defeat, just behind the 24:42 loss in Paris last season.