EHF Champions League
Leon deny Velenje play-off berth in dramatic finish
Leon deny Velenje play-off berth in dramatic finish
Abanca Ademar Leon advanced to the VELUX EHF Champions League Group Phase Knockout with a late 30:25 win at Elverum Handball on Sunday, just an hour after Rk Gorenje Velenje had lost control over their own fate following a 35:20 defeat at Group C winners Skjern Handbold.
Leon advance after winning four of their last five group matches

Velenje miss out on play-offs despite winning all their home games

Skjern secure top spot with their biggest ever win in the competition

It's Skjern vs Zaporozhye and Montpellier vs Leon in the play-offs
GROUP C
Elverum Handball (NOR) vs Abanca Ademar Leon (ESP) 25:30 (13:13)
As Velenje were left with a chanceless defeat at Skjern, Leon had every chance to grab a play-off berth on the final day of the group.
But there was not a clear path for the Spanish side against Elverum, who shocked them in the first game between the two sides two months ago.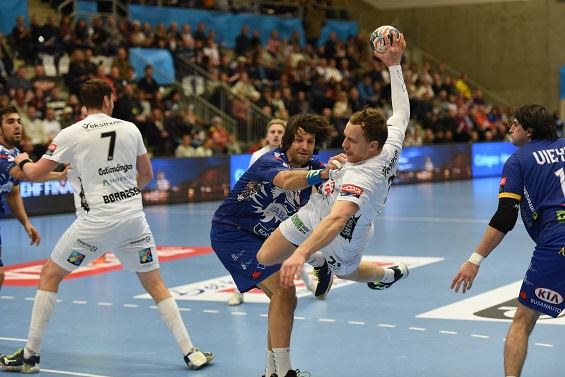 Elverum and Leon traded goals and exchanged the lead four times in the first half, with no team breaking the deadlock after 30 minutes. At 13:13, Leon were virtually out of the competition.
However, the Spanish side came out with their guns blazing in the second part. With David Fernandez and Mario Lopez unstoppable in attack, Leon built on a 4:1 run between the 42nd and the 46th minute to earn a thumping 30:25 win.
Leon's success was even more emotional shortly after the team had been confronted with the passing of their long-standing team manager, José Ludena, at the age of 53.
The team were told of Ludena's death on a stopover at Amsterdam on their way to Norway. The match against Elverum therefore started with a moment of silence.
Post-match statements:
Michael Apelgren, Elverum coach: "I think Ademar had a well-deserved win after what they have been through these last hours. I have big respect for what they were doing today."
Tine Poklar, Elverum right back: "Although this game maybe didn't mean so much to us, we still wanted to win in front of our fans. But today Ademar were better on the court."
Gonzalo Carou, Leon line player: "Tonight was a really difficult match after everything that happend before this game. I think we can do even better, and we show that in second half. We had so much to fight for tonight."
Rafael Guijosa, Leon coach: "We had a tough 24 hours before this game as we had trouble with our flight and we lost a good friend yesterday, so this game meant everything to us. When we knew that a victory would take us to the next round, we played as hard as we could."
Skjern Håndbold (DEN) vs Rk Gorenje Velenje (SLO) 35:20 (18:9)
Velenje had their fate in their own hands but faced an enormous challenge: taking at least a point from Skjern on their own court, with the Danish side being the best home team in the VELUX EHF Champions League.
The Slovenian team led for just 41 seconds as Skjern soon proved to be unbeatable. With slowing down both the game and Skjern's attack in mind, Velenje failed to apply pressure on their opponents in attack and paid with their worst loss of the season.
The hosts looked like having a walk in the park and jumped to an unassailable 18:9 lead at half-time.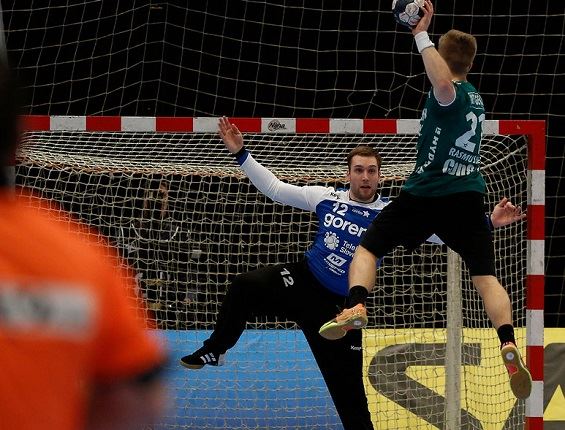 With backs Kasper Søndergaard Sarup and Markus Olsson in fine form, scoring for fun against the Slovenian side, Velenje could not claw back.
On the contrary, the gap grew further and Skjern earned another impressive win, 35:20.
It was Skjern's fifth consecutive win in the group. The Danish side overpowered their opponents by an average of 10.8 goals.
As winners of the group, Skjern will meet Ukrainian side Motor Zaporozhye, the runners-up from Group D, in the play-offs in February.
Post-match statements:
Markus Olsson, Skjern left back: "We were prepared for a difficult match but it turned out to be easier than we expected to win the game (...) It is hard to say what we can expect in the two games against Zaporozhye. No doubt that we are going to have two difficult and hard games."

Henrik Kronborg, Skjern assistent coach: "We expected a very difficult game today but fortunately we got a big lead early in the game. All in all through the group phase the players have been very consistent."