EHF Champions League
Leon victory adds even more spice to Group C
Leon victory adds even more spice to Group C
Drama has been guaranteed for the final three rounds in VELUX EHF Champions League Group C.
After midweek wins for Elverum and Skjern, Ademar Leon ousted Gorenje Velenje 28:24 on Saturday nigt to join Elverum and Velenje on eight points. Skjern are leading the standings with 10.
Leon took revenge for one-goal defeat to Velenje in Round 1

Velenje's Niko Medved was leading scorer with seven goals
GROUP C:
Abanca Ademar Leon (ESP) vs Rk Gorenje Velenje (SLO) 28:24 (15:13)
Ademar Leon earned an important home win over Gorenje Velenje after showing a very compact team display.
Juan Fernandez was on fire from the back court, scoring a wonderful flying goal in the 11th minute as Ademar Leon put the visitors under pressure.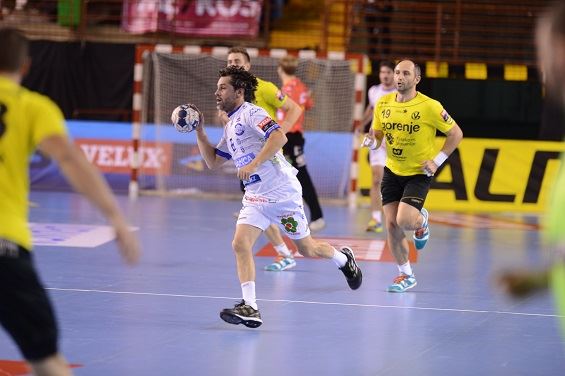 Together with Italian Federico Vieyra, they have been the most successful back court players for the hosts, firing 11 goals together.
Gorenje Velenje were left frustrated in the attacking department as they lacked pace and speed, and and confidence in one-on-one situations.
Leon pushed them back deep into the back court. Captain and left wing Niko Medved, who scored the winning goal in the teams' first meeting, was on fire again. But he could not build on his first half tally of six goals.
Unlike Velenje, which relied heavily on Medved, Leon had 13 players who scored at least once. All but one outfield player put their names on the score sheet.
Post-match statements
Zeljko Babic, Velenje coach: "I am sad to lose the game. We did not show our best side, we were not focused on the match, we made many mistakes in attack, we were soft in defence. We now have little margin in the next matches."
Rafael Guijosa, Leon coach: "It has been an almost perfect match. It gives us a lot of confidence to play a game like this. We thought about setting up a physical match to be competitive against them."
Nejc Cehte, Velenje right back: "We started badly, making mistakes in attack. And in the second part we lost many balls and made many mistakes. When you face Ademar, this is not enough."
Jaime Fernandez, Leon left wing: "We had a good defence. We knew it was going to be very physical."