EHF Champions League
Malovic: "Handball is my life, I do not see myself anywhere else"
Malovic: "Handball is my life, I do not see myself anywhere else"
With five wins and a draw it is safe to say that Buducnost stormed through the group matches of the Women's EHF Champions League, with the defending champion finishing ahead of CSM Bucuresti, IK Sävehof and MKS Selgros Lublin.
The final match against MKS Selgros Lublin was slightly marred by the absence of Dragana Cvijic and Majda Mehmedovic through injury and Radmila Petrovic through illness (mononucleosis/glandular fever).
However, the group matches marked the return on the field of talented right back Djurdjina Malovic after an eight month break due to a broken leg.
Djurdjina, a great promise for Buducnost, intended as a successor of Katarina Bulatovic, debuted in this season's EHF Champions League and played few minutes in the second half of the match against IK Sävehof, scoring her first goal in the competition.
"I am happy. Thanks to the whole team that has supported me at every moment," Malovic, an all-star team member at the Women's 17 EHF EURO 2013 in Poland, told ehfCL.com.
ehfCL.com: How satisfied are you with first minutes spent on the court after your recovery?
Djurdjina Malovic: Those long-awaited first minutes on the field; I was excited and happy at the same time. It was what it was, but one thing is for sure - I still have a lot to train and work on myself in order to reach my desired form.
ehfCL.com: How do you feel physically, was there any fear on the field after a long break?
Djurdjina Malovic: I try not to think about it, it is already in the past. The important thing is to stay focused and attentive at training sessions, therefore there will be no room for fear and negative thoughts. I am recovering slowly. I had a very difficult injury and it will take some time to get to get me where I was before. It is the only thing I cannot influence and accelerate. I'm training well and I'm positive, everything else will fall into place.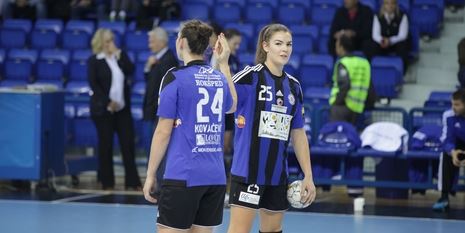 ehfCL.com: Was it difficult to get through such a long period without handball?
Djurdjina Malovic: Handball is my life, I do not see myself anywhere else. It was not easy, but injuries are part of sport and we have to come to terms with this fact. In the recovery period I was surrounded by positive people, first of all my parents and family, then by the whole team. They were with me and it meant a lot to me.
After everything, I can say that I'm mentally stronger and have a clearer objective for the new challenges ahead of me.
ehfCL.com: Due to your great talent, there are high expectations for your future in Buducnost. Is it a burden or additional motivation for you?
Djurdjina Malovic: I don't think about it. As I have already said, recovery is a priority for me and I am not obsessed with anything else. I have the full support of my coaches and my teammates in every sense.
ehfCL.com: Some huge names, Győri Audi ETO KC, Vardar and FC Midtjylland, await in the main round. In your opinion, can Buducnost defend the title this season?
Djurdjina Malovic: All teams are good and this year our rivals are tougher than last season. I have no doubts about our good energy and desire of every player to show their best on the court this season.
We will do our best to try to defend the title. It will not be easy, but we believe in what we do and we hope that we will get the right reward.