Inside the EHF
Neagu and Mortensen claim the November crowns
Neagu and Mortensen claim the November crowns
The EHF Players of the Month come from Romania and Denmark. Cristina Neagu from Romania and CSM Bucuresti was the winner among the women, and Casper Ulrich Mortensen from Denmark and Barca Lassa became a clear number one by the men, as the EHF journalists awarded November's best players in Europe.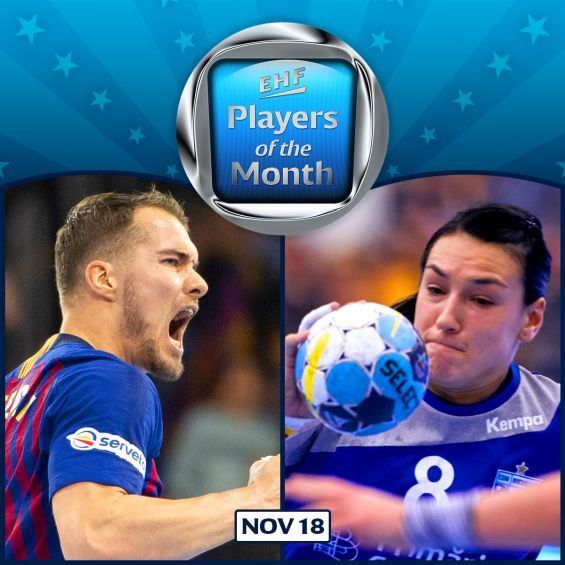 Neagu crucial to CSM
It has been an up-and-down season for CSM Bucuresti, who progressed for the main round of the Women's EHF Champions League with six points.

But it could have been worse for the Romanian champions if they did not have Cristina Neagu. The constant driving force behind the title challengers, Neagu scored 23 goals in November for CSM, as she has been leading the top goal scorer rankings this season after each round.

It is the second time when Neagu receives the award, after taking it in April 2017, when she was plying her trade for Buducnost Podgorica.

Her constant excellent outings on the court saw her thrice on the second place, including twice in 2018.

After the panel of experts recorded their votes, Neagu led the rankings, as FTC playmaker Aniko Kovacsics and Rostov right back Anna Vyakhireva closely followed.

"I am happy for this award, but now I am only focusing on the EHF EURO 2018, where Romania have a chance to go to the final weekend in Paris. We have to take it game by game, therefore I am not thinking right now about my club team and the Women's EHF Champions League. But we start again in January, so there is plenty of time about that," said Neagu.

The 30-year old Romanian ace, who is also the captain of the Romanian team, has scored 28 goals in the first four games in France, and has also pried the all-time top goal scorer record at the EHF EURO from Hungarian sharpshooter Agnes Farkas.

Farkas, who scored 205 goals in her career, was leapfrogged by Neagu, who is now on 221 goals.
Read more about the Women's EHF EURO 2018 here

Perfect conclusion to great autumn
"A perfect conclusion to a great autumn, where we have done great in Barca.
"However, we still have plenty of work ahead of us in 2019," said Casper U. Mortensen who won the award as Men's Player of the Month clearly.
Another wing, Swedish shooting star Valter Chrintz who plays the right wing in IFK Kristianstad came in second with a another left hander, French right back Melvyn Richardson from Montpellier HB in third position.
Not only November, but actually the entire autumn season has been one long streak of success for Casper U. Mortensen who joined Barca Lassa from German Bundesliga club TSV Hannover-Burgdorf this summer.
"I loved the Bundesliga, which is the strongest league in the world, but along came a club who changed everything, and even though it was a tough decision, I am glad that Barca were willing to buy me out of my contract," said the 28-year-old left wing who has played an impressive first half of the season in the Spanish powerhouse and who is also Danish national coach Nikolaj Jacobsen's first choice in the left wing position in the national team.
Mortensen, who is married to Danish TV2 journalist Stine Bjerre Jørgensen, is known a great part for his efficiency on steals and fast breaks as well as for his reliability on penalties, but he is also very good from his wing position in his team's established attack.
These qualities also makes him one of key players, on whom Nikolaj Jacobsen relies the most at World Championship in Germany and Denmark this coming January.
In the VELUX EHF Champions League alone, he has scored 56 goals so far, and has played his great part in Barca leading Group A five points ahead of second placed HC Vardar at the winter break.

EHF Player of the Month – November 2018
Women
1 - Cristina Neagu (ROU) – CSM Bucuresti
2 - Aniko Kovacsics (HUN) – FTC-Rail Cargo Hungaria
3 - Anna Vyakhireva (RUS) – Rostov-Don
4 - Eduarda Amorim (BRA) – Györi Audi ETO KC
5 - Noemi Hafra (HUN) - FTC-Rail Cargo Hungaria

Men
1 - Casper U. Mortensen (DEN) – Barca Lassa
2 - Valter Chrintz (SWE) – IFK Kristianstad
3 - Melvyn Richardson (FRA) – Montpellier HB
4 - Roland Mikler (HUN) Telekom Veszprém
5 - Nico Rönnberg (FIN) – Riihimäem Cocks