EHF Champions League
New-look Larvik seeking continued Champions League success
New-look Larvik seeking continued Champions League success
In 2011, Larvik were Champions League winners. Later on they made it to the finals twice – but now that most of their previous top stars either have left or retired, a completely new team takes the challenge to improve on international ground.
Three questions before the new season:
Will Larvik remain among the top eight Champions League participants?
Except in the 2008/09 season, the Norwegian record champions have always been among the best eight teams of the Women's EHF Champions league – regardless of the playing system.
This season, it will be a steep climb to make it that far again, as save for Linka Riegelhuth-Koren nearly all the club's experienced players have said goodbye to Larvik HK.
"We have a brand-new team this season. We are young and hungry, and we are very excited to start. We need the experience that the Champions League will give us with this new version of Larvik. We can bring on some upsets with this young and talent filled team," hopes new team captain Thea Mörk.
Who will be the new leaders in the team?
Mainly Riegelhuth-Koren, Thea Mörk or new arrival Cassandra Tollbring. But it will be really hard to replace the armada of top stars such as Marit Malm Frafjord (who has joined CSM Bucharest), Amanda Kurtovic (CSM Bucharest), Sanna Solberg (Team Esbjerg), Sandra Toft (Team Esbjerg), Alina Wojtas (Zaglebie Lubin) or the retired trio Gro Hammerseng-Edin, Karoline Dyhre Breivang and Anja Hammerseng-Edin.
Can Larvik stand the heat on domestic ground, mainly against the bolstered Vipers side from Kristiansand?
While Larvik lost some important stars, its domestic rivals have bolstered their squads. Former World Handball Player Heidi Löke and left wing Camilla Herrem have returned to their home country, and other clubs, especially Vipers Kristiansand – including top newcomer Katrine Lunde – have the aim to dethrone the "eternal" champions and cup winners Larvik. Moen & Co. have a demanding challenge ahead in national competitions.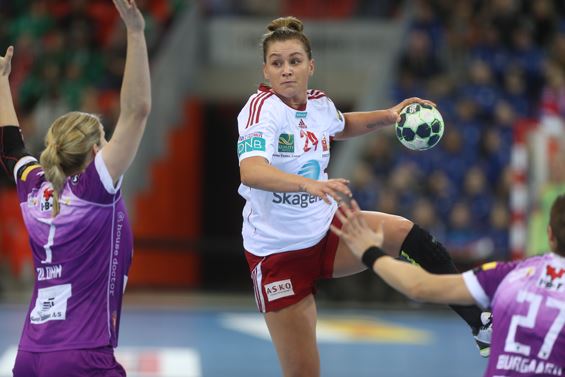 Under spotlight: the Brazilian duo
Since the first experience, when a huge number of Brazilian players joined Hypo Niederösterreich, the number of players from the 2013 World Champions' country in European top clubs has constantly increased. After goalkeeper Gabriela Goncalves joined Larvik in the 2016/17 season – and now will fight for the No.1 position with Guro Rundbraten after the departure of Sandra Toft - her compatriot Tamires Morena (from Dijon) is among the new arrivals. The Rio-born line player made her first steps in Europe at Györ, where she played in the 2014/15 season.
Self-esteem
As mentioned, a 2.0. version of Larvik HK started its mission this season.
"We need to collect international experience as a team, as some of our players individually have this experience already," says head coach Tor Odvar Moen, who expects a tough group. "Our main ambitions is to proceed to the main round."
Moen adds: "Vardar is one of the contenders for the title. They look really strong this season, and are together with Györ my main favourite for the trophy."
Besides, FTC and Thüringer HC are "hard to leave behind". Thus, Moen expects "a great experience for our new and young team. But we will attack."
Thea Mörk is sure that "we will do absolute everything we can to get to the main round and be a pain and a plague to the other teams in the group". For her, Vardar is the main contender for the trophy.
"Their effort to create a massive team has been exceptional. I guess that the silver from last season sets a standard that only gold is acceptable for the girls from Skopje in May 2018," she adds.
Fun fact
Sisters and brothers make Larvik a kind of Champions League family affair: Thea Mörk's sister Nora is the star at defending champions Györ, while the brother of new arrival Cassandra Tollbring is Swedish international Jerry, who just joined German side Rhein-Neckar Löwen.
What the numbers say
After the Danish Champions League dominance of Slagelse and Viborg from 2003 until 2010, Larvik had been the by far most successful Scandinavian team in this competition. In 2011, they won the finals against Itxako (Spain); in 2013 they were part of the last finals in home and away matches (when they lost against Györ); in 2015 they made it to the FINAL4 final and were defeated by Buducnost.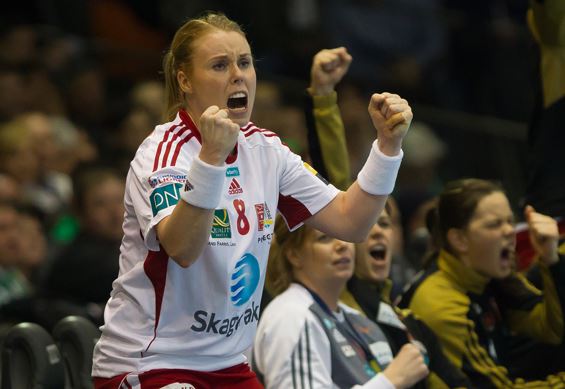 Larvik Håndballklubb (NOR)
Qualification for the 2017/18 EHF Women's Champions League season: Norwegian champions
Newcomers: Tamires Morena (Dijon), Cassandra Tollbring (H65 Höör), Emilie Christensen (Glassverket), Guro Rundbråten (Glassverket), Martine Wolff (Glassverket), Maria Hjertner (Byåsen), Mari Finstad Bergum (Gjøvik), Mathilde Rivas-Toft (Aker), Tonje Roth Berglie (Aker), Kamilla Røed (Flint), Marie Duvholt Kaspersen (jr. team), Samra Lupic (Flint), Therese Heidelberg (Jr.team)
Left the club: Marit Malm Frafjord (CSM Bucharest), Amanda Kurtovic (CSM Bucharest), Sanna Solberg (Team Esbjerg), Sandra Toft (Team Esbjerg), Alina Wojtas (Zaglebie Lubin) Alma Hasanic Grizovic (Storhamar), Vilde Ingeborg Johansen (Tertnes), Lena Løwe (Levanger HK), Gro Hammerseng-Edin (retired), Karoline Dyhre Breivang (retired), Anja Hammerseng-Edin (retired)
Coach: Tor Odvar Moen (since 2015)
Team captain: Thea Mörk
EHF Women's Champions League records:
Participations (including 2017/18 season): 19
Winner: 2010/11
Finalist: 2012/13, 2014/15
Semi-finalist: 2001/02, 2003/04, 2009/10, 2011/12
Quarter-finals: 2000/01, 2002/03, 2006/07, 2015/16, 2016/17
Group Phase/Main Round: 1994/95, 1997/98, 2005/06, 2007/08, 2008/09, 2013/14
Other EC records:
Cup Winners Cup:
Winner 2004/05, 2007/08
Semi-finalist 1996/97, 2005/06
EHF Cup:
Finalist 2005/06
Norwegian league: 19 titles (1994, 1997, 2000, 2001, 2002, 2003, 2005, 2006, 2007, 2008, 2009, 2010, 2011, 2012, 2013, 2014, 2015, 2016, 2017)
Norwegian Cup: 17 titles (1996, 1998, 2000, 2003, 2004, 2005, 2006, 2007, 2009, 2010, 2011, 2012, 2013, 2014, 2015, 2016, 2017)