EHF EURO
Niko Mindegia: "I dream of playing at the next EHF EURO"
Niko Mindegia: "I dream of playing at the next EHF EURO"
MOL-Pick Szeged centre back Niko Mindegia was born 26 years ago in the small town of Santesteban in the Navarra province in Northern Spain – just 1,600 people live in the village.
As children do, he tried all kinds of sports, but very soon kept sticking to handball.
It did not take long until he came in the focus of Pamplona-based handball club San Antonio who were eager to sign him for their youth teams – but his father would not let him go until he had finished secondary school in Santesteban.
Hence Mindegia was 16 when he eventually left his little village and moved to Pamplona, around 50 kilometres south of Santesteban.
"When I was 18 Zupo Equisoain (back then the San Antonio coach) offered me my first professional handball contract," says Mindegia.
"At this moment I realised that I wanted to devote my life to professional handball."
Mindegia played at San Antonio until 2012; he moved to Naturhouse La Rioja for one season in 2012/2013 and found his current club in Hungary where he has been playing for VELUX EHF Champions League participants MOL-Pick Szeged.
He has been scoring 22 goals in this group phase to date and with his club career going well, he hopes that this will also give him a boost internationally as his aim is to take to the court for Spain at the Men's EHF EURO 2016.
"I know it is very difficult to be at the EHF EURO. There are so many very good Spanish centre backs such as Raul Entrerrios, Joan Cañellas, Dani Sarmiento and Chema Rodriguez.
"We are all fighting to be there, and I dream of playing at the next EHF EURO, this is my target."

Mindegia had already been close to the national team when trained with Spain in the lead-up to the World Championship 2015 in Qatar even though he did not make the final cut.
"I have more doubts than pressure, because there are many factors that you can't fight and play" he says.
"I have to be on top level to be with the Spanish team, and if I do not play on this top level I understand that the coach does not nominate me."
"I reckon I could bring speed, surprise and freshness to the team. Surprise because internationally people don't know me a lot and this could be good for the team."
On club level he has certainly produced strong performances that made him one of the key players at Szeged. His current contract runs until June 2016.
"I have adapted very well to Pick Szeged and to living in Hungary. I'm very happy because the club is improving every year and we have a better team every season.
"I think this team is my team and I would stay here, but you never know what will happen.
"Clearly, I would like to get to know other leagues and see the world, but nowadays it does not enter my mind at all because I'm enjoying it in Szeged."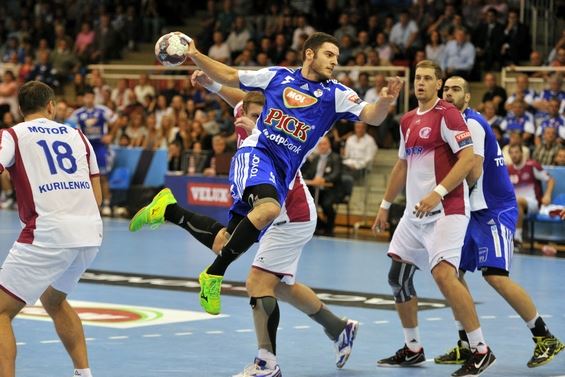 "Very difficult to find a player like Niko"
Mindegia describes himself as a 'typical Spanish centre back'. "Some years ago I was more an individualist, but now I play more for my teammates," he says.
This is something that Jota González, the coach of Naturhouse La Rioja, agrees with.
It was González who signed Mindegia in 2012 for the Logrono-based club. Even though he played there only for one season, he left very good impressions.
"Niko Mindegia is one of the best to have played at Naturhouse La Rioja. For me he has been one of the most influential players," says González.
"In only a single season he won the confidence of his teammates because they were happy to play with him, and he also won the trust of the fans.
"I think he gave the team a tremendous leap in quality. In the very decisive moments he made the difference. Of all the centre backs that I have had, Niko was the most decisive."
"With him, in that season we were able to win against Barcelona and Atletico Madrid. With him we qualified for the first time in our history for the EHF Champions League."
González also thinks that Mindegia's future in the Spanish national team looks bright.
"He is the youngest centre back who has a chance of making it into the national team. I think he will be at the next EHF EURO.
"And I think this will change Niko's future, because the major clubs are set to sign players who are leading their teams. The reference of being a Spanish international is the only thing missing for Niko. This must be his goal.
"I want to say to Niko that he has to continue showing the personality that he has during the games. That he never loses his individual high level and that he continues working for the team.
"It is a pleasure to train him, because he does exactly what the coach says, and he shows it on the court. Today is very difficult to find a player like that."