EHF Champions League
Official: Domagoj Duvnjak in HSV
Official: Domagoj Duvnjak in HSV
After long negotiations, Zagreb and Hamburg finally agreed: the Croatian middle back signed three-year contract with HSV Hamburg. The contract can be prolonged for two more years.
According to the calculations of the Croatian media, Duvnjak will cost a total of €2,25 million over a five-year period for Hamburg. This amount includes the transfer fee paid for Zagreb and all the salaries of the player. This makes Domagoj Duvnjak one of the most expensive handball players in the world already at the age of 21.
Satisfied German side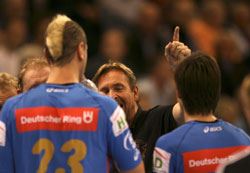 "We're glad that the dispute between the clubs ended luckily," Christian Fitzek, sports director of HSV said. "For Duvnjak it was the best thing to do. He wanted to change club in any case and he helped us by renouncing part of his salary for the next two years. We're happy that Zagreb accepted our last offer for Domagoj."
Coach Martin Schwalb said was also pleased. "We'll welcome him with arms wide open. He committed himself to Hamburg. For us the transfer is really important as we have some difficulties in our backcourt line at the moment with the injury of Pascal Hens."
Domagoj Duvnjak is the third Croatian player of HSV. Blazenko Lackovic plays for Hamburg since 2007, while Igor Vori was signed a few weeks ago.
Quick successes
Domagoj Duvnjak was born in 1988 in Đakovo, Croatia. He grew up in a handball family – his father, mother and sister were handball players. His father is also coaching.
At the agem of 16 he made his debut in the Croatian first division. Two years later he became top scorer of the Croatian championship. Duvnjak won already two Silver medals with the Croatian national team (EURO 2008 in Norway and WCh in Croatia 2009).
He is still only 21...