EHF Champions League
PSG maintain power ranking pole position
PSG maintain power ranking pole position
Just 14 clubs remain in the VELUX EHF Champions League and with the start of the knockout phase of the competition exactly a week away, ehfCL.com journalists across Europe have shared their power ranking, based on current form.
Serious contenders for the title can be found throughout the list, suggesting the road to Cologne will be far from straightforward for Europe's elite clubs.
10. Montpellier HB
The current French league leaders open the journalists' top 10, fresh from successfully emerging from Groups C/D for the second year in a row.
Montpellier were the outstanding team in their group and were in control throughout their 58:53 aggregate win over Ademar Leon to set up a Last 16 clash with Barcelona.
The fact their first leg encounter has been selected as Match of the Week prove just how highly regarded Patrice Canayer's side is.
"They are flying high this season and even managed to cope with the serious injury to Valentin Porte, with Melvyn Richardsson stepping up. Gerard in goal is as reliable as can be.
"They would be more than competitive against teams from Groups A/B, however, Barcelona are a tough test for them," says Tomas Cuncik.
9. IFK Kristianstad
It was a case of third time lucky for the Swedish champions as they finally reached the knockout stages of the VELUX EHF Champions League.
Faced with a daunting away task in Zagreb in Round 14, Kristianstad got the win they needed to set up a Last 16 encounter with Flensburg.
Everything from this point is a bonus, but with the deadly right side combination of Albin Lagergren and Tim D. Sorensen, Ola Lindgren's men could do some damage in the first leg at home.
"Qualifying for the Last 16 for the first time by winning their must-win away game in a tough venue like Arena Zagreb calls for respect," claims ehfCL.com's Scandinavian correspondent Peter Bruun.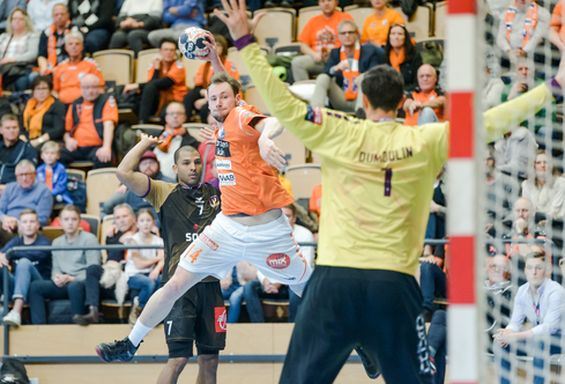 8. THW Kiel
Injuries and inconsistency have led to a Jekyll and Hyde season for THW Kiel. After just two wins in the opening half of the group phase, they stormed up to fourth place in Group A, ending with a draw away at PSG.
However, their domestic form has dipped again recently, putting their hopes of featuring in Europe's elite club competition in jeopardy.
A tough Last 16 battle against MOL-Pick Szeged awaits, a side which has been equally as unpredictable in this campaign.
7. PGE Vive Kielce
2018 has been kind to Kielce, with a strong four-match unbeaten run, including a draw at Flensburg and a win in Kiel.
With one of the best scoring records, coupled with one of the poorest defensive records, the Polish champions are certain to be involved in some action-packed matches as the scrap for a return to Cologne.
"Thanks to the perfect planning of training burden this season, Talant Dujshebaev's boys are getting stronger and faster every single day, despite recently having to play up to four matches per week," explained Polish journalist Magda Pluszewska.

6. SG Flensburg-Handewitt
Flensburg went toe to toe with former coach Ljubomir Vranjes' Veszprém, before being pipped in the race for second place.
The two sides are set on a collision course in the quarter-finals, should they both survive the first knockout round, an assignment which holds no fear for this season's leading German contender.
Maik Machulla has made this squad his own and they will be desperate to reach Cologne, for the first time since their triumph in 2014, before a number of players leave for pastures new.
5. HBC Nantes
"Simply the surprise package of the tournament this season," says Peter Bruun, an opinion shared by many about the French side which flourished in a debut season in Groups A/B.
Nantes certainly held their own in a three-way battle for the top of Group A, finishing third, just one point behind winners Vardar.
A surprise away defeat to Zagreb cost them group victory and a repeat performance must be avoided against Meshkov Brest, but they have been otherwise very consistent and must be considered as serious contenders to reach their first VELUX EHF FINAL4 in just their second season at this level.
4. HC Vardar
The defending champions have dealt with having a target on their backs very well so far this season.
Winning Group A has given them a bye to the quarter-finals, meaning the Skopje-based club is just one step away from becoming the first VELUX EHF FINAL4 winners to return to Cologne the following year.
Coach Raul Gonzalez and a number of key players depart at the end of the season, but not before they try to create history.
3. Telekom Veszprém HC
It has not been the smoothest of rides for Ljubomir Vranjes and his star-studded squad, but a few bumps on the road could not prevent them from finishing second in Group B.
After reaching Cologne four years on the trot, only lifting the title would be considered a success for the ambitious Hungarian side, but first they must overcome Skjern in the Last 16, a test which Björn Pazen believes will be passed with flying colours, adding that Veszprém "clearly have the easiest path to Cologne."
2. FC Barcelona Lassa
A perfect start to 2018 with four wins from four saw Barcelona rise to second in Group A and second overall in the journalists' minds.
With the likes of Perez de Vargas, Valero Rivera an Raul Entrerrios riding on a high from winning EHF EURO 2018, with Spain, they are looking like real contenders at club level once again.
"A perfect end to the group phase for the Blaugrana, even though they were tight victories. But was finishing second really worth it when the reward is a battle with Montpellier in the Last 16?" ponders Kevin Domas.
1. Paris Saint-Germain Handball
"Certain of winning their group and skipping the Last 16 with two matches to spare bears witness to PSG's class."
Peter Bruun's summary of PSG's current form clearly explains why they are top of the power ranking.
A dominant group victory will fill the Parisian side with confidence and they will not mind skipping the Last 16, to focus on mounting a title challenge in the French league.
The big question hovering over this impressive squad is not whether they can reach Cologne yet again, but whether they can go one better than their heart-breaking final loss last year.