EHF Champions League
Raul Entrerrios to Barcelona
Raul Entrerrios to Barcelona
Spanish former international Raul Entrerrios will leave Valladolid. He has signed a new contract with FC Barcelona Borges for the next three seasons.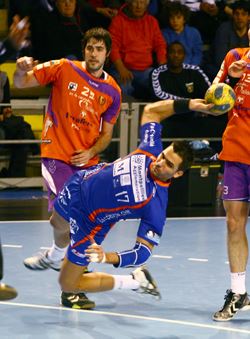 After settling an agreement with Ademar Leon Raul could accept the Catalonian offer. Barcelona will have to pay Leon for the Entrerrios rights. The 29 year old player played three seasons in Valladolid.
Barcelona was looking for a playmaker with strength in defensive play, Entrerrios was their best option. His older brother Alberto used to be a Barcelona player before transferring to Ciudad Real. Entrerrios will share the position with Dani Sarmiento and replace Joachim Boldsen who will leave Barcelona to go back home to Denmark.
Entrerrios shows happiness over the transfer. "It is a great step in my career. I want to support my team-mates and develop as player and reach our objectives. This club has only one goal and that is to win titles."
The former Spanish national team player described himself: "I am a team player, I work a lot. I do not have a very well defined position; I can help the team in every position."
Club manager Enric Masip is satisfied with his new player. "He is a very strong player. He is not old but has a lot of experience. Raul is good in attack as well as in defence, one of the most flexible players of the league. He has many positive abilities and can be used in many ways."