EHF EURO
Russia coach Trefilov steps down, Martin takes over
Russia coach Trefilov steps down, Martin takes over
Evgenii Trefilov is leaving his job as head coach of the Russian women's national team after 19 years and a string of successes, including four world titles and the 2016 Olympic gold medal.
Following a joint decision with the President of the Handball Federation of Russia, Sergey Shiskharev, Trefilov will step down from the post, and will also quit as head coach of last season's EHF Cup quarter-finalists Kuban.
Trefilov, who turns 64 next month, underwent heart surgery in February.
His successor at the helm of the Russian national team is Ambros Martin. The Spanish coach led Rostov-Don to the DELO WOMEN'S EHF FINAL4 Final in May in his first season in charge of the club, after winning four EHF Champions League titles with Hungarian side Györ. Previously Martin also coached the national women's team of Romania.
"The time has come to finish my work"
"I have given the Russian national team many of my years and strength. Probably, the time has come to finish my work in the national team," Trefilov says. "I understand that it is necessary to restore my health."
President Shishkarev calls it "a very difficult decision."
"Trefilov is a legendary coach with whom all the successes of the Russian women's handball of recent times are connected," Shishkarev says. "He 'lives' handball, even being on treatment he knew about everything, worried about the players and watched the youth teams."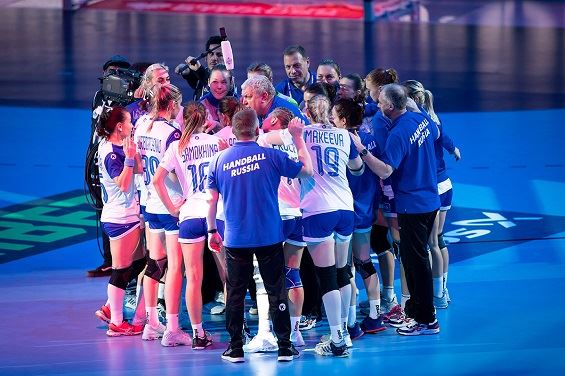 Trefilov will not disappear from the Russian handball scene as he will continue as vice-president of the national federation. In that role he will oversee the development of all national women's teams in Russia.
"Trefilov has vast experience, unique achievements, and this will be applied further," Shishkarev says.
Martin in charge when EHF EURO 2020 Qualifiers start
Martin will be in charge of the Russian national team when the Women's EHF EURO 2020 Qualifiers start in September. Russia will take on Slovakia and Switzerland next month, while Serbia is the fourth opponent in Group 4.
"For me, it is a huge honour to become the head coach of the Russian team," Martin says. "Russia has great traditions in handball, as is evident by victories at the largest tournaments, and this status should not only be supported, but also strengthened."
Impressive list of achievements
Trefilov leaves with an impressive list of achievements. He led the Russian women's national team from 1999 to 2012 and again from 2013 to 2019. Under his coaching, Russia won Olympic gold (2016) and silver (2008), four word titles (2001, '05, '07, '09) as well as two EHF EURO silver (2006, '18) and two bronze medals (2000, '08).
Apart from many domestic titles with different clubs, Trefilov also won the Women's EHF Champions League (with Zvezda Zvenigorod in 2008), EHF Cup Winners' Cup, EHF Cup and EHF Supercup.
Photos: Uros Hocevar / kolektiff