Media Releases
Salming confirmed as official sports outfitter
Salming confirmed as official sports outfitter
As the new VELUX EHF Champions League season throws off across Europe, EHF Marketing GmbH, the marketing arm of the European Handball Federation, has confirmed the signing of a new four-year cooperation with the Swedish footwear and apparel supplier, Salming Sports AB.

The deal will see Salming become the official sports outfitter of the EHF Champions League and EHF Cup for a four-year period up to and including the 2019/20 season. One of the fastest growing brands in handball, Salming is also known for its high quality products for running, floorball and squash.

New merchandising range coming soon

As the official sports outfitter to EHF Marketing GmbH, the company is now working to develop an Official Merchandising range for the EHF Champions League to be launched later this season. In the future the range will include both an 'EHF Champions League' branded line and also special products for the VELUX EHF FINAL4 and WOMEN'S EHF FINAL4.

For the first time EHF Champions League products will be available to purchase online with more details to be released early in 2017. Handball fans will also get the chance to see the complete EHF Champions League range and Salming products for themselves at matches in the VELUX EHF Champions League throughout the season.

The company's products are worn by many of the sport's top stars including legendary Swedish goalkeeper, Mattias Andersson, who plays his handball in the VELUX EHF Champions League for SG Flensburg-Handewitt.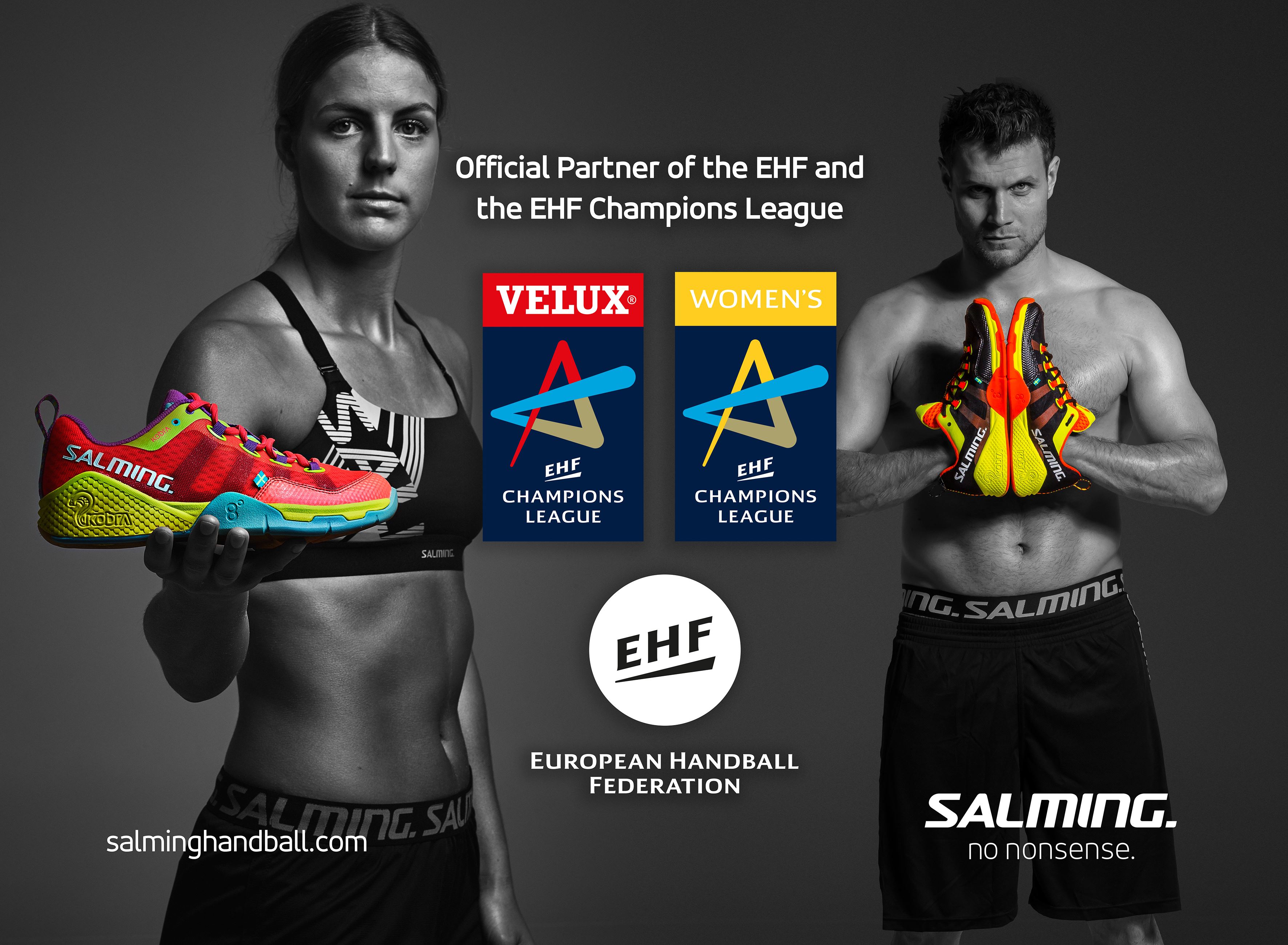 Extensive brand exposure

The partnership agreement with EHF Marketing GmbH will include strong brand positioning and TV exposure for Salming through advertising on LED boards at EHF Champions League and EHF Cup matches.
Brand activation will also be guaranteed across competition-related online properties including ehfCL.com and ehfTV.com in addition to extensive corporate hospitality for Salming Europe-wide.

Top referees to wear Salming

The Swedish brand has also signed a parallel deal with the European Handball Federation, which will see the federation's top referees kitted out in Salming apparel through to 2019/20 across all of the federation's competitions including the EHF Champions League, EHF Cup and EHF EURO events.

Commenting on the new agreement, David Szlezak, EHF Marketing's Managing Director, said: "The choice of Salming as a partner is a strategic one. Salming is a young and dynamic handball brand, with fresh ideas, great products and a new approach to the market. We are excited about this cooperation and where this is going to lead over the next four years. Offering an EHF Champions League branded merchandising line is another step into the future of our premium competitions."

Tomas Solin, CEO, Salming Sports AB, said: "We are honoured, proud and very enthusiastic to start this exciting cooperation with the EHF Champions League and EHF EURO. From day one Salming has been committed to the future of handball by investing in youth tournaments and partnerships.

"Another initiative with regards to giving back to the handball community is Salming Academy, a web based video academy that sees Salming's top athletes and handball legends (Magnus Wislander and Mattias Andersson) sharing their tips and tricks for the individual handball player.
"It has currently attracted some 2,000,000 views. The EHF 's youth championships and the on-going work by the EHF in terms of attracting the next generation to the sport of handball, fits well with Salming's ambitions and goals."
Salming Sports AB is a Swedish sporting goods company designing, developing and marketing high quality products for running, handball, floorball and squash markets under its Salming brand. The company has its head-office in Sisjön, Gothenburg on the west coast of Sweden.
In addition to producing first in class products Salming is committed to helping athletes improve and had developed and patented one of the most advance running analysis centres in the world. Salming RunLab's currently located in Gothenburg and Stockholm.