EHF EURO
Serbia and Croatia have a mountain to climb
Serbia and Croatia have a mountain to climb
Perennial rivals from the former Yugoslavia have to deal with huge expectations from their fans in EHF EURO 2012 and their respective coaches acknowledged in an exclusive interview to the EHF that finishing ahead of a pack of medal contenders will be a mammoth task.
Speaking to the EHF before a mouth-watering clash with Croatia in the Four Nations Cup in Belgrade's Pionir Arena on Saturday, Serbia's coach Veselin Vukovic shared his thoughts on what beating bitter regional rivals means to the fans even in a tournament which is merely a dress rehearsal for EHF EURO 2012 in January.
Vukovic, a former international who won a haul of silverware in his playing days for club and country, also assessed Serbia's chances in the 16-team European Championship.
"We are a nation which would forgive just about anything except defeat to Croatia, hence we will be under additional pressure to live up to expectations in our Four Nations Cup match," Vukovic told the EHF in an open media day during a launch promoting the January 15-29 European Championship in four Serbian cities.
"The European handball championship is generally, in my opinion, the strongest continental tournament in any sport because there are so many good teams. Of the 16 teams taking part in EHF EURO 2012, at least 12 are dreaming of a podium finish and no other team sport has so many medal contenders in a major event," Vukovic said as the Serbian squad posed with young talents for photos and signed autographs outside Belgrade's impressive Delta City shopping centre.
"We want to be among the medal contenders until the final day of the tournament but it will be a big challenge because we are not among the best teams in Europe at the moment.
The results of our clubs in Europe and a dwindling number of players going to Europe's top clubs show our limitations in no uncertain terms.
However, we might be able to reach the Medal Round of the tournament our own turf, where we will be roared on by our vociferous fans in every game. Beating Poland in our opening Preliminary Round Group A match could be essential for our success," added Vukovic, who still cuts an impressive figure resembling the one from his playing days from the 1980s, when he was ranked as one of the top pivots in the game.
He was also coldly realistic how important it is for Serbia to do well in EHF EURO 2012, having stressed that success would be a lifeline to rekindling past glory.
"We have a great responsibility to do well here because we haven't won a medal in 11 years and if the decline continues, young talents will have no idols and no role models to look up to in the future. It is unlikely young children will ever take up handball if we are remembered as a generation which has achieved nothing in major international events," Vukovic underscored.
He also pointed out the tournament's most likely medal winners. "France, Spain and Denmark are the obvious favourites to win the medals, while Poland, Croatia, Germany and Sweden are also very good teams capable of a podium finish. Handball is a tough sport and a lot will depend on whether the medal contenders can avoid injuries and how they cope with the gruelling schedule. Europe's top players have a lot of matches in various competitions and some of them may find it very tough to be fully fit for the European Championship."
Always a team player in a trophy-laden generation which won the 1984 Olympic Gold medal in Los Angeles, Vukovic elaborated how essential team spirit and leadership would be in EHF EURO 2012.
"We are a team of very few outstanding individuals, they know who they are but I won't name them because I don't want to put even more pressure on them. We can only succeed or fail as a unit but I do expect our top performers to lead by example and take the pressure off the young players in EHF EURO 2012. We are not interested in having the tournament's top scorer and finish 10th, so everybody must carry their weight in our bid to win a medal and give our fans plenty to cheer about," said Vukovic.
In conclusion, he praised the Serbian Handball Federation's efforts to promote the European Championship in the best possible way.
"The launch campaign is a great idea because it has given young talents a chance to spend time with their idols and talk to them, occasions like that are rare because the vast majority of our players are based abroad in some of Europe's top clubs. This initiative will do handball in Serbia a world of good as it's bound to encourage young talents to take up the game and carry the country's challenge on the international scene one day," Vukovic said.
Relaxed while bracing himself for the showdown with Serbia in the Pionir Arena, Croatia coach Slavko Goluza offered his views on how his team was preparing for EHF EURO 2012 and what it takes to perform on the big stage.
"Performing in the European Championship requires a huge sacrifice from the players and it's becoming increasingly difficult to win a medal because the competition keeps getting stronger. We are always among the favourites because of our track record and we are aware that fans at home always expect a medal, but we will have to take it one game at a time in Serbia and not think about the Medal Round until we get there," Goluza said.
"It is of utmost importance that we are fully focused when the tournament starts, as it will be essential to avoid injuries. Saturday's game against Serbia in the Four Nations Cup will be a good test of our credentials, as we will be up against a very good team supported by a passionate home crowd," he added.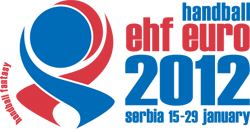 Goluza stressed a thorough analysis of his team's abilities in the Four Nations Cup was more important that winning the tournament.
"Our priority in the Four Nations Cup is to test the players and experiment with several game plans and strategies. Once the real thing starts in January, it will be crucial to beat Iceland in our opening match because the group, which also includes Slovenia and Norway, is very tough," he said, adding that he was reluctant to name the tournament favourites at this point.
"It is difficult to say who the medal contenders are, although it seems to me that Spain has grown into an exceptionally strong team. One can never rule out the possibility that some of the dark horses might upset the favourites because there will be many good teams in the tournament. Tiny details will make all the difference at crunch time, such as exceptional goalkeeping or moments of inspiration and individual brilliance by outfield players," Goluza said.
Croatia's coach concurred with his counterpart Vukovic that being the host nation could be a mixed blessing. "Serbia will have a stone around their neck as regards expectations from the home fans to do well and I think they will only succeed if they get rid of that stone very early in the tournament. For Serbia, one result, good or bad, can make all the difference," Goluza said in conclusion.
Further information

Download the Official EHF EURO 2012 Playing Schedule (pdf)
Buy your EHF EURO 2012 tickets HERE.
Ticketing is managed by the Serbian Organising Committees. Should you need further assistance for buying your tickets, please contact via email: tickets@rss.org.rs

Find more information on the tournament on the official website www.ehf-euro.com/SRB2012/

Join the growing community of fans of the event on Facebook www.facebook.com/SRB2012