EHF Champions League
Successful operation
Successful operation
Bojana Popovic, one of the best players in the world, left back of Viborg and captain of Montenegro, has undergone surgery after a serious knee injury.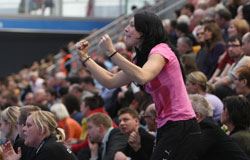 Popovic was operated last Friday in Fredericia, Denmark, at a private clinic. Doctor Jorgensen carried out the operation that took about 90 minutes. After the operation, Bojana was very satisfied because she is already at home…
"The surgery was successful, I'm very satisfied. Right after the injury, we thought it was a cartilage damaged with the front ligaments and the meniscus. But the cartilage was not damaged, which means that the recovery will be easier and faster," Bojana Popovic told Eurohandball.com.
The front ligaments in the left knee of Popovic were torn on 20 February in the game against Hypo.
According to the first predictions, Popovic was going to miss 9-12 months. But if everything will go according to schedule, Bojana Popovic could be back on court in the second part of September this year.
"In the first period I will do some exercises at home. After four weeks I will continue with other rehabilitation exercises – first of all with the bicycle. I should be back on court by 20 September," Bojana Popovic added.