EHF Champions League
Szeged upset Barcelona while Nantes edge Zagreb
Szeged upset Barcelona while Nantes edge Zagreb
MOL-Pick Szeged's 13-year-wait for a home victory against FC Barcelona Lassa in the VELUX EHF Champions League ended Sunday as the hosts triumphed 31:28.
Elsewhere, HBC Nantes carved out a 28:27 win against HC PPD Zagreb in a match that could have gone either way in the thrilling closing seconds.
Also, Orlen Wisla Plock and IFK Kristianstad shared the points (25:25), which left the Polish side still waiting for their maiden win this season.
Zsolt Balogh led Szeged to empathic victory over struggling Barcelona

Zagreb's best scorer was Damir Bicanic on his first game back in France

Michal Daszek scored perfect seven from seven to help Wisla earn point
GROUP A
MOL-Pick Szeged (HUN) vs FC Barcelona Lassa (ESP) 31:28 (16:13)
Szeged enjoyed a memorable home win over Barcelona and remained well-placed to reach the knockout stages of Europe's elite club competition, while the Spanish giants continued to stutter in what is becoming a patchy campaign for them.
After a balanced start to a fast-paced encounter garnished with physical defending and spectacular long-range shooting, Szeged carved out a 12:9 lead in the closing stages of the first half thanks to a stellar performance from their left back Zsolt Balogh.
The visitors had no reply for his thunderbolts from the nine-metre line and Szeged took a deserved three-goal advantage into the dressing room at half-time, with Icelander Stefan Sigurmannsson flawless from the seven-metre penalty line.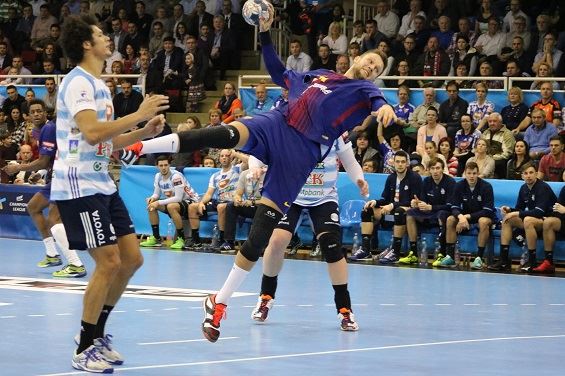 The second half produced a real rollercoaster as Timothey Nguessan started firing on all cylinders for Barcelona, who looked like turning the match on its head by grabbing a 20:18 lead.
However, the unstoppable Balogh forced another twist with his seventh goal and the home side, roared on by their fervent fans, never looked back after nosing ahead 26:25 several minutes later.
The home side forged a three-goal lead shortly afterwards and the writing was on the wall for Barcelona, who fought hard to get something out of the electrifying contest but fell short as Balogh finished with a game-high nine goals from 10 shots.
Sigurmannsson added six for Szeged, while Nguessan and fellow Frenchman Dika Mem also netted six each for Barcelona.
Post-match statements:
Juan Carlos Pastor, Szeged coach: "We have achieved two important points because we can keep chasing the other teams in the group. I am aware of the fact that if we do not play on this level, we have no place in the Champions League."
Zsolt Balogh, Szeged right back: "A great burden has fallen off the team, huge tension has been released now. We showed nothing is lost."
Xavi Pascual, Barcelona coach: "They played better in each aspect of the game, in attitude, in will power, which hurts me. In the second half the players did what I asked them to do but I do not understand why they did not do that in the first half."
Victor Tomás, Barcelona right wing: "We have to analyse our mistakes, and prepare for the next match. Szeged played very mature in the second half, did what they had to do, controlled the tempo of the match."
HBC Nantes (FRA) vs HC Prvo plinarsko drustvo Zagreb (CRO) 28:27 (13:12)
Nantes added a fourth victory to their winning streak, taking the opportunity to climb to the third place.
In the first minutes of the game, Zagreb proved that they hadn't travelled to La Trocardière only for pleasure. Damir Bicanic and Mario Vuglac were answering every Romain Lagarde goal and after 15 minutes, the two teams were even, 6:6.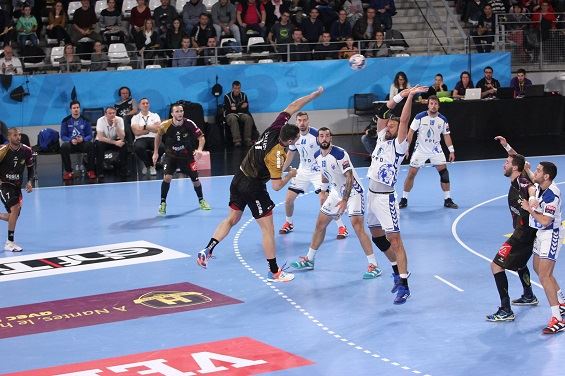 If the wake of great performances by Senjamin Buric and Lagarde, Nantes accelerated the pace and sailed away for a while, making the advantage grow to the biggest lead of the game, 11:8. But Zlatko Horvat and Stipe Mandalinic responded and at half-time, the French side was only ahead by one, 13:12.
The second half was an even closer affair. Nantes might have increased their advantage to two soon again but Damir Bicanic, former Chambéry player and back in France for the first time, was firing on all cylinders.
His six goals helped Zagreb remain in the game and even take briefly the lead (21:20) with 17 minutes remaining.
In such a tight game, it appeared obvious that the result would be decided in the final seconds, and that's exactly what happened.
While centre back Nicolas Claire gave Nantes the lead a couple of seconds before the final whistle, Cyril Dumoulin denied Tin Kontrec a last-second equaliser, saving the two points for his team, 28:27.
Post-match statements:
Thierry Anti, Nantes coach: "It has been a great game against a very good team of Zagreb. We have been a bit lucky."
Kiril Lazarov, Nantes right back: "They could have deserved one or two points but we deserved it, too. We played well but we keep working to improve."
Mario Kelentric, Zagreb coach: "We prepared this game to win. The result is about details. We played well and improved our level. It's positive for the next games."
Damir Bicanic, Zagreb left back: "It was a good performance in attack and in defence. Now we need to win the next games at home."
Orlen Wisla Plock (POL) vs IFK Kristianstad (SWE) 25:25 (13:13)
Wisla and IFK shared the spoils in a bruising encounter which could have gone either way as the lead changed hands time and again in a see-saw battle, peppered with brilliant goals as much as with rugged defending at both ends of the court.
The result consolidated Kristianstad's grip on sixth place with four points, two ahead of seventh-placed HC PPD Zagreb and bottom team Wisla, who both face a mountain to climb if they are to reach the VELUX EHF Champions League knockout stages.
The Swedish side engineered an early 4:2 lead but Wisla quickly weathered the storm and came back to lead 11:10 in the closing stages of the first half.
After a fascinating battle in the opening 30 minutes, the teams were level at half-time as both sides shared the scoring workload in attack and played tight defence.
Wisla appeared set to celebrate their first win of the season when they took a 17:15 lead early in the second half, but their Swedish rivals responded with a 7:1 run which seemingly turned the match on its head.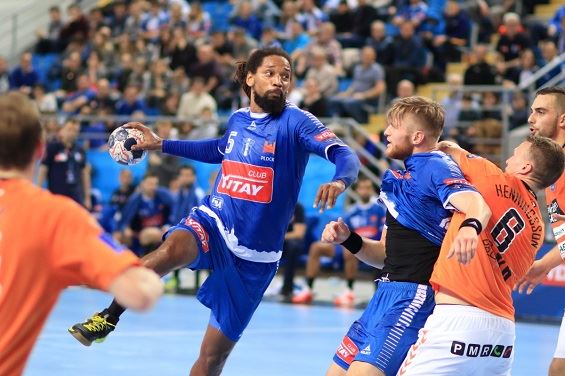 Wisla refused to roll over and their late fight back paid dividends as they salvaged a draw thanks to a gritty display in the last 15 minutes.
Michal Daszek led the home side with seven goals from as many shots, while Tim Sorensen netted seven goals from nine attempts for the visitors.
Post-match statements:
Ola Lindgren, Kristianstad coach: "We had a five-goal lead but I can be satisfied with one point. In the end we made too many easy mistakes and finally we even could have lost."
Helge Freiman, Kristianstad centre back: "In the end we made too many easy mistakes, which maybe were caused by fatigue. Too bad for us."
Piotr Przybecki, Wisla coach: "We feel disappointed about this one point but IFK Kristianstad definitely deserved it. I am glad that we showed character, energy and a lot of fight but we can't be satisfied with this one point."
Igor Źabić, Wisla line player: "We had many ups and downs during this game and of course we really wanted to win today. We will fight until the end in this group."