EHF Champions League
This is Me: Diego Simonet
Having a mother and father who both played professional handball, it was always going to be difficult for Diego Simonet to do anything else other than follow in his parents' footsteps. However, a South American making it big in Europe? Not always easy. But Diego has handball in his DNA and when everything falls into place good things happen. Here, as he explains in his own words and first published in our EHF Champions League Weekly newsletter, the Argentinian reveals how much handball means to him while paying tribute to those close to him who have helped realise his dream of winning the EHF Champions League.
This is Me: Diego Simonet
Family ties it all together
The story I am about to tell you is not only about me. It is about my family.
I am Diego, and I am the second son of two former Argentinian national handball players. My mum, Alicia, and my dad, Luis, played handball for the national team when they were younger.
My mum had to stop playing when she was 24, because she was pregnant with my older brother, Sebastian. But my dad wore the national jersey for 11 years. He was a line player, and one of the best of his generation in South America.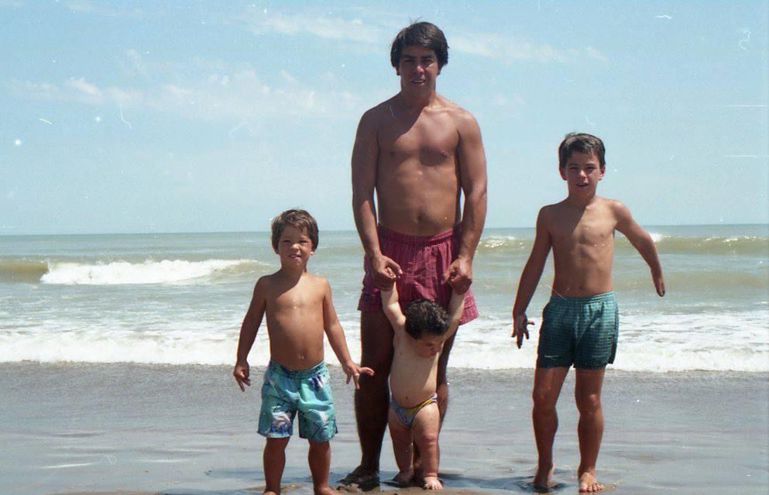 Diego (left) pictured with his brothers, Sebastian and Pablo, and father, Luis.
No wonder, then, that all their three children played handball. My dad made us try a lot of sports, though: tennis, football, swimming…But in a country so fond of football, we went the opposite way and chose handball.
My parents did not have anything to do with that choice, though. Actually, I never saw my dad play. Only on videos. When I watch them, it feels like the pre-history of handball.
Dad was a huge influence on me, as was my older brother Sebastian. Whatever he would do, I would. And, as a copycat, whatever I would do, my younger brother Pablo would.

When I turned 18, my brother had already left to try his luck in Spain. There, he could make a living out of handball. But before following his path, in 2008, I chose to move to Brazil.
It was a tough time, being abroad. I did not speak a word of Portuguese and I was sleeping on a mattress with no bed in a tiny flat. My passion for the sport was put to the test.
It became even more difficult when I set my kitchen on fire trying to cook. A little bit of oil in the pan, frozen chips and off they went, setting the place alight. Then I broke my hand, and went back to Argentina for the surgery.
However, in the middle of such a crazy year, one person stood out. My coach, Washington Nunes. He begged me to go and try and play in Europe. He believed I had the potential to succeed. Even though, back then, it felt like crossing the ocean was a step too huge to climb, I never looked the other way.
'Seba' welcomed me on the other side of the Atlantic with open arms. Either in Torrevieja or in Ivry, our first French club, he gave the expression "older brother" a new definition. He helped me with the food and the European habits that so often many South Americans struggled with.
He was there for the good times and for the bad times as well. For four years, we did everything together. Off and on the court, he was my mentor and my role model. He was someone I could look up to and who would open up my mind when it was needed.

Soon enough, he gave me the advice to join Montpellier. It was heartbreaking for me to leave him and to go and try my luck on my own in the South of France. If now, it feels like one of the best decisions I made, I was a hard one to make back then.
But it was there, in Montpellier, I found success.
On the court, winning the EHF Champions League in 2018 felt like a dream. For a few days, I was waiting for someone to wake me up and tell me it was over. But it was not.
The MVP award was not even important. I had been, along with Jure Dolenec, Matej Gaber and Ludovic Fabregas, one of the early protagonists of the club's reconstruction. That was hard, as the club was a shambles back in 2013.
But the hard work paid off. All the hours in the gym and on the court, trying to make a team out of a sum of individuals was tiring. But, for a few hours in Cologne, all of that felt worth it.

I also enjoyed success off the court in Montpellier. I met my wife, Sol, in the city in 2014. She is also Argentinian but had never heard about handball and never heard of me. But she came to France and never left. The first handball game she saw was actually one of mine, playing in the Bougnol arena.
Now she is my number one fan and my main support. She went through my bad moods and was there for me during time out through injuries.
And if I am here now, I have to thank her.
Through the bad times, she was waking up in the middle of the night to nurse Juana, our first daughter. She knew that my body had to rest in order to be 100 per cent on the court. And I know how hard it must be for her, every day, to make sure that I can think about handball and rest. But she does, and I am so grateful.
We both fell in love with the city of Montpellier. So much so my wife is now the one saying that perhaps we could stay here when I stop playing handball.
Whether that becomes true or not, I do now know yet. Becoming a dad, and soon for the second time, has put handball into perspective. Yes, it is one big part of my life, but family is another one.
While I have become accustomed to not seeing my parents often, I know how hard it must be for Juana not to be able to play with her cousins, now that my brother went back to Argentina.
That does not mean we are away from each other, though, as the whole family in Argentina watches every game either Pablo, my brother, or I play. It is, as they say, "their weekend distraction".
My parents and Seba stay awake at night to see me play the EHF Champions League. I know they feel pride knowing not only that I succeeded, but also that I manage to build another part of my family here, with my wife and my child.
Knowing that your kid is doing great is one thing – but knowing that he is happy at home and in his work is another one. Maybe the most important one.
That is one of our family's mantras.
Family is the most important thing, and that is what kept me going all these years.
Diego Simonet
October 2021