EHF Champions League
This is Me: Lois Abbingh
Lois Abbingh. Sharpshooter, preferably from distance. Blink when she shoots and you'll likely miss just another goal. The Dutch world champion scored five times on her EHF Champions League debut in 2015 - but that is well over 260 goals ago now... Always up for new challenges, Lois has played in six different countries. Now in Denmark with Odense, Lois tells us in her own words how she has gained mental strength and grown as a person thanks to the ups and downs of her handball journey. Go on, give it a read.
This is Me: Lois Abbigh
Growing stronger
It really was a shame to miss the start of the season. On the other hand, I rather deal with an injury earlier in the season than at the end. Especially as it was a muscle injury. I have learned that if you don't let it heal properly, you will suffer from it a lot longer.
From that perspective, I think: OK, it has been a busy year, luckily Odense gave me all the time I need, so now I had the chance to recover well and become really fit again.
It is bizarre how many matches we play, and this year we had the Olympics on top of that, so you just go on from one season into the next. But at one point your body will say: OK, that is it, no more matches now.
Through all the injuries I have had, I learned this: You play so many matches in a handball career, that you miss a lot when you are injured, but there is always a lot coming up, as well. There are always important matches or tournaments to aim for.
If you have torn your knee ligaments, it is different, that is such a serious injury. It helps me to see my latest injury in the right perspective. I think my body shows me when it has been enough and when it is time to take some rest.

My first knee injury occurred when I was still a teenager, just before the junior world championships. I was so young that I had no fear because I didn't know what it meant. I just dealt with my recovery without too many thoughts and went full speed ahead.
The second time I tore my ligaments was in 2014, just before I was to sign a contract with Baia Mare. I was afraid the injury might jeopardise my transfer. Luckily it all went on, but I had to work on my recovery for weeks all alone in a clinic in Bucharest, some 500 kilometres away from Baia Mare. Later I could work with a personal coach at the club.
Once you get older, you know yourself better and you know when you have to slow down a bit, also in training. When I was younger, I didn't dare tell anyone, or it just didn't come into my mind to say: "Today I am not feeling too well, I have a physical issue, I skip training." When you get older, you learn that this is impossible, that you can't just keep going on and on.
You see a lot of players who take a step back. Look at Anna Vyakhireva, I admire the way she has made clear that this is what she needs. Or look at Yvette Broch, or Nycke Groot. They all have said at one point: sorry, this is too much. I can imagine so well how they felt.
I like the game a lot and I enjoy going to training every day and I don't want to think about retiring. That is important. As long as you have that feeling, you can deal with physical problems. But as soon as you feel that it all is costing you too much energy, especially mentally, then you have to take a break.
When you are young, you want to prove yourself all the time and show everybody how well you can play. You don't want to miss anything. But now, I know what I can do, my coaches know what I can do, I don't have to show anymore who I am as a player. Maybe that makes it a bit easier to step on the brake.
However, I am still pretty bad at saying: "Sorry, I can't train today." If I can't play, I am in a bad mood. Then I arrive home and ask myself: "Well, what have I actually been doing today?" Luckily Joost, my boyfriend, is there for me.

My first club abroad was Oldenburg. Playing in Germany felt like home. It was hardly a one-and-a-half-hour drive from my parents' home. Family was always close.
Going to Romania was the first step towards the top. I felt I needed to challenge myself. I arrived in a completely different world. Playing EHF Champions League, a different club. Eastern Europe is different from Germany, Denmark, or France. It was great to experience it, a whole different atmosphere with the fans.
But I also learned to stand up for myself. I definitely learned it there, both on and off the court. I was a young girl between a lot of stars, so I had to fend for myself. And it is no secret that there were financial issues.
I kept on playing although I hadn't got my salary for some time, knowing the Olympic Games were coming up. It was a new experience for me. Other girls gave in, but I kept fighting for what I had earned.
Handball is my priority No. 1, but I have to live from it, and I sacrifice a lot for it. So, I didn't want that kind of stress anymore, I just wanted to play handball and enjoy it. I didn't want to think about all the other tiring stuff around it.
Issy Paris was the right club at that time. They had the ambition to get into the EHF Champions League, we had a good team, but it in the end we didn't make it. The French league is very strong, so I learned a lot there as a player. That was awesome, but I still wanted to go back to the top flight. That is the dream of every player.

I never know in advance in what country I want to play next. December, when World and European Championships take place, is usually the time that clubs look for new players. After the World Championship in 2017, Rostov came along, and they were the first to say that they were really interested in signing me.
I thought: why not? They were all what I wanted: a club in the EHF Champions League, with a realistic chance to make it to the EHF FINAL4. I wanted to play for that prize.
It took me some time to think it over, to deciding to move to Russia. It was important that Joost said he would join me, so I didn't have to do it all alone. That helped me take the decision.
It was very far away from home. My parents have visited me there one time, Joost's parents two times in two years. It was not easy to quickly come over, of course.
And I was travelling 60, 70 percent of the time, so basically Joost has been alone in Russia a lot and I was a lot on the road. And two days off was not enough to visit the Netherlands. But in the end my dream was to play at the top and the EHF Champions League prevailed.
In Budapest we got so close to winning it in the final against Györ. It was fantastic to experience that and I knew this was the reason why I joined Rostov. We were so close and of course we wanted to win it, but the experience as such was great and I am very grateful that I have been there.
It is a great memory, but for me in general, negative moments in my career keep going through my head longer. Like that shot against the goalpost in the final second at the Olympics in Rio, the semi-final against France. The clock said 59 seconds, and someone had to do it. I have been thinking a lot about what could have been better. But in the end, I took my responsibility and that is what counts.

I have grown in this role. I stand up and take that responsibility. Luckily it works out well many times, too. Like that penalty in the last second of the World Championship final against Spain.
It was a chaotic situation; I didn't realise right away that it was a penalty. So, there was not much time to think about it. I remember saying to myself: "This is just a penalty, and I am just going to take it like I have done I don't know how many times this tournament."
I knew I had to take a penalty like I always do, and to not think about the consequences. That mindset is something that has come through the years, I have learned that through experience. But of course, it could still have gone wrong...
I am probably the player with the fewest rituals. I always find it interesting to see what others do, but I don't have it. I don't do things in a certain order or rhythm, put my right shoe on first, or something like that. That is nothing for me.
It happens though that others get angry with me because I am standing on their spot, or I am disturbing their ritual. At the club, we always listen to the same song before we go on court. I am not in charge of it, so I just listen to what they play. This season I asked if we have new song for the new season, but no, we don't, we keep the same song.
Both my parents played handball, so I always joined them as a little girl, and naturally I started playing as well. All my weekends were spent in the sports hall. An uncle of mine was also playing, so the whole family was into handball.
Nowadays they are always coming to World and European Championships, they make a family trip of it. They are very involved and are closely following my career.
For me it was obvious to start playing handball as a kid, but I also wanted to try other sports that my friends at school were doing. But I always came back to handball, I was not made for something else than a team sport.
For me it was boring when I was playing tennis or judo on my own. I liked it much better to do a team sport.
Handball is a great sport, a lot happens. Joost is a soccer player, we sometimes talk about it. In soccer you have periods where nothing happens, in handball you cannot blink, or you miss something from the action.
I like the daily training, joking around with teammates and the social aspect. When I return home from training, I feel like I have not just done my sport but also had a social get-together.
I am pretty close with my teammates, even if we might play together only a few years. That is what I like about handball, you build friendships pretty easily.
Lois Abbingh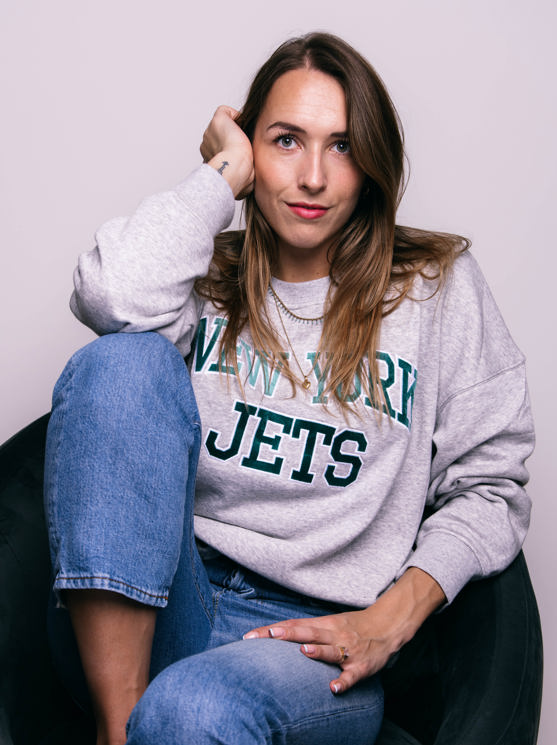 Photo courtesy of Joost Lieder