This is me: Nataliya Derepasko
I don't know why there are not many female handball coaches at the top level, but I think their number is increasing.
Liudmila Bodnieva, who is at the helm of the Russia national team, is a good example. She knows handball very well, and I'm happy that she got this position. We have played together for many years and are still good friends who are always in touch and can ask each other for advice.
Another good example is Bojana Popovic, also a former top player who is currently working with Buducnost and Montenegro national team.
I think for female players it's psychologically easier to work with a female coach – I have been in their shoes, so I can understand them better. However, when I was a player myself, I mostly had male tacticians, starting from an early age. And I should say that I still have very warm memories about my first coach Pavel Tkachenko. Actually, I am thankful to him for luring me away from swimming, which I never regretted afterwards.

My hometown Sevastopol is on the sea, so everyone there is a good swimmer. At school, I was in a sports class, and while most of my classmates, both boys and girls, did handball, I focused on freestyle swimming before the age of 10 or 11. I did pretty well. I won some awards and who knows, maybe I could have become a professional swimmer and participate in the Olympics. But my classmates and coach Tkachenko wanted me to switch to handball, because at the classes, I threw the tennis ball the farthest. And ultimately they managed to persuade me.
In the seventh grade, I moved to the sports boarding school in Kiev, and one year later, the famous Igor Turchin began to invite me to the training of his team Spartak Kiev.
I remember how I nervous I was before the first one. The training hall was 19 kilometers from the city, and while all the players had gathered there already in the morning, I could join them only after school, in the afternoon. A mini-bus was supposed to pick me up near a metro station, but I was so afraid that I hid behind a big Christmas tree. I thought: 'Maybe the driver will not see me and will go away.' But then the mini-bus arrived, and I changed my mind, thinking: 'He's waiting for me, and it's not good if I don't show up. Maybe I will have problems at school then.' So I went to the training, and it all started…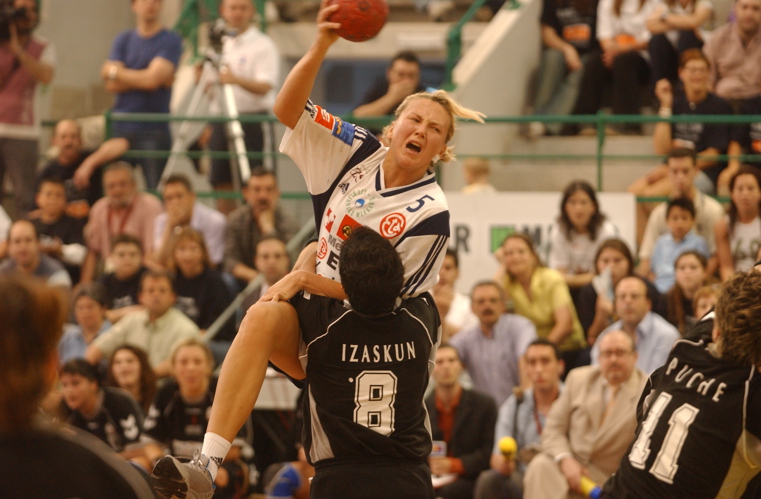 The team was full of Soviet handball stars at the time, and I learned almost everything from them. Turchin was a great coach who played a huge role in my career, and I'm happy that he picked me from dozens of young players. Turchin might be very demanding at the trainings, where we had to give 200 per cent of ourselves. But off the court, he was a kind and soft person; smart, well-mannered and with a good sense of humour. I think he wouldn't have become a great coach without all these qualities. And of course, I was shocked when he died in front of my eyes in 1993, in the dressing room at half-time of the EHF Cup match with Rapid Bucharest. It was a terrible experience.

A few years after that, I left Spartak and moved abroad. I took an easy decision, as it was a difficult time for Ukraine, and many people wanted to leave the country. First, I went to Macedonia, where I played for Gjorce Petrov Skopje, which was later renamed to Kometal, and then to Krim, where I stayed for 11 years and won many trophies. In fact, I've won nearly all my titles with the Slovene club, except maybe becoming top scorer of the World Championship 1995 with Ukraine.
North Macedonia and Slovenia are both Balkan countries, but they are very different. In terms of mentality, Macedonians are similar to Serbs and Montenegrins, while Slovenes are more like Western Europeans, a little bit like people from the Baltic countries in the former USSR. Now I've spent many years in Slovenia, played for its national team, and obviously this country is like my second home.
To tell the truth, when I was a player, I didn't think about being a coach. Rather, I imagined myself becoming a successful businesswoman. After I retired, I moved to Belgrade and tried to develop a small business together with my former teammate at Skopje and Krim and a good friend Branka Jovanovic, who is actually now my assistant and goalkeeping coach at Krim. But while living in Serbia, I still went back to Slovenia every month or two. And once I got a phone call from another former teammate and a good friend Deja Doler, a sports director at Krim. She offered me a coaching job at the club, and I agreed, as by that time, I was already mentally prepared for it.

First, I worked with Krim's reserve team, and it was a new challenge for me. By the way, some players whom I coached are now at Krim's first team, like centre back Nina Zabjek. And before the last season, Uros Bregar offered me to become his assistant in the main team, and I'm very thankful to him for it. So, we worked together before last autumn when Uros had to leave his job and I took over. Last year, I also continued to work with the young players, but now I simply have no time for that.
When I was an assistant, I didn't have a specific area of responsibility like attack or defence. Rather, I just shared my ideas with Bregar, and he decided whether to implement them or not. When Bregar left, I first became an interim coach for three EHF Champions League games, and only after that I signed a full contract until the end of the season.
Of course I was nervous. I wasn't afraid of the girls, as I had worked with them before, but I had to coach the team in the EHF Champions League, and this is not a handball school for children! Now I feel much more responsibility. Sometimes I wake up at six in the morning and start to think about tactics, which has never happened before. So my life has changed.
Besides, the job of a head coach is more nervous. I am a calm person by nature, and I always try to avoid conflict, but everyone has been telling me that I should become tougher. And you know, now I feel that it won't take long until I start yelling at my players! Although it's hard to make me angry, no one finds it funny when it does happen…
Would I like to work with the men's team some day? Why not? I think it is easier to coach male than female players. At least I have heard it from the people who worked with both. With men, it's more straightforward. You say something, and that's it.
Anyway, I am an ambitious person, and obviously my goal is to continue working at this level and be successful. Now I'm still learning, and life is actually a constant learning process. You get more experience with age, but no one can say that he or she already knows everything.
Nataliya Derepasko
February 2022