EHF Champions League
Three legends. Three stories. Three fortunes continuing in one town
Three legends. Three stories. Three fortunes continuing in one town
The young generation does not know what the handball world looks like without them – and those who do know are aware of how much they gave and how different handball will look without them.

On Sunday June 3, after scoring their last shots and making their last saves, Karol Bielecki, Slawomir Szmal and Uros Zorman finished their careers. Coming from different places, their career paths merged in one town: Kielce.

It seems that this year, a handball age has ended, as Bielecki, Szmal and Zorman joined a group of players retiring, including Dominik Klein, Daniel Narcisse, Igor Vori and Mattias Andersson. But the Kielce trio are not breaking up with handball for good – they all will stay in Kielce, taking on new roles.

Karol Bielecki

In Poland, Bielecki is a living legend. Since the very beginning, he was a very talented young player with a superhuman throw that attracted a wide audience and spread the popularity of handball around the country. Always modest, quiet, rather terse – but he never needed to talk a lot, as his actions always spoke louder than a thousand words.

He made his first handball steps in his hometown Sandomierz, 100 kilometres from Kielce, and was soon noticed by Kielce representatives Andrzej Jung and Marek Adamczak. These two deserve to be remembered for finding one of the greatest handball players ever.

"19 years ago, people from Kielce came to a young boy and gave him a chance. I still remember like it was yesterday, how they invited me to the club and let me follow my dreams," said Bielecki during his farewell speech after his final match, against Orlen Wisla Plock.

In Kielce, Bielecki experienced everything that built him as an athlete and a human. With the club, he won many domestic titles and the Champions League. In town, he met his wife and saw his daughter born. And in Legion Hall, he lost his eye in a terrible accident during a friendly game between Poland and Croatia in 2010 – and how he came back from that made him a real hero.

"You gave me strength and I gave you my best," he said to the audience in Kielce. "Now I'm finishing my career on my terms, not on the ones that fate had for me."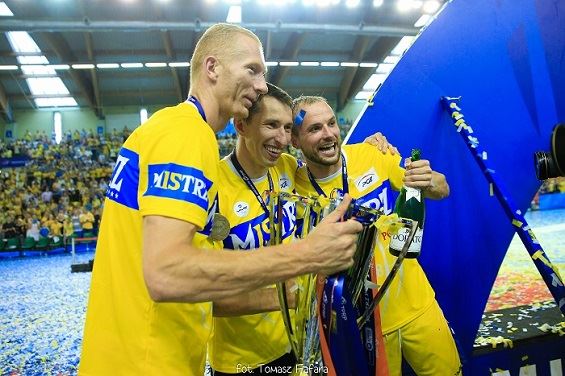 After winning the Champions League and taking one silver and two bronze medals with Poland at the World Championship, Karol Bielecki scored the last goal of his career, which led Kielce to their historic 15th title in the domestic league. There could be no better ending.

Bielecki will stay with the club as an ambassador and will take part in youth training.

Slawomir Szmal

The 2009 IHF World Player of the Year, born in Strzelce Opolskie, 200 kilometres from Kielce, came to the town in 2011 and stayed there till the very end of his career. He became a top-level goalkeeper thanks to his Bundesliga experience, then faced one of the toughest challenges of his career in Kielce.

"My career was nearing the end and at my age, I needed to change my approach to training totally. I always trained so hard, but then it turned out that I couldn't do this anymore, as my body didn't react properly," said Szmal.

It is impressive how he adjusted, as the end of his career lasted seven years. "It was a really tough lesson!" he laughs now.

Through the years Szmal was loved by thousands of fans, especially in Poland: for his amazing interventions that saved the Poland national team so many times; for his iron discipline, which allowed him to endure ferocious trainings for so long; for his work promoting handball among children; and for his sense of humour, which made interviews with him into enjoyable chats.

And even though he just finished his last exhaustive season, he is on board for Kielce again. He recently led a course for PE teachers and handball coaches from all over the country and is now working with young goalkeepers in the Poland B group.

In his future off the court, Szmal will work with the Poland national team and keep the role of sports director of the handball school in Kielce.

Uros Zorman

The hot-blooded Slovenian centre back's decision is probably the biggest surprise for the fans. Zorman is in great shape and could still play in a good club, but has decided to finish his career and become the second coach for PGE VIVE Kielce.

From next season, he will be assistant to Talant Dujshebaev – a move that will certainly increase the interest in Kielce's matches, as watching them both on the bench is going to be quite a spectacle.

Born in Kranj, 1,000 km from Kielce, Zorman is considered the best playmaker in the history of handball for many. He is an extremely charismatic guy, engendering respect wherever he appears.

How? Why? After all, he is not the tallest or the strongest amidst the handball giants. It is more about his character, which seems to always walk several steps ahead of him, like a private butler who opens the door to people's hearts saying: "Attention please, Mr Zorman has just arrived."
After winning four Champion League trophies with three different clubs, including Kielce in 2016, he decided to stay in Kielce and start his new career path as a coach. "It's a very hard moment for me to change the mode. I think I will realise it only when I start wearing clothes in different colours next season," he admits.

Zorman wants to use his experience as a player to be a good coach. "I think that coaches should feel the court, he must know how players feel in different match situations. Some of them are too in the foreground and get carried away by emotions in the critical situations," he says.

We cannot wait to see him in action next season.
Photos: Tomasz Fafara / PGE VIVE Kielce