Official Statements
Tragic incident of Veszprém handballers
Tragic incident of Veszprém handballers
The European Handball Federation has been informed about a shocking and serious incident that happened in the early hours of Sunday 8 Febuary.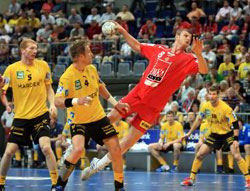 According to the latest information, the handball players of the Hungarian MKB Veszprém KC gathered in a club to celebrate a family event of one of the players. Later on during the night, the players were attacked by a large group of strangers armed with knives.
The Romanian player of the club, Marian Cozma, was stabbed in the heart and died.
His team mates, Zarko Sesum and Ivan Pesic, have also been seriously injured. Sesum suffered a broken chin and Pesic a kidney injury.
The two seriously injured players have been operated and their condition is stable. They remain under constant care in the hospital of Veszprém.
The European Handball Federation offers sincere condolences to the family of Marian Cozma. At the same time, the EHF wishes complete and quick recovery to the injured handballers.
The EHF remains in close cooperation with MKB Veszprém and will publish further information on the steps to be taken with regards to the situation as soon as possible.