Media Releases
UNICEF named as VELUX EHF FINAL4 Charity Partner
UNICEF named as VELUX EHF FINAL4 Charity Partner
EHF Marketing GmbH, the marketing arm of the European Handball Federation, is proud to announce that the United Nation's Children's Fund, UNICEF, is to become the new Charity Partner of the VELUX EHF FINAL4, taking place in Cologne, Germany on 28 and 29 May 2011.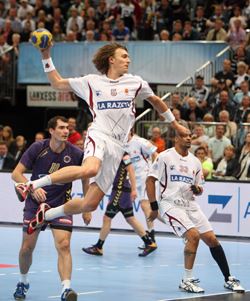 The new partnership will see a donation from every ticket sold for the VELUX EHF FINAL4 to UNICEF as well as further initiatives to help promote the international charity and its cause.
Commenting on the partnership, Managing Director of EHF Marketing GmbH, Peter Vargo, said: "We are very happy to welcome UNICEF as our Charity Partner for the VELUX EHF FINAL4 in May 2011. The organisation does a vitally important job helping and safeguarding children around the globe. We are proud that the sport of handball and its fans are able to help UNICEF in their important work."
The partnership between the VELUX EHF Men's Champions League and UNICEF comes at a crucial time with the on-going disaster unfolding in Pakistan. Millions of children are threatened with illness and need urgent assistance. UNICEF provides emergency help, clean drinking water and medicine. Handball fans can support UNICEF and their efforts in Pakistan through the UNICEF Germany website at www.unicef.de.
About UNICEF
UNICEF is the world's leading organisation focusing on children and child rights, with a presence in more than 190 countries and territories. The organisation works with local communities, partners and governments to ensure every child's rights to survive and thrive are upheld.
UNICEF delivers programmes in more than 150 less-developed countries around the world; this global reach allows the organisation to deliver where it is needed most. UNICEF is ready to respond rapidly wherever disaster strikes, delivering life-saving help for children. UNICEF relies on voluntary donations to fund their vital work for children and their rights.
About the VELUX EHF FINAL4
The VELUX EHF Men's Champions League FINAL4 is the culmination of the 2010/2011 season and sees Europe's top four men's teams meet in the LANXESS arena, Cologne, in front of 40,000 handball fans to decide just who will win the ultimate prize in European club handball. The event takes places on Saturday 28 May 2011 and Sunday 29 May 2011. Tickets go on sale at www.ehfFINAL4.com from Wednesday 8 September 2010.
About EHF Marketing GmbH
EHF Marketing GmbH is the marketing arm and daughter company of the European Handball Federation. The agency works closely with marketing and media partners, as well as with Europe's leading clubs to realise the full potential of the sport on the international sports market. EHF Marketing GmbH is responsible for the marketing and media rights of the VELUX EHF Men's Champions League and the EHF Women's Champions League.
Media Contacts:
EHF Marketing GmbH
JJ Rowland
EHF FINAL4 Manager
Tel: +43-1-80151-218
Fax: +43-1-80151-219
Email: rowland@ehfmarketing.com
www.ehfFINAL4.com
UNICEF Germany
Daniela Ligori
Public Relations Manager
Tel: +49 (0)221 93650-254
Fax: +49 (0)221 93650-320
E-Mail: daniela.ligori@unicef.de
www.unicef.de