EHF Champions League
Vardar and KIF up against it as PSG and Szeged aim to finish the job
Vardar and KIF up against it as PSG and Szeged aim to finish the job
Some of the VELUX EHF Champions League big guns aiming to reach the premier club competition's quarter-finals are well on the way to reach the last eight but others have left themselves plenty of work to do after sound defeats in the Last 16 first leg matches.
Vardar, who lost 32:26 at Polish rivals Orlen Wisla Plock, and KIF Kolding Kobenhavn, beaten 22:17 at HC PPD Zagreb, both have mountain to climbs as they bid to overhaul the deficit and keep alive hopes of reaching the VELUX EHF FINAL4.
PSG, on the other hand, should be strong favourites to prevail in the French derby after edging Dunkerque 23:21 away, while MOL-Pick Szeged of Hungary enjoy the cushion of a shock 34:30 first-leg victory at Rhein-Neckar Löwen.

HC Vardar (MKD) vs Orlen Wisla Plock (POL)
Saturday 21 March, 20.15 local time, live on ehfTV
Only an effervescent individual performance by Alex Dujshebaev, who scored 10 goals in the first leg, kept Vardar afloat in this rip-roaring tie after Wisla had threatened to win by double digits in front of their passionate fans.
Knowing that they have to shore up the leaks in defence after a 32:26 setback, Vardar will also hope that Dujshebaev and Russian winger Timur Dibirov, the only other player who provided proper support in attack with five goals, keep up their good form while the others are expected to step up to the plate this time.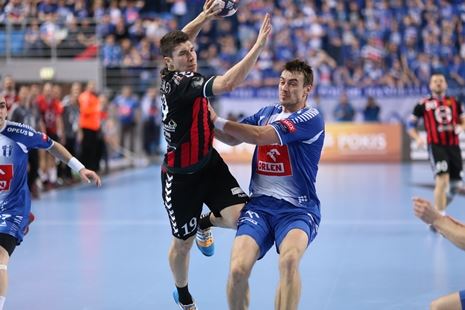 "This is our most important match of the season so far and we have to improve because we played poor defence in the first leg in Poland," Vardar's Spanish coach Raul Gonzales told a news conference in Skopje on Thursday.
"We have trained well all week, we have no injured players and are banking on a fervent atmosphere which our fans always create on home court."
"It's going to be a tough and dramatic match, a six-goal deficit is a huge margin to overturn but we are raring to go," said Gonzales.
Captain Filip Lazarov acknowledged Vardar played below par in Poland but made it clear he hoped the Macedonian giants would turn the tables on Wisla in the cauldron of their Jane Sandanski Arena.
"Our first-leg performance was not even half as good as we are capable of playing but we are confident that we can win the tie on aggregate because we know we are good enough to reach the last eight," he said.
"There is no margin for error in the knockout stages and having been on the back foot in the reverse fixture, we are hoping that frenetic support from our fans will carry us to what would be a historic win."
Wisla coach Manolo Cadenas, Gonzales's Spanish compatriot and close friend, underscored that his team too faced an enormous task at one of the most intimidating away venues in Europe.
"Vardar are a completely different team at home so even if we had won by seven or eight goals I would still not be overconfident," he told Wisla's official website.
"We didn't expect to be nine goals ahead at one point in the first leg, we anticipated a more even match but we will head into the return going for another win because that's the only right attitude.
"Vardar have a very good goalkeeper and efficient fast breaks so we will have to work hard to keep them at bay."

KIF Kolding Kobenhavn (DEN) vs HC PPD Zagreb (CRO)
Sunday 22 March, 16.50 local time, live on ehfTV
Having reached the last eight in the 2011/12 season, HC PPD Zagreb then suffered two consecutive early exits as they failed to reach the VELUX EHF Champions League knockout rounds and were eliminated in the group stage of Europe's elite club competition.
Their barren run ended this term, after impressive home wins over the mighty THW Kiel and Paris-Saint Germain Handball paved the way for a berth in the Last 16, where they sprung another upset with an impressive 22:17 first-leg defeat of KIF Kolding Kobenhavn.
The Danish outfit, however, hauled themselves back into the tie when they slashed a nine-goal deficit in the closing stages to keep alive their hopes of overturning it in the return leg in front of what will surely be a galvanised home crowd in Brondby.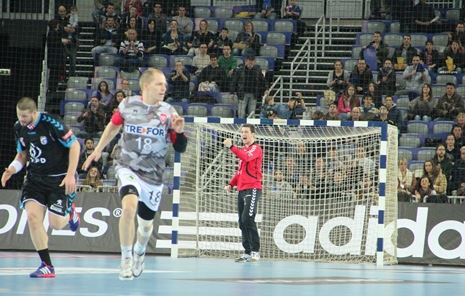 Zagreb goalkeeper Filip Ivic was majestic in the first leg, but Tuesday's 34:24 Croatian cup win over Zamet Rijeka showed that he has a worthy replacement in Ivan Stevanovic, who racked up a mind-blowing 21 saves to propel his team into the last eight of the competition.
Lacking firepower up front in the reverse fixture, Kobenhavn will need to speed up the transition of the ball in attack and hope that Magnus Landin, their top scorer with six goals in Zagreb, gets proper support from his teammates if the Danish side are to stand any chance of progressing.
Zagreb will hope that right back Luka Stepancic, who scored a game-high seven goals, keeps firing on all cylinders alongside captain Zlatko Horvat.
KIF warmed up for the return leg against Zagreb with a hard-fought 30:28 Danish league win at FC Midtjylland on Wednesday which kept them at the top of the standings, as Lasse Boesen stood out with a game-high 10 goals while Kim Andersson scored five.

MOL-Pick Szeged (HUN) vs Rhein-Neckar Löwen (GER)
Sunday 22 March, 17.15 local time, live on ehfTV
Szeged are on the verge of emulating their 1996/97 feat of reaching the VELUX EHF Champions League Quarter-finals, but to advance into the last eight they will need to reproduce the inspired and free-flowing performance which saw the Hungarian side stun Rhein-Neckar 34:30 in the first leg.
The wounded lions from Mannheim will certainly not roll over and surrender in the cauldron of Szeged's arena, where the home fans are known to create a raucous atmosphere.
Spanish right wing Roberto Garcia Parrondo was clinical from the penalty line in Mannheim, scoring a game-high nine goals and by far his biggest single tally of the season as Szeged exploited chinks in Rhein-Neckar's armour and turned the game around in the second half.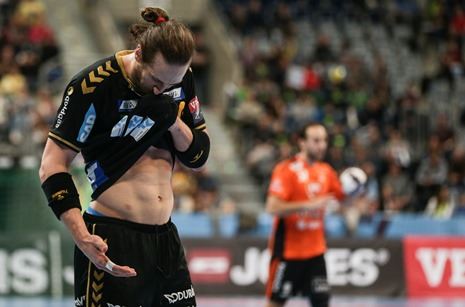 Unrelenting support from Dean Bombac (five goals) and Zsolt Balogh (four) proved too much for Löwen, who will be especially concerned with a dramatic second-half dip in form after taking a one-goal lead (17:16) into the dressing room at half-time.
The Hungarian side will be boosted by news that Croatian Alen Blazevic is likely to shake off a knee injury he sustained in the first leg and recover in time for what is bound to be a rip-roaring clash against their German rivals.
"It's a minor sprain and he will be fit to play against Löwen," Szeged's team doctor Istvan Szabo told the club's official website.
"It involves treatments of course but there will be no barrier for him to play in the return leg," he added.
Löwen enjoyed a promising dress rehearsal for the return leg, beating Minden 28:23 in the Bundesliga on Wednesday to stay second in the standings two points behind champions THW Kiel with a game in hand.

Paris Saint-Germain Handball (FRA) vs Dunkerque HB Grand Littoral (FRA)
Sunday 22 March, 17.30 local time, live on ehfTV
PSG came out on top 23:21 in a bruising first leg against their French top flight rivals Dunkerque, taking their defensive steel to a new level compared to the group stage as they contained the hosts to a mere eight goals in the second half after trailing 13:12 at the interval.
Danish prodigy Mikkel Hansen was unstoppable at the other end, rifling in 11 goals, albeit many of them from the penalty line, as PSG took the tie by the scruff of the neck ahead of the reverse fixture in Paris.
It is difficult to see how Dunkerque, who reached the VELUX EHF Champions League Last 16 for the first time, can overhaul the deficit and stage what would be a massive upset if they were to eliminate their more illustrious rivals.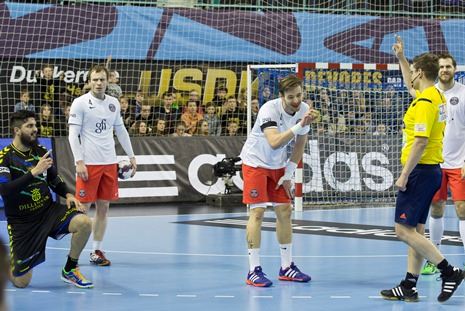 PSG boast a plethora of top household names who are finally functioning as a well-drilled unit, with evergreen 38-year old goalkeeper Thierry Omeyer still holding back the years between the posts.
Such is the depth that coach Philippe Gardent has at his disposal, it would take something special from Dunkerque to turn the tables although PSG will be wary of the shooting prowess demonstrated by Hungarian left back Kornel Nagy, who netted six goals in the first leg.
Either way, fans in the French capital can expect another exciting and physical clash from the old rivals who have battled each other many times in the French league and now lock horns again for bragging rights in Europe.