EHF Champions League
Vardar stretch unbeaten run while THC win German derby
Vardar stretch unbeaten run while THC win German derby
The opening day of Group 2 in the Women's EHF Champions League Main Round saw Vardar continue their winning run by beating their closest challengers, Metz, 29:23 on Saturday.
Also, the two German sides in the group met and following a narrow win in a tight battle (28:26), Thüringer HC went level with Bietigheim on two points.
Vardar have won all their matches in the competition so far and lead the group with 10 points

Dragana Cvijic was Vardar's top scorer with seven goals; Helene Sajka netted six times for Metz

THC and Bietigheim also met in a German cup duel this month, with Bietigheim winning that one

THC's Iveta Luzumova led with 10 goals, Bietigheim's Angela Malestein netted six times
GROUP 2
HC Vardar (MKD) vs Metz Handball (FRA) 29:23 (15:9)
Last season, Vardar and Metz also met in the main round, and the Macedonian side do not have the best memories about those clashes. While Vardar narrowly won 23:21 at home, they stumbled to a shocking 42:28 defeat in Metz.
With that disastrous performance in mind, they knew before the match Saturday that good defence would be the key to success.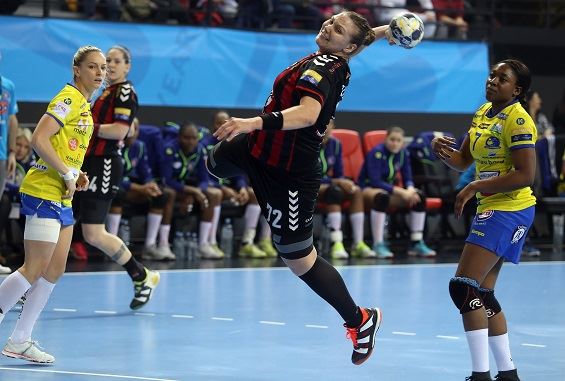 And Vardar managed to hold Metz back as they took early control of the game. Thanks to their solid defence, the hosts had a chance to rely on fast and dynamic attacks and powerful shots.
They led 7:3, later 11:6, and enjoyed a comfortable six-goal advantage at half-time.
Obviously Metz were striving to turn the game around, yet nothing really changed in the second half. Dragana Cvijic, Andrea Penezic and their teammates continued to score, and Vardar did not really give the visitors a chance to close the gap.
Vardar earned a well-deserved victory and showed their winning form has not declined since autumn.
Post-match statements:
Ekaterina Andryushina, Metz Handball assistant coach: "We played badly. In the attack, we simply could not recognize ourselves, as if it was not the Metz team."
Marina Rajcic, Metz Handball goalkeeper: "This was definitely not what the Metz team can do. If something is good in all that, it is that this is only the beginning of the main round and that we have enough time to correct our mistakes."
Irina Dibirova, HC Vardar coach: "The defence is the key to our victories but in the attack we were at a high level. All in all, tonight we played very well."
Dragana Cvijic, HC Vardar line player: "I believe we have the best team in Europe, the best coaching staff and we believe that we can go to the end."
Thüringer HC (GER) vs SG BBM Bietigheim (GER) 28:26 (12:8)
This was already the second duel between the two teams in 2018 after Bietigheim defeated THC in an away match for the German cup two weeks ago.
Playing in Nordhausen again, this time the hosts came out on top.
The German champions, who missed a few injured players, lacked power and efficiency in attack in the first half, and THC capitalised on their mistakes.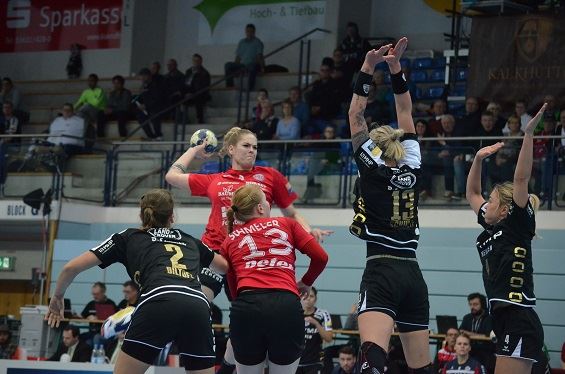 At the break the home team were in the lead by four goals (12:8), with Iveta Luzumova scoring half of her team's goals.
The Czech playmaker improved her top position in the tournament's scoring list, finishing the game with 10 goals.
THC comfortably led by four to five goals until the middle of the second half when the visitors improved their attack and started to catch up.
Five minutes before the end at 24:23, Bietigheim nearly drew level but Angela Malestein had her penalty saved by Nadine Krause.
THC's Saskia Lang got a red card following three two-minute suspensions, making the closing stages of the match tense.
However, THC held their nerve and Luzumova scored two penalties in the last two minutes to secure victory for the hosts, who are now level on two points with Bietigheim at the bottom of Group 2.