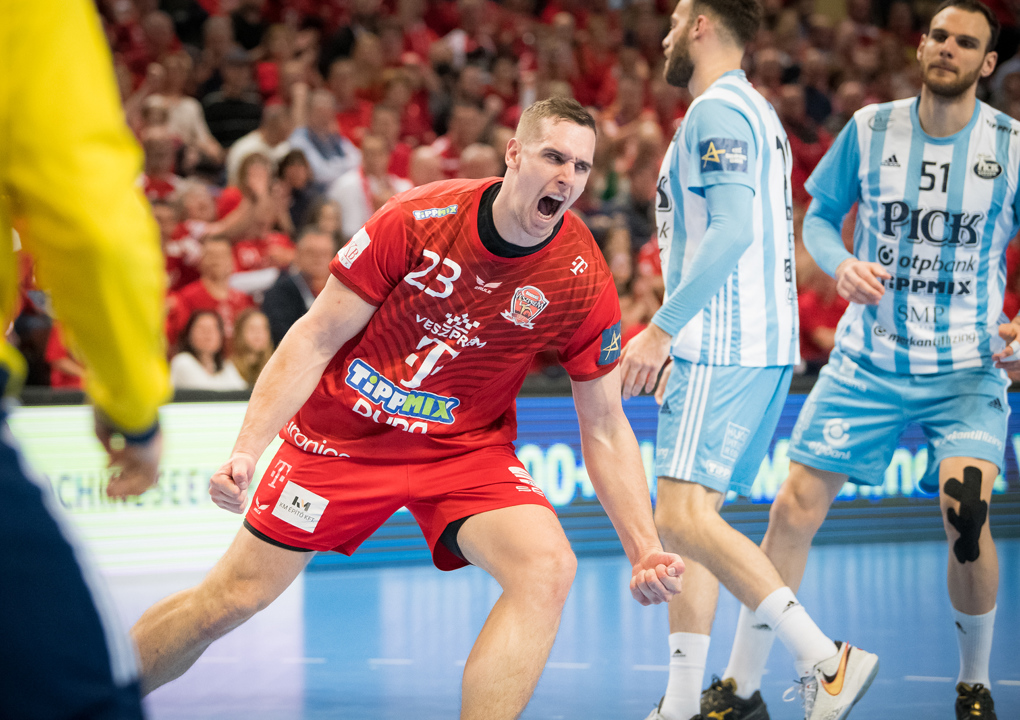 Veszprém cruise to the quarter-finals 
The major decision, which team will make it to the quarter-finals of the Machineseeker EHF Champions League had been - more or less - taken in the first leg already, but Telekom Veszprém were eager to finish the all-Hungarian play-offs with a clean record. In contrast to the 36:23 loss on home court last week, Pick Szeged were much improved in the away tie but finally were defeated again - this time by 33:38. In the re-match of the 2022 semi-final and the famous 2016 final of the EHF Champions League, Telekom Veszprém will lock horns with Industria Kielce in the quarter-finals for a spot at the TruckScout24 EHF FINAL4 2023. 
PLAY-OFF: 
Telekom Veszprém HC (HUN) vs OTP Bank-PICK Szeged 38:33 (17:16) 
Aggregate score: 74:56

last week, Szeged needed ten minutes to score their first goal; on Thursday, Imanol Garciandia netted for 1:0 after only 64 seconds 
Veszprém's biggest gap in the first half was four goals at 12:8, but Szeged kept it close for large parts, backed by a strong performance of goalkeeper Roland Mikler (seven saves in the first half) and the five goals from Spaniard Garciandia 
Szeged even turned the match around right after the break, but after going 20:18 behind, Veszprém strengthened their defence, pushed the pace in attack and decided the match with an 10:3 run to. make it 28:23 
The best scorers were, Garciandia, with ten goals for Szeged and Rasmus Lauge, who scored nine times for the victors 
this was the last international match for Juan Carlos Pastor as Szeged's coach for over ten years - after this season, he will take on the role of Egypt's head coach 
A legendary duel ahead in the quarter-finals 
Telekom Veszprém vs Industria Kielce will be a giant duel in the quarter-finals in May. Only one of those great clubs will make it to Cologne, where on 15/16 June, the 30th Men's Champions League winner will be decided at the TruckScout24 EHF FINAL4 2023. In 2022, this pairing was the first semi-final at Cologne, and Kielce made it to their second final with a 37:35 victory. It was Kielce's fifth victory against Veszprém in 17 matches. The most spectacular duel was the 2016 CL final when Veszprém were ahead by eight goals in the middle of the second half and then lost after extra-time and a penalty shoot-out.  
Photos: Peka Roland / Telekom Veszprém HC
We don't need extra motivation to play Szeged. Every match is always amazing against them, plus it's always really hard. We wanted to finish with a victory before the next round, so we are very happy to give our fans this victory. 
Congratulations to Veszprém; they deservedly won and will advance. Compared to the match in Szeged, I see improvement. We lost a lot of balls today, and we had some mistakes also in defence. We tried the 7 vs 6; we would like to improve on this in the future.