Inside the EHF
Youth in focus for EHF Players of the Month
Youth in focus for EHF Players of the Month
It was the summer of youth for European handball: In July and August, only younger age category had entered the EHF stage, before the senior club and national team competitions restart in September. Thus, the EHF Players of the months July and August (merged, as there was no women's competition in August) are younger than usual: 16 and 19 years or age.
The first Dutch EHF Player of the Month is Dione Housheer, the MVP of the U18 European Open in Gothenburg, while Spanish U20 EURO champion and All-star team player Dani Dujshebaev tops the male ranking - two YAC stars, who are about to imprint the future.
A panel consisting of EHF correspondents across Europe voted for the players of month for July/August assessing players' performances in the U18 and U20 events.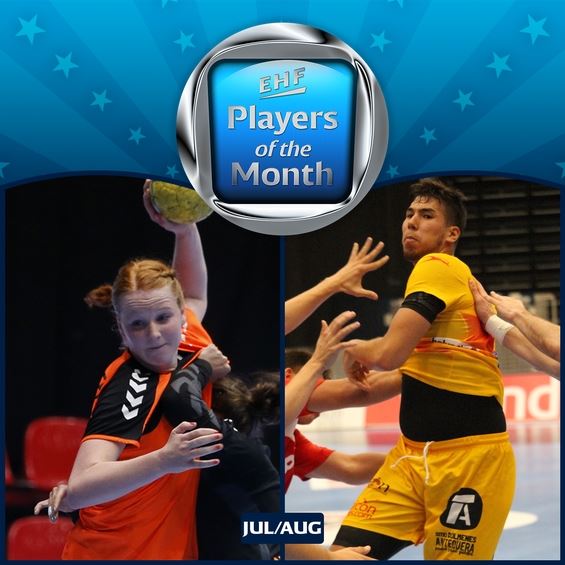 Dione Housheer was completely surprised, when contacted by the EHF about her award just like she had been completely surprised when awarded MVP of the European Open: "I did not expect either award. I knew that I played a good tournament in Gothenburg, but I never believed that I would be selected MVP ahead of all those top players from top handball countries."
Below the three Scandinavian powerhouses Sweden, Denmark and Norway, Housheer led her Dutch side to fourth place and now she is on top of the player of the month ranking: "Winning this EHF award certainly gives me a lot of extra-motivation. It is a great honour and gives me a lot of energy to train harder and become a better player. Hopefully I win more awards like this."
Dani Dujshebaev even made it to the top of the podium at Kolding, where Spain became U20 EHF EURO champions for the second time after 2012 - when Dani's brother Alex was All Star Team member. Thus, the youngest son of Kielce and Poland coach Talant Dujshebaev continues the successful history of his family.
And like Dione, Dani was highly surprised, when he learned of his EHF Player of the Month award: "It is a beautiful recognition and gives me extra energy to keep on working. Working to help your team and working to take more awards. I am excited and proud. I'm also thankful to my teammates and coaches."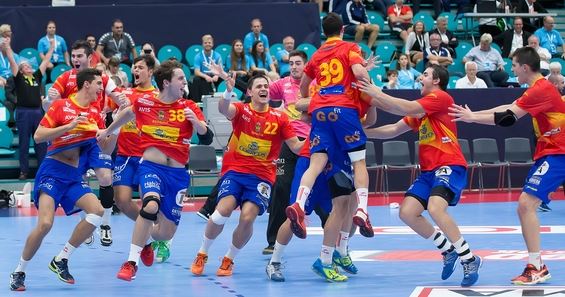 Both award winners have dedicated their lives to handball: Left back Dani Dujshebaev - first coached by his father - was part of the FC Barcelona youth programme since some years and in the previous season played in the B team of the Champions League record winners.
Right back Dione Housheer lives and trains in the handball academy at the Dutch National Sportcentre Papendal. She started to play handball when she was five and was selected for the youngest age category of Dutch talents at the age of 13. She has already been a part of the U18 team for two years.
"It is a tough schedule and you need to be well-organised at our academy, but I can handle it. We have our first training session before school and another right after the lessons are over. On Friday, I leave to my club and on the weekends we have our matches," Housheer describes her daily handball life.
Both EHF Players of the Month will face new challenges with the start of the new seasons: Dani Dujshebaev join Atletico Valladolid, a club, which just promoted to the Asobal league, while Housheer will play with EHF Cup participants Success Schoonmaak/VOC Amsterdam after playing for AAC1899 and Fortissimo.
"It is a challenge for me and a good opportunity to have more playing time on court and to improve. I love Valladolid, because it is a city which breathes handball. We have a good team and now we are training hard to be ready for the start of the season on 10 September," Dujshebaev says about his transfer.
The tall shooter was the key for Spain, scoring 10 goals as they won a thrilling U20 EURO final against Germany 30:29 after extra time.
"When you win gold it is a lovely moment, really hard to explain in words. At first I lived with unbelief, like it was a dream. After some days, you think: We are the best in Europe and inevitably you smile. It's something really great," Dujshebaev explained.
But Talant's son does not want to be lifted on the throne as an individual star: "I played a good tournament and I'm happy with my level, but personal performance is not the most important thing. Work for the team is the key point. Teams win competitions together, not just with a single player. We spent many summers working hard as a team and when good results appear, you feel pleased and really happy."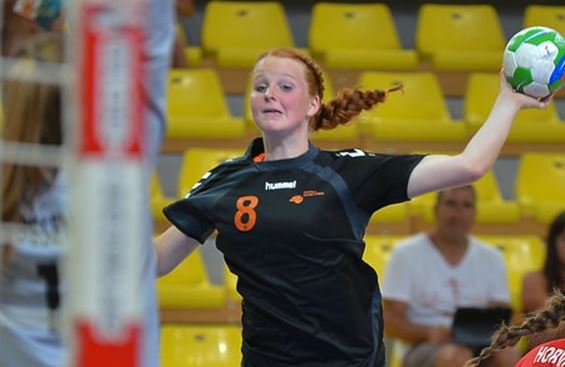 Housheer, who calls herself a 'creative player, who wants to try new things all the time', dreams of a great handball career. "One of my goals is playing for a club in one of the great handball countries like Germany, Norway or Denmark. Another dream is playing for the Dutch women's team, taking part at Olympic Games. Therefore I train very hard every day. I never give up, I always want to win."
And winning the EHF Player of the Month award already meant a huge victory - as Dujshebaev and Housheer left top players behind: Among the male nominees were the two French EHF EURO MVPs Melvyn Richardson (U20 bronze medalist) and Kyllian Villeminot (U18 gold medallist) and German shooter Tim Suton (U20). Housheer took the award ahead of Swedish European Open champion Thea Stankiewicz and Danish U18 goalkeeper Laerke Sofie Sörensen.