EHF Champions League
Zaporozhye and Zagreb boost their Last 16 hopes
Zaporozhye and Zagreb boost their Last 16 hopes
Motor Zaporozhye defeated SG Flensburg-Handewitt 28:26 on Sunday to strengthen their position in the ongoing fight for Last 16 tickets in VELUX EHF Champions League Group B.

The result ended Flensburg's hopes to overtake MOL-Pick Szeged in second place, as the Hungarian side defeated Celje 29:28 in the Match of the Week at the same time.

Also, HC PPD Zagreb beat last-place Skjern Handbold 32:29 to go level with Flensburg on 10 points.
Barys Pukhouski led for winning Motor with nine goals

Flensburg remain in third, but only one point ahead of Motor in sixth

Zagreb have gained points in four straight home games: three wins and a draw

Zagreb's Ivan Srsen scored nine times against Skjern
GROUP B

HC Motor Zaporozhye (UKR) vs SG Flensburg-Handewitt (GER) 28:26 (10:12)

Flensburg proved to be the most efficient team of the two in the first half, thanks to an impressive defence and an excellent Benjamin Buric between the posts.

The visitors only conceded 10 goals in the first 30 minutes of the game as the usual Ukrainian offensive assets Aidenas Malasinskas and Barys Pukhouski were struggling to find their rhythm.

Flensburg, on the other hand, counted on a magnificient Rasmus Lauge Schmidt, who scored three times in the first half, including a goal which gave the German side a four-goal lead (9:5) after 21 minutes. Zaporozhye reduced the deficit to two (12:10) before half-time.

Relying on their backcourt power, Flensburg remained ahead for most of the second half. Rasmus Lauge and Holger Glandorf were making the most of their opportunities, allowing the visitors to keep the lead.

But just like in the first half, they were not able to take a decisive lead. It allowed Zaporozhye to turn things around. Malasinskas and Pukhouski were the two masterminds behind the comeback, scoring 10 goals between them after the break.

And since Buric wasn't as efficient behind the posts anymore, the hosts levelled the score. And in the end took the win, as they outscored Flensburg 4:2 in the last five minutes.

Post-match statements:

Maik Machulla, head coach of SG Flensburg-Handewitt: "We are very disappointed with our performance, especially in the second half. We did not show our level in the second half and got too easy goals from Aidenas Malasinskas and Barys Pukhouski."

Mykola Stepanets, head coach of HC Motor Zaporozhye: "We were unlucky during much time of the game. When our players reduced the difference, I felt we could win. Flensburg proved their level as one of the strongest European teams."

Tobias Karlsson, Flensburg line player: "We had a lot of possibilities to win and were hoping for more. We lost the game because of our own mistakes."

Vladyslav Dontsov, Zaporozhye right back: "During the break after the first half we were told that a great amount of people came here to support us, so we must do our best. Fortunately, we pressed the opponent and won."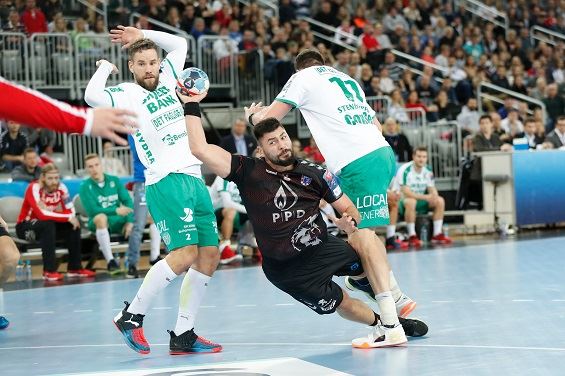 HC PPD Zagreb (CRO) vs Skjern Handbold (DEN) 32:29 (15:14)

None of the teams seemed to be able to take the edge during the first half. Both of them were two goals ahead at some point, but without managing to break away further.

Zagreb, using their trademark seven-court-player tactics, went 7:5 up after 12 minutes. But Skjern, led by experienced trio Anders Eggert-Bjarte Myrhol-Thomas Mogensen, were two up seven minutes later (11:9).

Enjoying a one-goal lead at the break (15:14), Zagreb finally took control in the second half. Forcing Skjern's defence to commit many fouls, they were giving Ivan Srsen the opportunity to score on seven-meters throws.

The Danish goalkeeper pair of Emil Nielsen-Björgvin Gustavsson didn't save enough shots to prevent Zagreb from breaking away.

The gap slowly widened, and when David Mandic made it 31:24 in the 54th minute, the match was over. Even a late 5:1 series for Skjern could not endanger Zagreb's victory.

Post-match statements:

Branko Tamse, PPD Zagreb coach: "We weren't our real selves in the first half. It was visible we can improve in almost all aspects of the game. In the second half we were way quicker in transition, scored some easy goals when they failed to score."

Ole Nørgaard, Skjern Handbold coach: "In the first half we were able to remain focused and play well but weren't able to capitalise on our good game and it proved to be costly."

Ivan Srsen, Zagreb right back: "In the second half we were better, faster, tougher, taking a well-deserved win in the end."

Bjarke Christensen, Skjern left wing: "You have to deliver a way better performance than we did today in order to come out on top here in Zagreb. The first half was not bad but in the second we were obviously not on the right level."