EHF European Cup
Besancon miss out on quarter-final berth
Besancon miss out on quarter-final berth
All but one of the eight Women's EHF Cup quarter-finalists had been determined by the last day of play, but Besancon had an opportunity to claim the last spot if they beat Viborg at home.
Yet despite a brilliant start, the French side ultimately lost 26:29, handing Kuban second place in Group C and a spot in the next round.
Siófok and Viborg won all six group matches
Magura and Sävehof ended up with zero points
Herning-Ikast's Helene Fauske netted 12 goals, making her the group phase's top scorer with 50
GROUP A
SG BBM Bietigheim (GER) vs Sports Club Magura Cisnadie (ROU) 29:17 (18:9)
Bietigheim finished the group phase with three wins and six points, yet that was not enough to go through. Prior to Round 6, Esbjerg and Storhamar had already grabbed the quarter-final places from Group A, so the German team's 12-goal win was just a matter of honour.
Magura failed to impress once again, suffering their sixth straight defeat in the competition. The Romanian side was perhaps not prepared to play at this level, but even a negative experience may be beneficial for the team's further development.
GROUP B
Siófok KC Hungary (HUN) vs TusSies Metzingen (GER) 32:25 (13:11)
Siófok, who are widely seen among the favourites for the Women's EHF Cup, showed their quality throughout the whole group phase, winning all six matches. The last home game against Metzingen was no exception, as the Hungarian team took it seriously and won by seven goals.
At half-time, Siófok were up by just two goals (13:11), yet they accelerated after the break. Simone Bohme and Mireya Gonzalez Alvarez were the best scorers of the home side with seven goals each, while Monika Kobylinska and Kelly Vollebregt netted six times for Metzingen.
The German team, who beat Sävehof twice but lost four other group matches, finished in third place.
IK Sävehof (SWE) vs Herning-Ikast Handbold (DEN) 23:33 (12:17)
The Nordic derby was not a true battle, as Herning-Ikast were dominant during the whole game and deservedly claimed two points. With eight points, the Danish side finished second in Group B, while their Swedish rivals stayed bottom.
For Sävehof, the current European season has been unsuccessful. Following six defeats in as many Women's EHF Champions League games and an early elimination from that tournament, they went on to lose six more times in the EHF Cup.
"There's nothing positive that we can take from this match. Prior to the game I thought that we would have the chance, but we didn't deserve it today," said Sävehof's coach Rasmus Overby.
His team's defence were unable to stop Herning-Ikast's Helene Fauske. The 22-year-old Norwegian scored 12 goals in this match and tops the competition's scoring chart with 50 goals.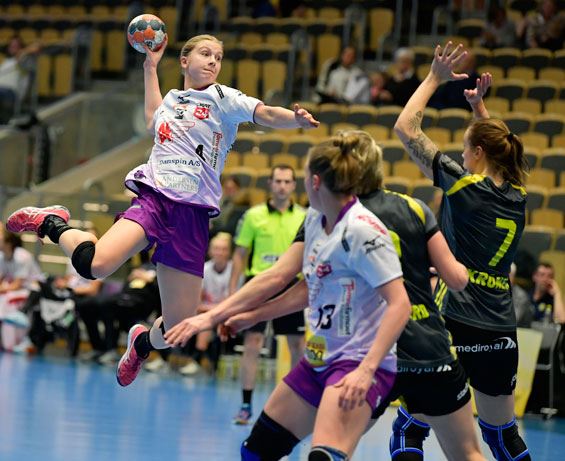 GROUP C
E.S.Besancon Feminin (FRA) vs Viborg HK (DEN) 26:29 (14:14)
It was a dream start to the game for Besancon. Goalkeeper Zeljana Stojak shone with a few saves, while her teammates scored one goal after another from fast breaks. By the eighth minute the French club led 6:2.
Viborg had secured first place in the group, yet they did not want to end their 11-match winning streak in the competition. With three minutes left of the first half, Viborg had drawn level.
As the match resumed, Viborg took the upper hand and took a 17:15 lead five minutes into the second half. However, Besancon continued to fight and did not allow the visitors to pull clear for a long time.
But in the last 10 minutes, Viborg's higher quality showed. By the closing moments of the match the visitors had an unassailable lead, and Besancon's hope for a quarter-final spot died – very much to Kuban's joy.
GROUP D
SCM Craiova (ROU) vs Super Amara Bera Bera (ESP) 26:23 (13:11)
The Women's EHF Cup will have a new winner this season, as the current title holders Craiova have been eliminated after the group phase. That was already known on Saturday following Nykøbing's win at Podravka, so Craiova's victory against Bera Bera was merely a consolation.
Plagued by injuries, the Romanian side finished third with five points in Group D. They should be credited for the best defence in the whole competition, conceding just 136 goals, but their attack struggled with just 126 goals scored.
Bera Bera had a different approach to their game, as they both scored and conceded the most goals in the group, 170 and 172 respectively. Yet this open style did not prevent the Spanish side from finishing in last position.