20,000 balls for Wiederer
Almost 17 years ago, in August 1993, the handball world could observe the first ever EHF draw event taking place. It was a historical moment: the EHF had just taken over the European Champions Cup from the IHF and directly reformatted it into the premier season of the EHF Champions League.
Representatives of 70-80 clubs witnessed EHF Secretary General Michael Wiederer (centre) performing the draw, assisted by Günal Ensari (left, at that time President of the Turkish National Federation) and Jan Tuik (right, at that time member of the Competitions Commission) at the Golf Club of Vienna's Hotel Bosei, near the first EHF office building.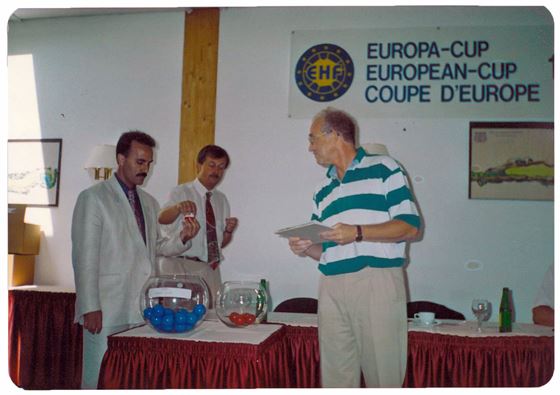 Since then numerous draw events have taken place, all of different nature: club competitions, national team events, draws for qualifications and for final tournaments. The usual highlights among draw events are those for EHF EURO final tournaments, which are being held as gala events and are broadcasted on television.
The EHF is proud that in their entire draw history not a single draw event had to be re-enacted due to a technical error.
The European Cup draw's 232 balls on 27 July 2010 were an easy task for EHF Secretary General Michael Wiederer, as he has now drawn over 20,000 balls. But it wasn't always that easy: "In July 2006 we drew the final tournament for the EHF EURO 2006 at the occasion of the Partille Cup. The very first ball I had taken out of the bowl just wouldn't open up and reveal the team name, no matter how hard I tried. It was quite embarrassing as the event was televised live and over 700 people were in the hall. In the end I surprised everybody by putting it on the ground and stepping on it," Wiederer remembers.
The next EHF draw – 2010/11 Men's EHF Cup, Round 3 – will take place on 12 October 2010.