EHF Activities
2008 EHF Wheelchair Handball Event
2008 EHF Wheelchair Handball Event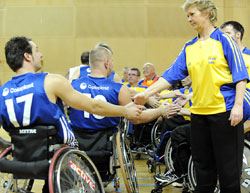 On 10-11 October 2008 an EHF Wheelchair Handball Event took place in Vienna.
The event was organised by the EHF Methods Commission in cooperation with the EHF Competence Academy & Network as a combination of a seminar and a small tournament. The weekend gave all interested people the possibility to learn, understand and spread the idea of Wheelchair Handball.
The seminar proved to be very popular with participants coming from Austria, England, Hungary, Sweden and even from Japan. The lecturers were Frantisek Taborsky (EHF representative), Andreas Zankl (Wheelchair Basketball specialist from Austria) and Laurent Bosle (Wheelchair Handball specialist from France).
A Swedish and an Austrian Wheelchair Handball selection played two matches to demonstrate the sport. For the record: both ended with Austrian victory.
The weekend, which was an important step for the development of Wheelchair Handball, was characterised by a superb atmosphere and closed with a celebration in Vienna's famous "Rathauskeller".