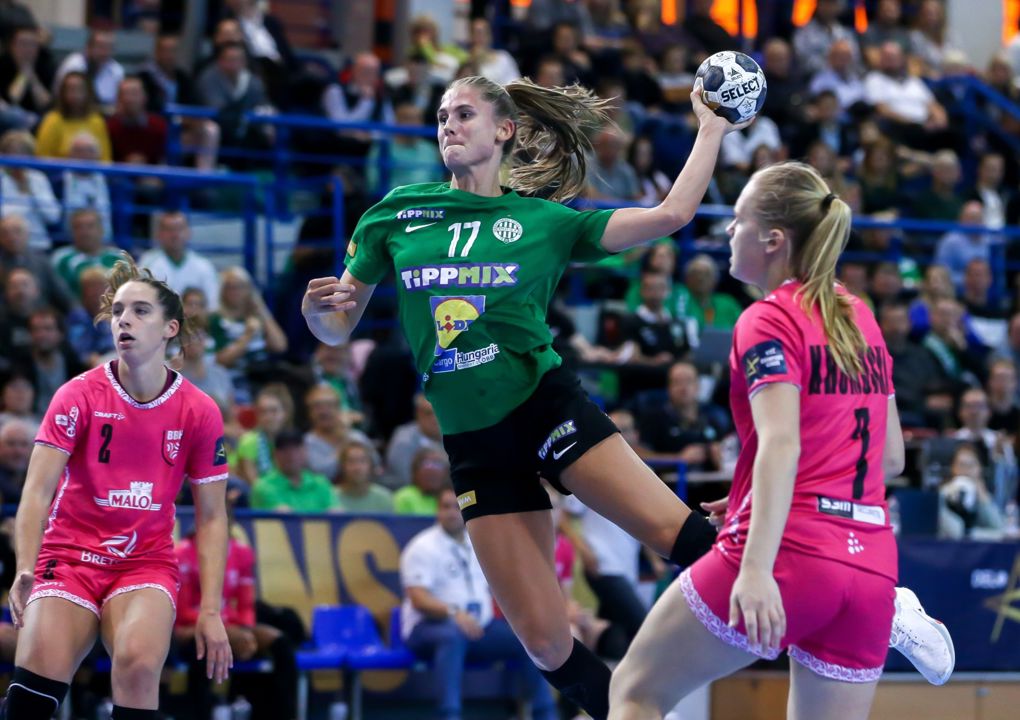 Brest host FTC in crucial match
Three rescheduled DELO EHF Champions League group phase matches will be played on Saturday, with two crunch clashes in group A set to shape the standings.
Group A leaders Team Esbjerg look poised to take another win against HC Podravka Vegeta to cement their position, while FTC-Rail Cargo Hungaria travel to face Brest Bretagne Handball, who are still aiming to fight for one of the top two spots, in a crucial match for both teams.
In group B, eighth-placed Kastamonu Belediyesi GSK are hoping to earn their first points in the competition in their home match against IK Sävehof, who are ranked seventh.
GROUP A
Team Esbjerg (DEN) vs HC Podravka Vegeta (CRO)
Saturday 29 January, 16:00 CET, live on EHFTV
Esbjerg are one of the most in-form teams in the competition, riding a six-game winning streak and an eight-game unbeaten run
Podravka, who have lost their nine last games in the DELO EHF Champions League, will be eliminated if they do not win this match
the Danish side boasts the second best defence in the competition, averaging 24.7 goals conceded per match – and only 22 goals against per game on their home court
Podravka have lost their last 15 away games played in Europe's premier competition and have a goal difference of -54 in four away games this season
a 33:33 draw against Silkeborg-Voel in the Danish league on Wednesday extended Esbjerg's unbeaten streak in all competitions to 21 games
Esbjerg centre back Annette Jensen said: "We have to be ready. We have created a solid foundation in the group so far, and it is important we have another attitude towards the game than the one we had in our last league match."
We have some matches in Europe where we feel we have a reasonable chance to get a win at home. The match against HC Podravka Vegeta is one of these matches.
Brest Bretagne Handball (FRA) vs FTC-Rail Cargo Hungaria (HUN)
Saturday 29 January, 20:00 CET, live on EHFTV
only three teams have won all their home games in the DELO EHF Champions League this season: Brest Bretagne, Esbjerg and Györi Audi ETO KC
after a strong start in the group phase, FTC have suffered two losses in the last three games and only have a two-point advantage over Brest, who can join the Hungarian side on 14 points if they win
both losses for FTC came in away games against teams that are vying for the top positions in the group: CSM Bucuresti and Team Esbjerg
Brest and FTC secured important wins in their domestic leagues on Wednesday, as Brest took a narrow 32:31 away win against Les Neptunes de Nantes, while FTC beat Budaors 38:23 to tie Györ at the top of the Hungarian league
in the first match between the two sides, FTC took a narrow 28:27 win against Brest
GROUP B
Kastamonu Belediyesi GSK (TUR) vs IK Sävehof (SWE)
Saturday 29 January, 12:00 CET, live on EHFTV
Kastamonu have lost all 10 games in the group phase, while Sävehof have four points, one fewer than sixth-placed Krim Mercator Ljubljana
last weekend, both teams were defeated at home: Kastamonu lost 35:24 against Vipers Kristiansand, and Sävehof were beaten 32:23 by CSKA 
for the Swedish team, it was the fifth straight loss in the continental top flight. Notably, they last earned points in the reverse fixture with Kastamonu in October, when they were down 17:11 at half-time but in the end won 28:26
having conceded an average of 33.5 goals per game, Sävehof have the least effective defence in the group phase. In turn, Kastamonu have the worst goal difference (-92)
Jamina Roberts (67 goals) from Sävehof is third on the competition's list of top scorers, while Kastamonu's Jovanka Radicevic (58 goals) is in joint sixth position on that list
We have given ourselves the opportunity to still have the chance to move on to the next round and we'll definitely try to take it. Kastamonu is a strong team, and since our last game against them they've had more time together. Thus, I predict that this game will differ from the last, but if we perform well, then we absolutely have the possibility to win.