Media Releases
Champions League and adidas extend commitment
Champions League and adidas extend commitment
The German sportswear manufacturer, adidas, and the daughter company of the European Handball Federation, EHF Marketing GmbH, are pleased to announce the continued partnership of the EHF Champions League. This new deal between adidas and the top European men's and women's club competition will run from 2009 to 2013.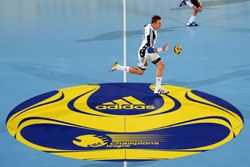 Since the foundation of the European Handball Federation in 1991, adidas has played an active role in the development of club and national team competitions in European handball. The company has also given significant support to the success of the EHF Champions League.
Under the terms of the new partnership deal all 89 men's EHF Champions League games and 114 women's EHF Champions Leagues games will continue to be played with the Stabil Champ yellow and blue ball, which has become synonymous with the flagship EHF club competition. The Stabil Champ image featuring the adidas Performance logo will be present in the centre circle of the Champions League courts guarantying a prominent presence for the company.
Managing Director of EHF Marketing, Peter Vargo, underlines the importance of the partnership with adidas:
"We are proud to have extended our partnership which guarantees that the premium club competition is played with the highest quality handballs ensuring a uniform look for the games."
EHF President Tor Lian welcomes the agreement:
"adidas, a long term partner of the EHF, has contributed positively to the development of the EHF Champions League product. The European Handball Federation as the organiser of the Men's and Women's CL is proud to prolong the cooperation with the leading sports apparel manufacturer."
SVP Global Sport and Brand Relations, Michael Riehl from adidas says, "The EHF Champions League unites the elite of European club handball and adidas is proud to continue our sponsorship of one of the most exciting sporting leagues in the world."
The men's EHF Champions league, which attracted more than 520,000 spectators in the arenas last season, involves teams from 25 countries while 22 countries will be represented in the 2009/10 women's competition.
- End -
Contacts:

Peter Vargo
Managing Director, EHF Marketing
vargo@ehfmarketing.com
Linda Murphy,
adidas Global PR
Linda.Murphy@adidas.com