EHF Champions League
Confidence and bad luck appear in best quotes of the week
Confidence and bad luck appear in best quotes of the week
FTC snapped Györ's winning streak as the two Hungarian sides ended their game in a stalemate (32:32) in Group 2 of the Women's EHF Champions League Main Round on Saturday. The result provided the outsiders with some food for thought about the future.

Also, Rostov-Don coach Ambros Martin was all smiles after the 24:22 win against Buducnost, while his counterpart at Brest, Laurent Bezeau, could not hide his disappointment after a painful loss against domestic rivals Metz.

5. Noemi Hafra, FTC Rail-Cargo Hungaria left back

"We surely have the firepower and are strong enough to earn a berth for the Women's EHF FINAL 4 in Budapest."

The Hungarian side started the main round with only two points. But after a win against Thüringer HC and a draw with Györ, FTC are dreaming again. They are currently fourth in the ranking, three points behind Vipers and CSM, and could find themselves fighting for a place in EHF FINAL4 against the winners of Group 1. The young Hungarian side is brimming with confidence.

4. Andrea Lekic, CSM Bucuresti playmaker

"Amanda Kurtovic and Cristina Neagu are out and we will have to play without them. We have to alter our playing style, that is the truth. We need to fight more and give everything we can on the court."

Even after bouncing back with an impressive win against Krim, the nine-goal defeat against Györ from the first round is hard to forget for CSM. The Romanian side will need another win, against THC, next week if they are to finish runners-up and play the second leg of the quarter-final at home. As it is, they need every help they can get to earn their fourth Women's EHF FINAL 4 berth in a row.

3. Gabor Danyi, Györi Audi ETO KC coach

"To tell you the truth, we were not in this situation all season. We had to run all the way after them to prevent a defeat. We learnt a lesson and I am happy with the draw."

After 15 consecutive wins, Györ's streak was snapped by an ambitious FTC side, who avenged the 39:33 defeat from January in the domestic league. FTC could consider themselves unlucky, as Györ only led twice throughout the game, but snatched a point in the dying seconds thanks to their attacking prowess.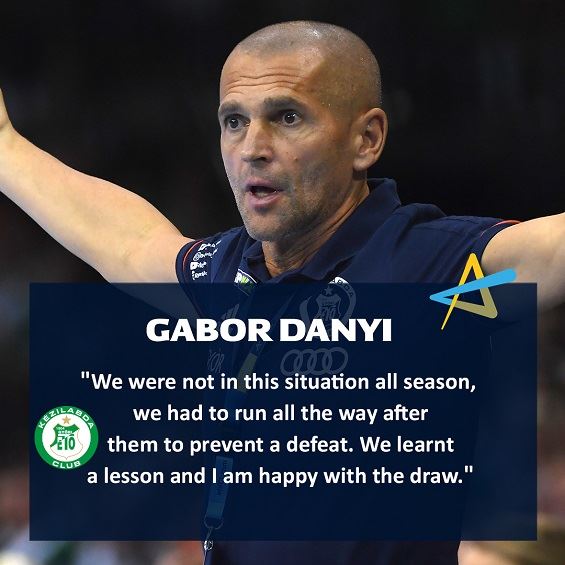 2. Ambros Martin, Rostov-Don coach

"I knew they came with bad intentions. It was a very difficult game. Our rivals know how to fight."

The Spanish coach could not hide his delight after the 24:22 win against Buducnost, which propelled Rostov to the second place in the group, tied with Metz at nine points. Martin cracked a joke about Buducnost's stout defence, yet it was Rostov who came unscathed after a hard-fought, old-school game.

1. Laurent Bezeau, Brest Bretagne Handball coach

"A lot of frustration and disappointment, very unlucky. Losing against Metz is not a shame, but the difference was so big. The question that has to be asked is why last season we managed to win against them and now we lose so badly."

Three days before the new year, Metz routed Brest 35:20 in the French league. Without Bella Gulldén, who is out due to pregnancy, Brest had little chance in the rematch in the main round of the Women's EHF Champions League, as Metz took an early lead and never looked back. The 32:21 win meant that Emannuel Mayonnade's team tops the group, while Brest remain last - one point shy from both Kobenhavn and Odense, who play each other Monday night.