EHF Champions League
SUMMARY: Elverum get first home win; Motor climb into third place
Before heading into its winter break, the EHF Champions League Men 2020/21 sees a handful of rescheduled matches still being played in 2020, and two of them took place on Thursday.
Elverum Handball earned their first home win in group A by defeating HC Meshkov Brest, while HC Motor climbed into third position in group B with a win over HC PPD Zagreb.
two rescheduled EHF Champions League Men matches on Thursday
in group A, Elverum defeat Brest 33:31 (16:17) for their first win in a home game this season
in group B, Motor beat Zagreb 29:25 (13:13) to stretch their winning run to five matches
see where the teams rank in the updated standings of the group phase
check the playing schedule for more rescheduled matches coming up before Christmas
Eric Willemsen reported on Thursday
21:45
Here ends our coverage of tonight's two games. Remember, there are still a few rescheduled matches coming up before Christmas, starting with HC Motor vs HBC Nantes on Sunday at 13:30 CET, so make sure you don't miss them!
For now, it's goodbye and enjoy the picture gallery!
21:31
Let's hear from Motor head coach Gintaras Savukynas, who still finds some words of criticism after his team have defeated Zagreb 29:25:
We again stumbled over our own mistakes that we had in previous matches. We started well, but then we made a number of hasty actions, and then we had to start all over again. Zagreb also changed their game during the match, adjusting to our actions. They gave us a strong fight today.
21:14
Read how Elverum came from behind at half-time to defeat Brest and take their second win of the season - and first since winning at Porto in round 1:
21:08
Read how Motor extended their winning streak to six matches - one short of their best ever run in the competition - while Zagreb suffered yet another loss despite showing signs of improvement:

20:25
RESULT: Motor vs Zagreb 29:25 (13:13)
Motor extend their winning streak to five matches, beating Zagreb 29:25 after nothing had separated the teams in the first half.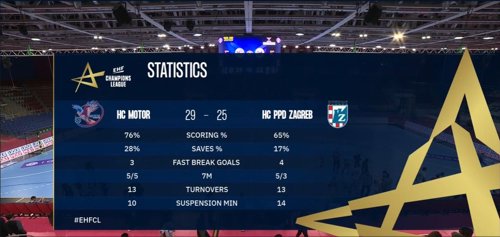 20:20
RESULT: Elverum vs Brest 33:31 (16:17)
Crazy scenes in Elverum! The Norwegian side finally get their first home win of the season - and third-placed Brest are the victims, 33:31.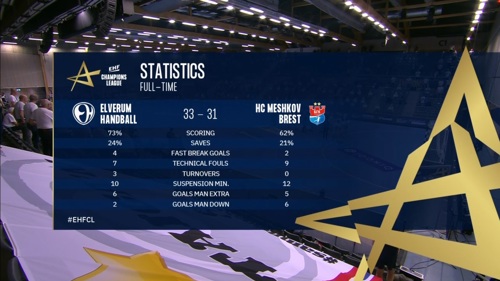 20:11
"We are losing our minds ... Believe in yourself!"
Strong words from Brest coach Raul Alonso during a team timeout as his side have dropped two behind in Elverum in the closing minutes...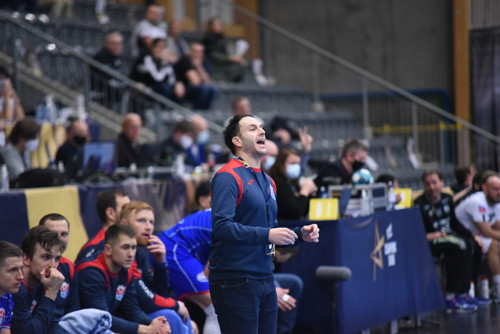 20:07
... plus style points for the dolphin-like dive!

20:01
Still level at the break, but now three ahead (25:22) with 10 minutes left: have Motor done enough to beat Zagreb again?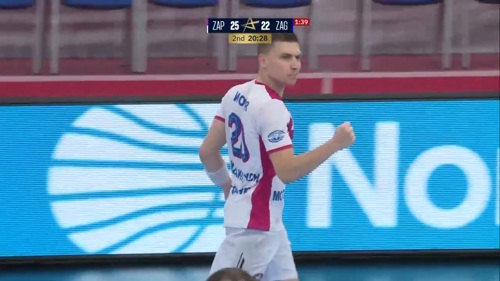 19:57
It is still anybody's game in Norway: Elverum 24, Brest 24, just past the halfway mark of the second half. Good stuff this!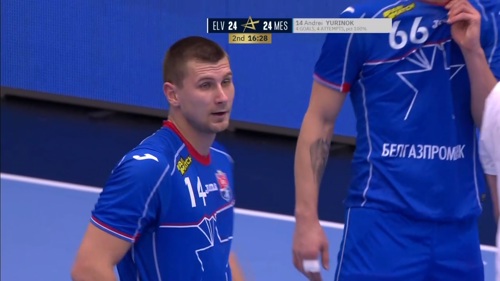 19:52
Check this dazzling move from Zagreb's Vlado Matanovic:

19:38
ICYMI - this in-flight from Motor's Artem Kozakevych was one of the highlights of the first half:
19:25
HALF-TIME: Elverum vs Brest 16:17
Meshkov Brest led by three at one point (14:11) so Elverum will be glad to have to make up just a one-goal difference in the second half.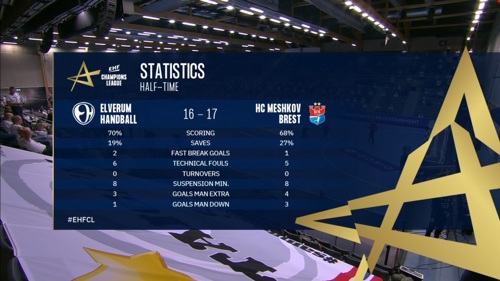 19:22
HALF-TIME: Motor vs Zagreb 13:13
It is all square at the break in Zaporozhye. Can Zagreb hold on this and finally get their first point(s) of the season?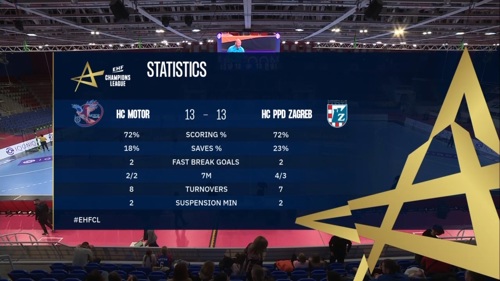 19:13
Meanwhile over in group B, Motor have opened a two-goal lead over Zagreb (11:9), with just over five minutes left in the first half.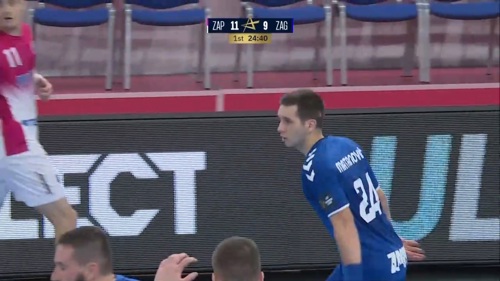 19:07
Elverum and Brest are completely balanced after 16 minutes, 8:8. Even their number of suspensions so far is equal...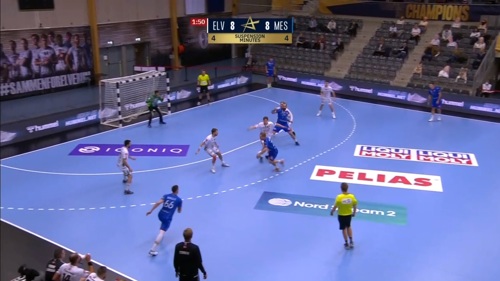 18:47
We are off and running in Norway and Ukraine. Remember that EHFTV enables you to watch both games side-by-side on one screen: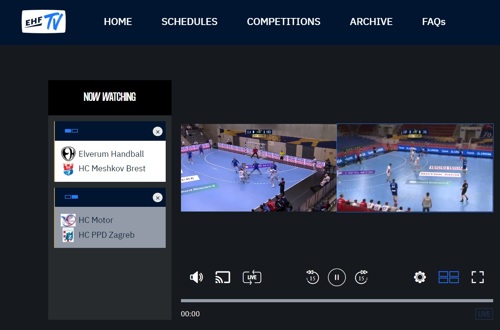 18:41
Can Motor roll on tonight? They have won their last four matches in the competition, which included a narrow 24:23 win over Zagreb in Croatia.
Obviously you have to favour hosts Motor for this one, but it can only be a matter of time before Zagreb click into gear.
Find out what happens in a few minutes, here is your DIRECT LINK TO MOTOR VS ZAGREB ON EHFTV.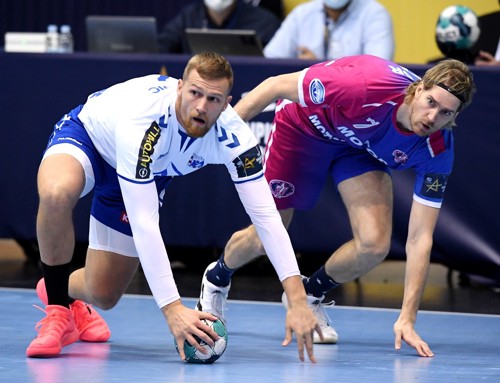 18:31
Elverum have lost their last six games, but I would not read too much into that stat when it comes to tonight's match.
Elverum did well last week when they came very close to upsetting Flensburg in the Match of the Week. And opponents Brest have gathered only one point from four away matches so far.
Throw-off is at 18:45 CET, and this is your DIRECT LINK TO ELVERUM VS BREST ON EHFTV.

18:22
The group B match between Motor and Zagreb was initially scheduled for round 8. Also here, we see teams coming off a pretty different season start.
While Motor would overtake third-placed Aalborg if they extend their four-match winning streak tonight, Zagreb are still after their very first points of the competition.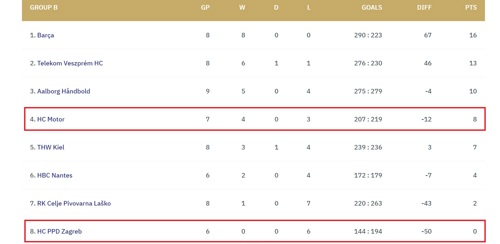 18:11
In a match rescheduled from round 6, Elverum and Brest are starting from contrasting positions, with the Norwegian side in last place and the visitors from Belarus in fourth.
Elverum would join Szeged in sixth with a win, while Brest would close the gap to Flensburg and Kielce to just two points - but with a match more under their belt compared to the joined leaders of group A.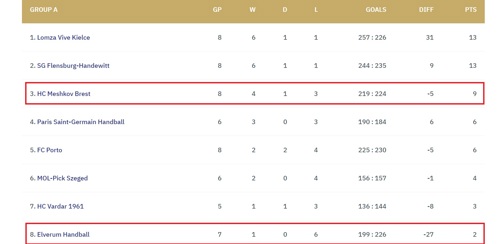 18:00
Good evening! We have two matches in the EHF Champions League Men coming up for you and the live blog is the place to stay informed on all that is happening out there.
Tonight we have trips to Norway and Ukraine in prospect:
13:00
So, this was our warming-up for the matches tonight. The live blog resumes around 18:00 CET with the latest info on our two games:
18:45 CET: Elverum vs Brest
18:45 CET: Motor vs Zagreb

12:46
You have got to feel for Zagreb, the only team without a point so far this season. Not been able to play for a whole month, they don't have an easy return to the court tonight, facing Motor in Ukraine.
However, even in difficult circumstances for his team, Zagreb head coach Vlado Sola sees light at the end of the tunnel, as he is quoted on the club's official website:
A month has passed since the last game. We didn't play a single game and our players were in self-isolation, which took us a step back in terms of form and energy. However, the last three training sessions we have a certain quality that I want to translate into a quality game against Motor.
12:17
Regarding the last four matches played, there has been only one team that can keep up with Barça result-wise: Motor are on a four-game winning streak in group B.
And look how they have done it; three of these four wins were by a single goal: 32:31 vs Nantes, 31:29 vs Celje, 24:23 vs Zagreb, and 32:31 vs Celje.
The Ukrainian side are eager to make it five in a row tonight, against last-placed Zagreb. If they do, they will overtake Aalborg into third place behind the group's dominators, Barça and Veszprém.
11:53
Two weeks ago Brest won the reverse fixture against Elverum 29:27 at home in Belarus. Marko Panic is aware that Brest awaits another tough challenge when the teams meet again in Norway tonight:
We expect it will be difficult. The opponents played great against Flensburg a week ago, had a chance for a draw. But we go for the maximum result. We need to play with focus and be ready for a serious battle.
11:34
Let's first focus on the group A game tonight. Elverum have lost their last six games but somehow you get the feeling that those results don't do justice to their qualities. Just remember how agonisingly close they came to snatching a point from Flensburg in last week's Match of the Week...
Anyway, they will need another strong showing tonight if they are to get something from third-placed Meshkov Brest.
11:00
So you thought the EHF Champions League Men was all over for 2020 after round 10 last week?! Think again! We are back today with two more matches, so welcome to another live blog.
Some matches from earlier rounds have been rescheduled before Christmas (overview), and two of them are set for tonight, both throwing off at 18:45 CET:
Elverum Handball vs HC Meshkov Brest
HC Motor vs HC PPD Zagreb
As always, the preview is a good starting point to get yourself up-to-date on those matches: