EHF Champions League
Summary: Barça dominance in MOTW concludes exciting round 7
Following a two-week break, the EHF Champions League Men returned with two thrilling days of action in round 7 on Wednesday and Thursday. 
The standout performance came from Barça, who extended their winning run to 19 matches by defeating THW Kiel in the highly anticipated Match of the Week.
12:58
That's it for our live blog coverage of round 7! We leave you with our YouTube playlist featuring all the highlights of the round. Access it in the link below. 
11:55
Alex Dujshebaev had an absolute scorcher for Kielce last night, contributing 10 goals to their win versus his former club. Take a look at some of his best moments below!
FRIDAY 20 NOVEMBER
10:44
What an exciting round we have just enjoyed! The Match of the Week may not have been nail-bitingly close, but it was a big statement from Barça to take such a victory in Kiel. 
Barça's new wing Blaz Janc must have been pretty happy waking up to his birthday after such a result. 
Speaking of the MOTW, have you answered our one-question quiz on this classic encounter yet? Find it here.  
21:56
Our coverage of this midweek round 7 in the EHF Champions League Men ends here. The competition is back with the reverse fixtures next week.
Hope to see you again then, for now it is good night... and don't forget to check out the best moments from tonight in our picture gallery!

21:40
You have seen tonight's games? Then you might want to read what our EHF journalists Kevin Domas and Björn Pazen wrote about them:
21:27
As we are approaching the end of our coverage, here is the overview of what happened in round 7 yesterday and tonight:
21:04
ICYMI - what is better than one great save?
Kielce's Andreas Wolff has the answer... two great saves!
It is quiz time! Do you know the correct answer to our question about tonight's Match of the Week?
20:25
Well done also to Kielce, who keep their strong run in group A going with a 10-goal outing from Alex Dujshebaev to defeat Vardar 33:29.
20:18
"We also couldn't stop the record champions. Barça win their 19th EHF Champions League match in a row. Congratulations!"
Fair words from Kiel, after they have been handed their worst ever loss (by six goals) in a home game against Barça...
20:15
First reaction from Kevin Møller after Barça's thumping win in Match of the Week:
"I can't imagine something better. It's something special against a world-class team like Kiel. We had a strategy and we kept to that strategy. Sometimes it works."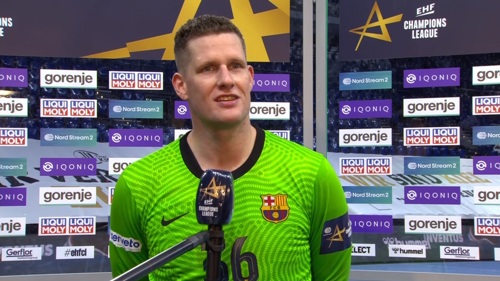 20:12
It's all over! Barça remain untouchable and beat Kiel 32:26 in our Match of the Week.
An extra hug for Barça goalkeeper Kevin Møller, who has been named Player of the Match!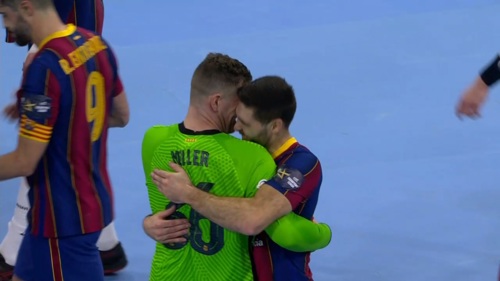 20:09
What a way to stamp you authority on this group! Barça are 32:25 up going into the final minute of Match of the Week in Kiel.
This is impressive!
19:59
Led by Dika Mem's six goals, Barça are up by five (28:23). Can Kiel coach Filip Jicha help his team turn the tide in the closing 10 minutes?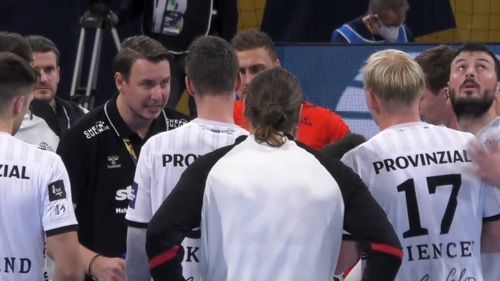 19:56
Meanwhile, Vardar and Kielce are back in balance at 22:22 halfway through the second half.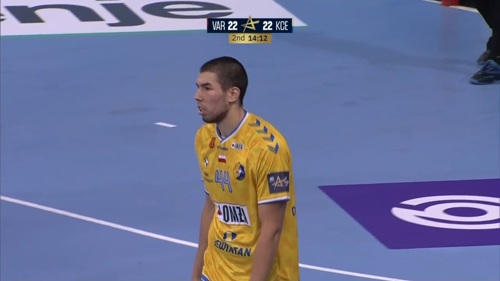 19:47
Sometimes, you have to just go for it. Well done, Alex Dujshebaev!
19:28
The Match of the Week was always going to be a close affair - and it is, with Barça leading Kiel by 16:15, and on their way to stretch their incredible 18-match winning run in the EHF Champions League?
Oh, by the way, Kiel behind at half-time in a home game is nothing new: they have been against Nantes (12:15) and Veszprém (18:20) as well...
Over in Skopje, Vardar are given a hard time by Kielce and will have to make up a four-goal gap in the second half.
19:16
Wow, THIS is how you want to start a match... especially as it is Match of the Week!
19:03
Tonight's other game, expectedly, close as well: Vardar lead Kielce 9:8 after the opening quarter.
18:59
After the opening 10 minutes a slight advantage for Barça over Kiel, with emphasis on slight: 4:3.
18:33
So you are going to watch the Match of the Week between Kiel and Barça? Well, you are not the only one!
No less than 21 (!) broadcasters will be transmitting this high-profile game tonight.
Check your local broadcaster here or watch the match live on EHFTV.
18:20
Good evening! You know what it means when they say 'save the best for last'... we are going to wrap up this week's round 7 schedule with two cracking games!
Combined they won three of the last four EHF Champions League titles: Vardar against Kielce in group A.
And what else do we need to say about our Match of the Week: Kiel against Barça in group B?
Both matches throw off at 18:45 CET!
15:30
As we approach the throw-off time of tonight's clash of titans (18:45) it is worth to mention that a new record will be set in the MOTW history. No fewer than 21 TV stations in Europe will broadcast the match between THW Kiel and Barça live. Check the TV schedule button here to find out where to watch this classic in your country.
10:00
Good morning! More thrilling action in round 7 of the EHF Champions League Men with two cracking games is coming your way tonight...
...but we are still in the morning hours, so let's have breakfast first! In the Breakfast of Champions coming up on the official EHF Champions League Instagram account we meet two Slovenian players who are involved in the Match of the Week tonight: Kiel's Miha Zarabec and Barça Blaz Janc.
Dober tek!
23:08
That's it from us for the first night of round 7 action. Join us tomorrow as the schedule for this round concludes with two exciting games, Vardar vs Kielce and the Match of the Week, THW Kiel vs Barça!
22:58
Motor's win versus Zagreb tonight has boosted the Ukrainian champions play-off hopes. Group B journalist Björn Pazen takes us through the ins and outs of the game here.
22:48
The best photos of the opening night of round 7 are now up on our Facebook page. Enjoy!
Here comes tonight's poll! Due to the exciting draw in Flensburg, we had to include five sides to vote for tonight.
22:26
Let's take a look at the group standings after tonight's opening round 7 games. 
In group A, PSG have inched closer to the leaders with their away win in Portugal, and now count four points in their account. Porto remain on six in fourth, one position ahead of PSG on the table. 
Flensburg join Kielce on nine points, staying in second, while Brest remain in third and have seven points after the draw in Germany. 
In group B, Motor leapfrog Nantes and take fifth place, with four points now. Zagreb stay in eighth and still await their first points of the season. 
At the top of the table, Veszprém are now in first, pending Barça's result in the Match of the Week on Thursday. The Hungarian side have 11 points, while Aalborg remain in third with eight. 
See all the group standings here. 
22:21
FULL-TIME IN CROATIA
Devastatingly close for Zagreb, but the Croatian side miss a great opportunity to take their first points of the season as Motor secure the victory.
On the other hand, it is the first time Motor have won two away matches in a row since November 2016. They move up to four points with the victory.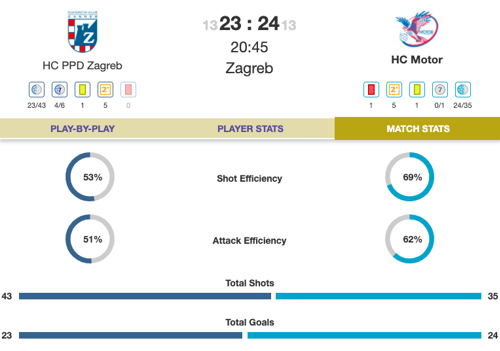 22:13
Looks like we're in for another thrilling finish! Barys Pukhouski has just netted for Motor to reclaim a two-goal lead, 22:24, with two minutes on the clock, but Zagreb are still within reach. 
Ivan Maroz has made some important saves for Motor this half. Check out one of the best below!
22:01
We are inside the final quarter of the game, and Motor have reopened an advantage. Zagreb need to find a way to change the momentum here, as it's all going Motor's way at the moment. 
Aidenas Malasinskas (Motor) and David Mandic (Zagreb) are leading on the score board with five goals apiece.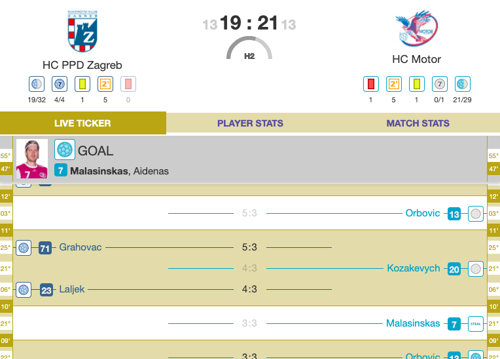 21:49
Time to examine Flensburg's last-gasp draw vs Brest! Group A journalist Kevin Domas guides you through this exciting group A clash here.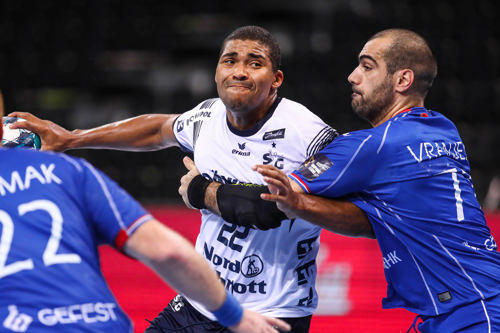 21:36
The second half is now underway in Zagreb, and it's your last chance to catch some EHF Champions League action before we wrap up for the night with the final whistle in this match! 
21:28
Goalkeeper Vladimir Cupara was among the key factors in Veszprém's impressive comeback win tonight. Enjoy one of his best moments below! And read how the match unfolded, with the help of journalist Björn Pazen, here.
21:23
HALF-TIME IN CROATIA
We go to the break with the score level. The Croatian side will be desperate to prevent the two points from leaving their arena, but will they be able to hold Motor off?
If Motor take the win, it will be their second consecutive away victory, which is no small feat considering their last one prior to ending the drought in round 6 came in November 2018 (vs HBC Nantes).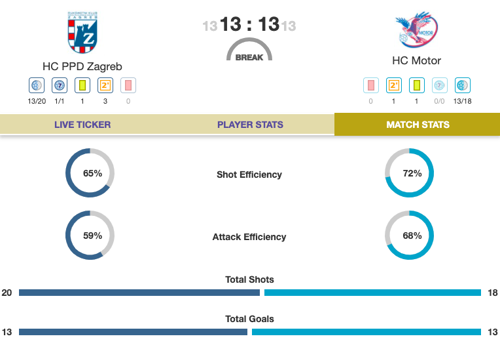 21:15
As we near half-time, Motor take the lead and Zagreb coach Vlado Sola is forced to call a timeout. Just under four minutes for the home team to prevent their visitors from slipping away...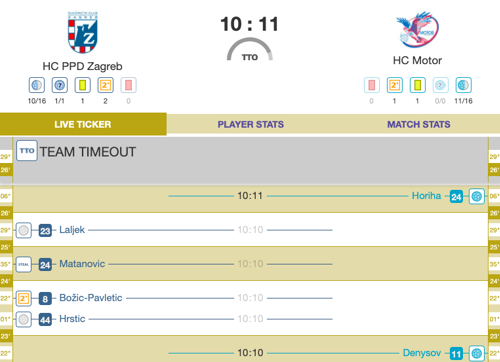 21:02
15 minutes in and Zagreb are still in front but watching their lead decrease, as Motor close the gap to 7:5.
It was a dream opening for the Croatian side though. Enjoy this earlier moment of brilliance from Matej Asanin! 
20:52
How did PSG turn the match in Porto around to take the two points away? Group A journalist Kevin Domas takes you through the victory here. 
And while you're focused on PSG's second win of the season, enjoy this great goal from Dylan Nahi as the French side made their second-half comeback. 
20:48
We are live with the opening minutes of Zagreb vs Motor, where the hosts have taken an early edge.
If you can't follow the match on EHFTV.com, keep track of the score and other statistics on the live ticker.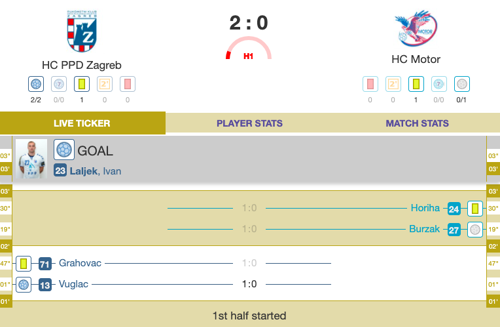 20:44
Flensburg prevented a loss in the dying seconds of their match vs Brest. Here's the goal that secured the draw!
20:41
Next up, at 20:45 CET, Zagreb and Motor are meeting for a critical points battle in group B. Zagreb have yet to earn any points this season, while Motor have two. Motor are sixth on the table, ahead of Zagreb in eighth. 
The overall head-to-head record between the sides is equal: Zagreb and Motor each won their two home matches in four previous duels in the EHF Champions League. Will the Croatian side finally end their wait for a victory on their home court tonight? 
Watch live on EHFTV.com.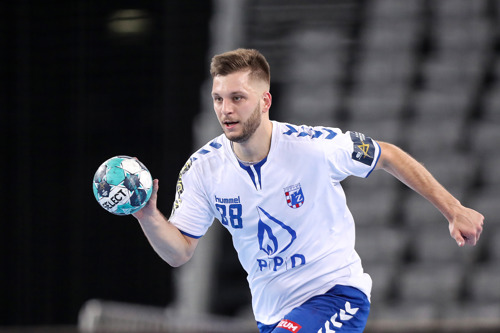 20:23
FULL-TIME IN GERMANY
After seeing the score board against them inside the last two minutes, Flensburg can only be thankful to keep a point in Germany, as they draw with Brest. 
20:20
FULL-TIME IN PORTUGAL 
Another remarkable turnaround from a visiting side sees PSG scoop the points vs Porto, earning what is their second win of the season.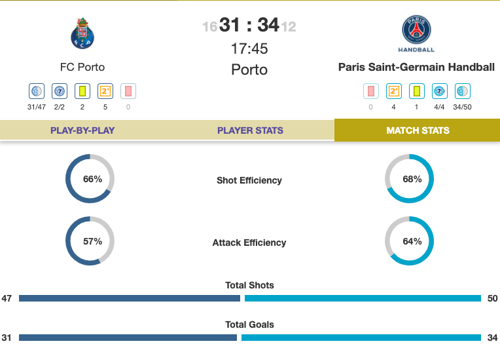 20:17
FULL-TIME IN DENMARK
From a half-time deficit to a comfortable victory! Veszprém will leave Denmark with another two points and temporarily take the lead on the group B table from Barça, who will play their round 7 game in the MOTW vs Kiel tomorrow.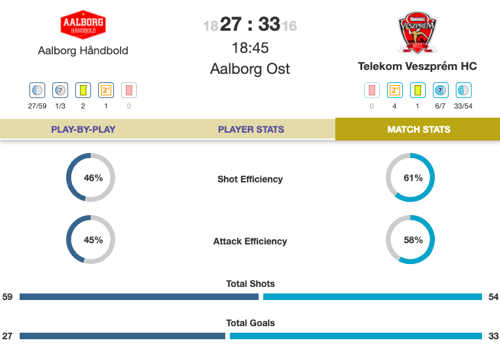 20:14
It's coming down to the wire in Flensburg, where the hosts have seen the lead snatched from them. Brest have the advantage at 28:27 with just over two minutes on the clock.
19:56
Flensburg are the only home side now holding onto their first-half advantage, but only just. The German team lead Brest 23:22 in minute 46. 
19:55
PSG also returned with a flurry of goals to start the second half, and have snatched the advantage over Porto. The score stands at 24:23 for the French side as we enter the final quarter of the match.
19:49
A beautiful first-half goal from Aalborg here to enjoy. 
However, the tables have since turned in Denmark. Veszprém have grabbed control thanks to a strong opening to the second half, leading 23:20 in the 42nd minute. 
19:40
Another fun fact coming from group B journalist Björn Pazen, concerning Veszprém's history against Danish clubs.
If Veszprém lose it is their third straight defeat in Denmark (both in 2017/18: 32:25 in Skjern, Last 16; 29:26 in Aalborg, group phase). If Veszprem win, it will be their first victory on Danish ground since 4 December 2016, when they won 29:24 at Bjerringrbo/Silkeborg.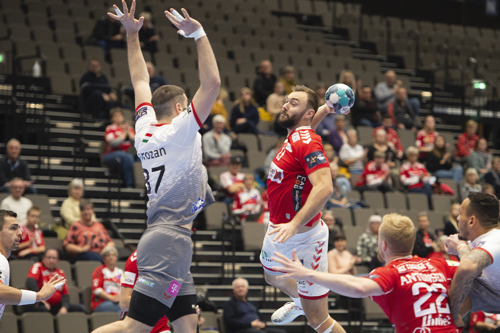 19:26
HALF-TIME IN GERMANY
After allowing Brest to level the game, Flensburg have taken charge again in time for the break, holding a two-goal edge.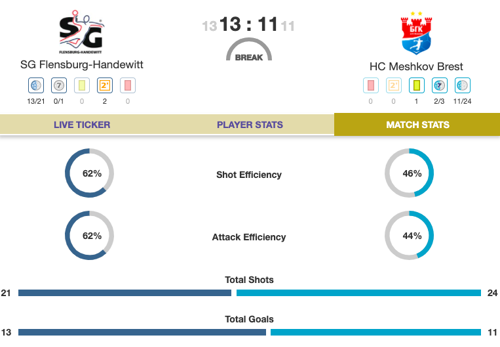 HALF-TIME IN DENMARK
Meanwhile in Aalborg, it's a very high-scoring clash, with Aalborg leading Veszprém by two goals as the teams hit the dressing rooms.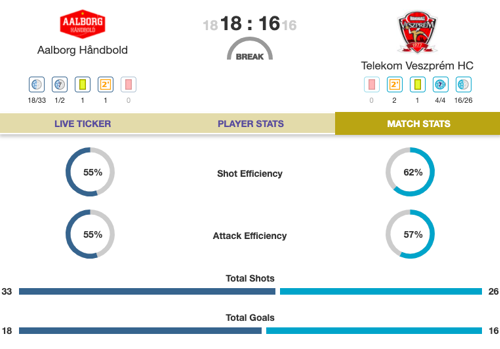 19:21
HALF-TIME IN PORTUGAL 
Porto hold steady in front, leading PSG 16:12 as we go to the break. Hansen tallied six goals in the first half, while Porto have counted on more of a shared effort to add to the score board. 
At the other end of the court, saves like this one from Alfredo Quintana have not hurt Porto's chances...
19:13
Flensburg's Norwegian internationals Magnus Joendal and Gøran Johannessen are leading their side with three goals apiece, but Brest have drawn level at 10:10 as we head into the last five minutes of the half. 
19:11
Mikkel Hansen has scored almost half (three) of PSG's goals as the French side struggle to decrease the gap vs Porto. The hosts are in front 11:7 in the 23rd minute. 
19:07
Our group B journalist Björm Pazen reminds us that Veszprém are without Rodrigo Corrales, Manuel Strlek, Kentin Mahe, Mate Lekai, Jorge Maqueda and Blaz Blagotinsek. 
However, the Hungarian side are still gaining on Aalborg. After trailing as clear as five goals, they're within one, 12:11, and the Danish team are forced to call a timeout. 
19:05
As we near the 20-minute mark, it's all about the home sides.
Aalborg have the upper hand vs Veszprém, Porto lead PSG and Flensburg have the advantage over Brest.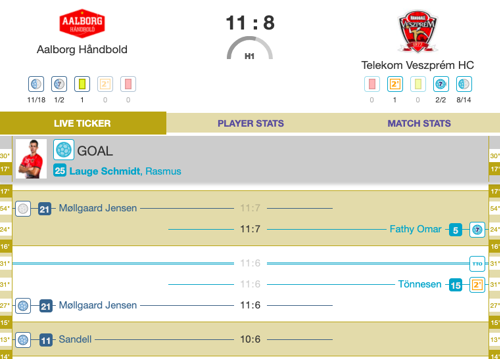 18:46
And we are now live with round 7!
Head to EHFTV.com now to watch. If you can't watch, then follow along on the live tickers: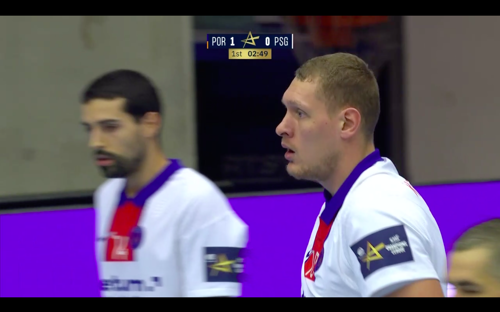 18:31
Just under 15 minutes until the starting whistle in Denmark, Germany and Portugal! Let's take a look at the points situation concerning these matches. 
In group A, Flensburg sit second with eight points ahead of their match vs Brest, who are fourth with six points. Porto are also on six points, but rank third on the table due to goal difference. PSG occupy sixth position, with two points from just one win so far. 
In group B, the opening match of the round sees a battle between the current second- and third-ranked sides, as Aalborg host Veszprém. The Hungarian team are just in front of Aalborg on the table, with nine points to Aalborg's eight. 
See all the group standings here, and read more key facts about these matches in the round preview.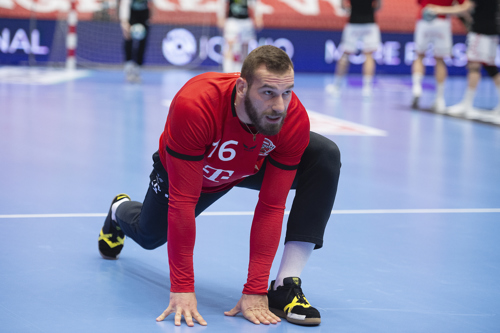 18:23
All but one team opening the round tonight featured on our updated power ranking, published this week. Barça took first spot, while Veszprém were the highest positioned of the teams in the upcoming 18:45 matches, grabbing second. 
Read the power ranking here. 
18:09
Courtney Gahan here to take you through the opening night of round 7! 
We are just over half an hour from the first matches, starting at 18:45 CET live on EHFTV.com: Porto vs PSG, Flensburg vs Brest and Aalborg vs Veszprém. 
12:51
The previous round in group B saw Veszprém hold on to their unbeaten record by the skin of their teeth in a thrilling draw against Kiel and are now in Denmark to face Aalborg.
Despite losing their last two matches, Aalborg will never be short of confidence and will fancy their chances in this encounter, which will see the winner go top of the group, for one night at least.
12:39
Everyone in group A has tasted defeat at some point this season, making for a surprisingly wide-open group and the clash between Flensburg vs Brest surprisingly more intriguing.
Brest have already scored three wins this season, almost matching their four victories from last season in half the time, while Flensburg can go top of the group with a victory today.
In their first match in 18 days, Flensburg coach Maik Machulla is calling on his players to defend with passion against their tricky opponents.
12:21
All of today's games offer up some really interesting narratives to sink your teeth into, perhaps none more so than Poto against PSG.
Although they are running the show in France, Paris have yet to really get going in Europe this season and they will not come by points too easily against Porto, who have been producing some entertaining handball, particularly in their two most recent draws against Vardar and Kielce.
12:00
Huzzah! The EHF Champions League Men is back in our lives after a couple of weeks away and now we are just a few hours away from another feast of top-flight handball.
Below you can see the full schedule for round 7, but here is what we have to look forward to this evening on EHFTV.
18:45 CET:
FC Porto (POR) vs Paris Saint-Germain HB (FRA)
SG Flensburg-Handewitt (GER) vs HC Meshkov Brest (BLR)
Aalborg Håndbold (DEN) v Telekom Veszprém HC (HUN)
20:45 CET:
HC PPD Zagreb (CRO) vs HC Motor (UKR)