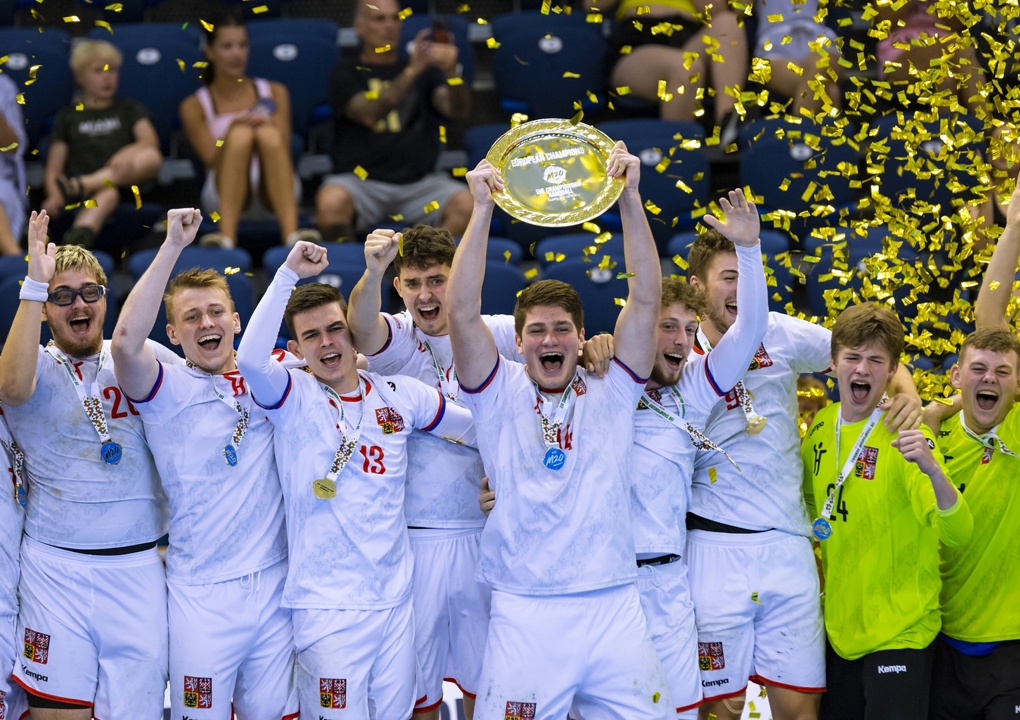 Czech Republic earn gold again in Varna
After finishing third at the Men's 19 EHF Championship in Bulgaria last year, the same generation of players for the Czech Republic clinched the gold medal at the first Men's 20 EHF Championship 2022 in Varna on Sunday.
Czech Republic also won the title when the event was last held, in 2018, and again in a final against neighbouring Austria: 32:26.
Netherlands, who were the runners-up at the M19 EHF Championship 2021 in Latvia, secured the bronze medal with their fast-paced game being no match for Finland, 42:32.
Czech Republic rode a five-game winning streak to clinch the gold medal, as they boasted the best attack in the competition with an average of 33.6 scored goals per game
with a strong start, as they led by as many as eight goals in the first half against Austria, the Czech Republic never looked back, clinching a six-goal win in the final against Austria, 32:26
right wing Pavel Bajer was nothing short of exceptional in the final, becoming the top scorer of the game against Austria with 10 goals
it was the second time Czech Republic won gold at the M20 EHF Championship against Austria, beating the same opponents 27:17 in the 2018 final
Georgia's Nikoloz Kalandadze had a superb tournament, scoring 76 goals on his way to secure the first place in the top goal scorers standings, followed by Slovakian duo Jakub Kravcák (63) and Tomas Smetanka (44)
the second Men's 20 EHF Championship 2022, with 11 teams at the start, takes place at the same venue in Varna and starts Saturday 16 July; tournament info available here










Czech Republic simply too strong
Four years ago, Czech Republic secured a 27:17 win against Austria in the final of the M20 EHF Championship 2018. While the development has been constant for the Czech Republic, they still failed to qualify for the M20 EHF EURO this year but came back roaring once again at the M20 EHF Championship, where they won against Finland, Latvia, Bulgaria and the Netherlands before the final against Austria.
Conceding the lowest number of goals per game and scoring the most in last week's tournament in Varna, Bulgaria, there was no question about Czech Republic's credentials, especially as they displayed great depth and a superb collective game.
On the other hand, Austria fell short once again exactly at the final, after riding a five-game winning streak, including a 34:28 win against Finland in the semi-final. The Netherlands, who lost two games – against the finalists – finished third, as they are continuously trying to develop their future.
Georgia's Nikoloz Kalandadze, the top scorer of the tournament, with 76 goals, boasting some superb skills for his team. He scored at least 11 goals in five of the six matches he played, with outstanding displays against Austria (18 goals) and Slovakia (15).
Men's 20 EHF Championship 2022 – event 1
Final standings:
Gold – Czech Republic
Silver – Austria
Bronze – Netherlands
4th – Finland
All-star Team awards:
Goalkeeper – Evan de Lange (NED)
Left wing – Benedikt Rudischer (AUT)
Left back – Lukas Morkovsky (CZE)
Centre back – Thomas Houtepen (NED)
Line player – Simeonov Bozhidar (BUL)
Right back – Jakub Rumian (CZE)
Right wing – Franko Lastro (AUT)
Best defender – Matej Havran (CZE)
Top scorer – Nikoloz Kalandadze (GEO), 76 goals
MVP – Nikoloz Kalandadze (GEO)