EHF European Cup
Historic achievement for Maccabi CASTRO Tel Aviv
Historic achievement for Maccabi CASTRO Tel Aviv
26 November 2016 was a special day for Israeli and European handball. On that date, Maccabi CASTRO Tel Aviv beat St. Petersburg HC 28:23 to overcome the Russian side on aggregate in the third qualification round of the EHF Cup after they had lost the first leg 25:23.
It was the first time that a handball club from Israel reached the group phase of the EHF Cup. For the Tel Aviv-based side and 2015/16 domestic champions, who only narrowly failed in qualification to the VELUX EHF Champions League, it was the biggest success in its history.
In the group phase, Tel Aviv face SC Magdeburg, KIF Kolding Kobenhavn and Grundfos Tatabanya KC in Group C.
"Let's be realistic. We have already achieved a historic result and playing the group phase will be a pleasure for us," says head coach Dragan Djukic who also trained Israel's national team in the past.
"Our opponents, the names of the clubs, their tradition, the quality of their players and huge international experience make us the underdogs.
"There is no any imperative for victory ahead of us, but the big desire to enjoy these fantastic matches and give a chance to the Israeli handball fans to see teams such as Magdeburg, Kolding and Tatabanya."
Maccabi will host their matches in the Shlomo Sixt Arena in Tel Aviv with a capacity of 2,800.
Furthermore, the club invests a lot in the development of its youth players. Djukic is one of three Serbian coaches the club signed to build a generation of players that is hoped to be as successful as the current one.
The club also runs a special social project in which Israeli Arab kids can train together with Jewish children.
"For me having reached the group phase means a lot because I'm proud of this generation of players who believed from the beginning that we can do it and worked hard to succeed," says Djukic.
"St. Petersburg was a great rival and beating such a team means that we can do even more, but we are still grounded and will continue to move forward step by step.
"Playing in the group phase of the EHF Cup will be a great experience for my team and the possibility for progress on the team and the individual level."
Due to the fact that in the past 20 years only three non-German clubs won the EHF Cup, Djukic expects another dominant season for Bundesliga participants, but he also has other teams on the list: "Besides my top favourites Füchse Berlin, French team Saint Raphael or the two Portuguese giants Porto and Benfica can make it."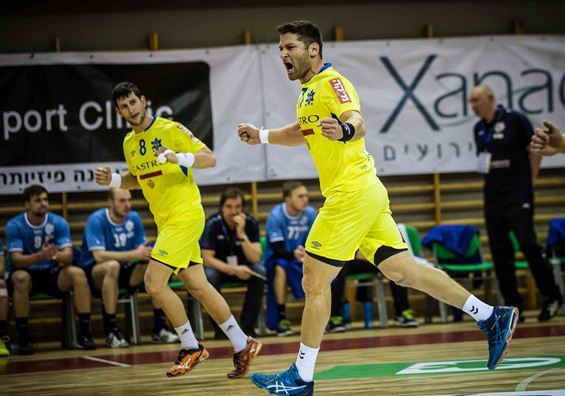 Maccabi CASTRO Tel Aviv (ISR)

Qualification for the 2016/2017 EHF Cup Group Phase: Round 3: 23:25, 28:23 against St. Petersburg HC (RUS)
Newcomers: Alexander Sychenko (S.C Ramat Hasharon), Nivo Levy (Oroshazi FKSE), Dan Tepper (Asa Tel Aviv), Srdjan Djordjevic (Hapoel Ramat Gan)
Left the club: Vladi Kofman (Maccabi Srugo Rishon Lezion), Milan Kosanovic, Eliran Matzki (H.C Nes Tziona)
Coach: Dragan Djukic (since May 2016)
Team captain: Omer Davda

Opponents in the group phase: SC Magdeburg, KIF Kolding Kobenhavn and Grundfos Tatabanya KC in Group C

EHF Champions League records
Qualification: 2016/17

Other EC records:
EHF Cup:
Qualification: 2014/15

Israeli champions: 2014, 2016
Israeli cup winners: 1964, 1965