EHF European Cup
Holstebro win their third title in four years
Holstebro win their third title in four years
Team Tvis Holstebro will go down in history as the team which won the last edition of the Women's Cup Winners' Cup before the tournament merges with the EHF Cup in the next season.
A week ago, the Danish side impressively came from behind to beat HC Lada Togliatti at home (31:27). And now, they won in Russia to celebrate their third European trophy for the last four years.

Women's Cup Winners' Cup Final, second leg
HC Lada Togliatti (RUS) vs. Team Tvis Holstebro (DEN) 25:30 (11:13)
First leg: 27:31
Aggregate score: 52:61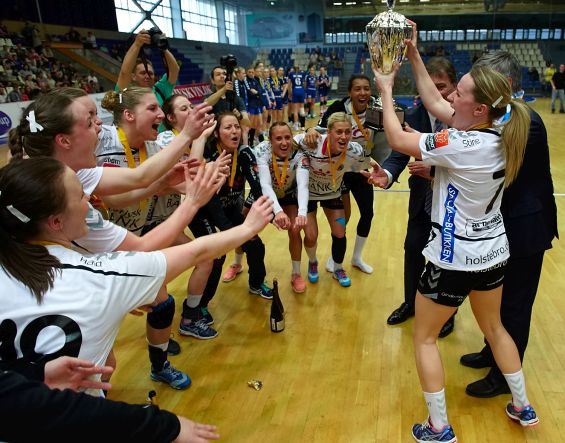 The Russian side had a reason to believe that their home court in Togliatti might be an important factor to help Lada winning the trophy. And in the first quarter of the game, their hopes seemed to be justified.
Supported by the local fans, the host team raced forward from the first seconds. Although Holstebro's goalkeeper Silje Solberg made some great saves, Lada's advantage was gradually growing. Exactly in the middle of the half, they were leading by four goals (9:5).
But the Danish side weathered the storm and then suddenly found an antidote against their opponents. Togliatti could not score for the next five and a half minutes, allowing Holstebro to take the lead 10:9.
Lada's head coach Levon Akopyan took a time-out but it did not help, and the guests were comfortably winning 13:11 at the half time.
Eight of the thirteen Holstebro's goals were scored by Nathalie Hagman. The unstoppable Swedish left back added five more after the break and became the top scorer of the tournament with 75 goals.
Early in the second half, Lada managed to draw level for a couple of times, but never did more than that. And as the time went by, the Danish team's advantage became more and more obvious.
Four minutes from time, they were leading by six goals (28:22) and comfortably went on to win 30:25.
In the past four years, Lada and Holstebro were alternating victories in the EHF Cup. While Lada won the title in even years (2012, 2014), the Denmark's side did the same in odd years (2013, 2015).
So now, already in the Cup Winners' Cup, the team coached by Pether Krautmeyer broke the tradition and won the third title in the last four years.