Media Releases
Jack & Jones prolongs deal with EHF Marketing for EHF Men's Champions League
Jack & Jones prolongs deal with EHF Marketing for EHF Men's Champions League
EHF Marketing GmbH, marketing arm of the European Handball Federation, presented a new partner, Jack & Jones, in 2009 September. The popular men's fashion brand was present all over European handball courts in the 2009/10 season of the continent's premium club competition, the EHF Men's Champions League, including the spectacular EHF FINAL4 event in Cologne.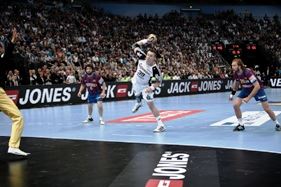 Following the analysis of a successful partnership period, the parties continued talks over cooperation for the upcoming season. EHF Marketing GmbH is now proud to announce the prolongation of the agreement.
The top brand Jack & Jones will gain even stronger presence at the games of the 2010/11 EHF Men's Champions League, the top product in club handball. The new deal will offer a variety of possibilities for the fashion company to reach and interact with the large European and global audience that follows the competition.
"We are very satisfied with this agreement," says Peter Vargo, EHF Marketing Managing Director. "The EHF Champions League has proved to be a highly professional and perfect European communication platform for our partners. Jack & Jones is a top European brand and fits perfectly into the range of prestigious partner companies that EHF Marketing will soon present to the market," he added.
Anders Gam, Manager for Jack & Jones said: "We are very pleased with the opportunities that the EHF Champions League and the EHF FINAL4 offer our company. Through these channels we were able to reach our target group very effectively and we are proud to be partners of an exceptionally high quality sports competition."
About Jack & Jones
Cool, casual, and confident are the key characteristics of the Jack & Jones universe where guys can push their lifestyle to the limits and live life to the fullest. Jack & Jones gives you the denim styles to match your laidback attitude by being the best jeans brand around.
In collaboration with the best jeans-makers in Italy, Jack & Jones creates jeans with a perfect fit with innovative treatments. This collaboration has helped Jack & Jones play a large role in a worldwide denim culture.
Jack & Jones was founded in 1989. Jack & Jones is part of Bestseller, a Danish family-owned clothing company founded in 1975.
The company has over 39,000 employees who design, develop and sell the brands of Bestseller in Europe, the Middle East, China and Canada.
About EHF Marketing GmbH
EHF Marketing GmbH is the marketing arm and daughter company of the European Handball Federation. The agency works closely with marketing and media partners, as well as with Europe's leading clubs to realise the full potential of the sport on the international sports market. EHF Marketing GmbH is responsible for the marketing and media rights of the Men's and Women's EHF Champions League.
Contacts:

JJ Rowland
EHF Marketing
EHF FINAL4 Manager
rowland@ehfmarketing.com
Tel.: +43 1 801 51 218 Anders Gam

Jack & Jones
Manager
anders.gam@bestseller.com
Tel.: +45 99 42 33 07