EHF European Cup
Kuban want to deliver for Russia
Kuban want to deliver for Russia
For the traditionally strong Russian clubs, qualification for the Women's EHF Cup was extremely disappointing this season. While Handball Club Lada, Zvezda Zvenigorod and Astrakhanochka were all eliminated, Kuban became the only team from Russia to successfully qualify for the group phase.
Kuban were also on the brink of failure in Qualification Round 3 after a home loss to Mecalia Atletico Guardes (27:26), but they turned the tie around in the second leg in Spain (33:31) and squeezed into the group phase with a one-goal aggregate win.
Three EHF EURO silver medallists in squad
"We participate in the EHF Cup Group Phase for the third year in a row, and we are the only team in Europe who does it. It is very important for us because competing with the strongest teams is beneficial for our club," said Kuban's head coach Evgenii Trefilov.
The 63-year-old is also Russia's national coach – and the Russian team finished as runners-up at the Women's EHF EURO 2018 in France. Three Kuban players – Yaroslava Frolova, Antonina Skorobogatchenko and Ekaterina Barkalova – received EHF EURO silver medals.
Now the focus for those involved in the EHF EURO returns to the club competitions, including the EHF Cup. Two years ago, Kuban progressed from the group phase to the quarter-final, where they lost against SG BBM Bietigheim. However, last season the Russian side took third place in their group, finishing behind eventual EHF Cup winners SCM Craiova and Brest Bretagne Handball.
Seeking survival in "group of death"
Kuban are aiming to achieve more in the group phase this season where they will face Larvik HK, Viborg HK and E.S. Besancon Feminin in Group C.
"It is a group of death; each team can go through. Our rivals are very famous teams, but Larvik and Viborg are not the same as a few years ago as their former players are now spread all over Europe. We will fight for every point and want to go as far as possible," said Trefilov.
Trefilov does not see any big favourites in the whole competition. He said: "There are no teams of the Győr calibre in the EHF Cup – everyone can win the tournament. Last season, for example, we beat Craiova, who eventually won the title. But it will make the tournament even more interesting."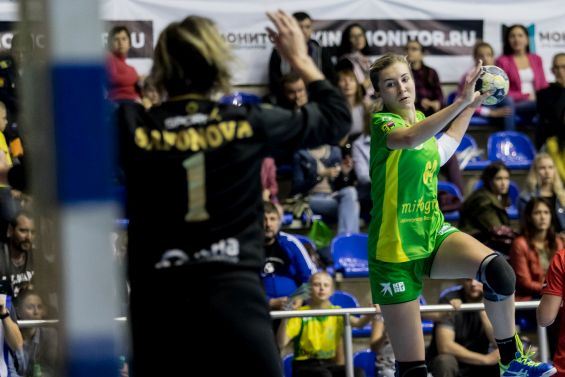 Kuban (RUS)
Qualification for the EHF Cup 2018/19 Group Phase:
Round 2: 54:42 aggregate win against BNTU-BelAZ Minsk Reg. (BLR)
Round 3: 59:58 aggregate win against Mecalia Atletico Guardes (SPA)

Newcomers: Olga Bashkirova (Rostov-Don), Ekaterina Levchina (Zvezda Zvenigorod), Mariia Dudina (Zvezda Zvenigorod)

Left the club: Liubov Arishina (retired), Ekaterina Fanina (SV Union Halle-Neustadt), Margarita Kushnir (AGU-Adiyif), Irina Mikhaylyuta (Handball Club Lada), Julia Nalivko (Ankara Yenimahalle BSK), Alina Sinelnikova (Zvezda Zvenigorod), Snezhana Makhneva (retired), Elizaveta Sobina (Stavropolie)

Coach: Evgenii Trefilov (since 2016)

Team captain: Iana Savinova

Opponents in the group phase: E.S Besancon Feminin, Viborg HK and Larvik HK in Group C

Women's EHF Champions League: N/A

Women's EHF Cup records:
Quarter-final (4): 2008/09, 2009/10, 2012/13, 2016/17
Last 16 (1): 2010/11
Group phase (1): 2017/18
Round 3 (2): 2002/03, 2007/08

Other European cup records:

Cup Winners' Cup:
Final (1): 1999/2000
Quarter-final (3): 1997/98, 1998/99, 2000/01
Round 4 (1): 2005/06
Round 3 (2): 2004/05, 2014/15

City Cup:
Semi-final (1): 1995/96
Quarter-final (1): 1996/97

Russian league: 2 titles (1989, 1992)
Russian cup: 1 title (1988)
Read about the other Group C clubs featured in the Women's EHF Cup countdown series here:
#4 E.S Besancon Feminin
#8 Larvik HK
#9 Viborg HK