Media Releases
LCD technology arrives in the VELUX EHF Champions League
LCD technology arrives in the VELUX EHF Champions League
Following trials during the 2010/11 season, including the high point – the VELUX EHF FINAL4 in Cologne – the newly developed Sharp LCD Perimeter Advertising System was used in the opening matches of the VELUX EHF Champions League 2011/12 Group Phase across Europe from 29 September to 2 October.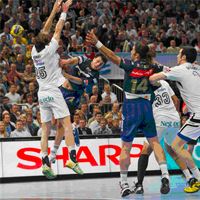 The Sharp LCD Perimeter Advertising System is the very first LCD advertising system to be used in the indoor sports market. Using moiré free, television-quality pictures, the new system transports messages and campaigns of the VELUX EHF Champions League partners and sponsors through eye-catching advertising animations and will be seen at the vast majority of the matches in the VELUX EHF Champions League this season.
Commenting on the successful implementation of the system, Peter Vargo, Managing Director of EHF Marketing GmbH, said: "We are delighted with how the opening weekend of the season went.
"Naturally, there were a few initial teething problems, with the logistics of 11 matches in just a few days across Europe proving a major challenge, but the initial feedback from clubs and our partners has been extremely positive.
"We've already analysed the TV broadcasts and are very pleased with the advertising picture. The LCD System allows us to present our partners and sponsors as we have never been able to in the past.
"This is a major step forward for the competition and offers our partners a much better platform on which to promote their brands."
Maximilian Huber, Managing Director of Sharp Electronics (Europe), said: "This new LCD technology opens up a whole new world of advertising opportunities for brands in the indoor sports market. The success of last season's trials and the first matches of the new season underline the huge potential for this product."
About Sharp Electronics (Europe) GmbH

Sharp Electronics (Europe) GmbH, with its head office in Hamburg, is a subsidiary of Sharp Corporation in Osaka, Japan. Since 1968, the company has been the control centre for the European operations of the group and in this capacity manages the activities of Sharp in Germany and Austria. Sharp is one of the world's leading developers and manufacturers of LCD technology and digital core technologies, playing a key role in electronic product innovations for private and business use. Sharp Electronics Europe has set itself the goal of improving people's quality of life through the use of the latest technologies and by commitment to innovation, quality, value and design.
Additional information
For further information and complete specifications of the new Sharp LCD Perimeter Advertising System in ENGLISH and GERMAN view the following link: www.ehfmarketing.com/epaper/sharp_lcd_videobande/
Sports arenas, federations and clubs interested in finding out more about the Sharp LCD Perimeter Advertising System should contact Alex Gehrer at EHF Marketing GmbH for further details.
Contacts
Media
JJ Rowland
Head of Media and Communications
European Handball Federation
Tel: +43 1 80 151 167
rowland@eurohandball.com
Sharp
Andreas Biss
Project Manager Sharp Electronics (Europe)
Tel. +49 40 2376 2365
andreas.biss@sharp.eu
Project enquiries
Alex Gehrer
Head of Marketing
EHF Marketing GmbH
Tel: +43-1-80151-225
gehrer@ehfmarketing.com