Lima: "My biggest dream is to qualify for a major event"
Patrícia Lima is the brains of the Portuguese women's national team. The 26-year-old centre back guided Portugal safely through qualification phase 1 of the EHF EURO 2022 in June, with clear wins over Luxembourg, Cyprus, and Kosovo.
Lima contributed nine goals in those three games and was named player of the match after the win over Luxembourg. She impressed with her skills to organise the team's play, a result of her intelligent approach to the game.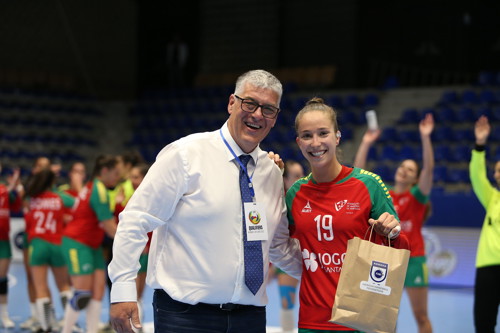 She will be a key factor for Portugal again when they open their EHF EURO 2022 qualifiers campaign in group 5 next week, when Hungary on 6 October and Spain four days later are the first opponents.

Currently playing for CB Atlético Guardés, Lima has always been a centre back since she started playing handball. She was encouraged from a young age to think about the game a lot.
"Being centre back in our national team is a pride, I have always considered this position a huge privilege – but the privilege also leads to an increased responsibility," Lima said.
"The training time that we all have together compared to what we have at the club is substantially reduced, but I am lucky enough to share the court for a long time with the vast majority of my teammates, something that makes my job much easier," she added.
Lima gained first international experience on club level with Portuguese side Colégio de Gaia, playing in the Challenge Cup and EHF Cup several seasons. The 2021/22 season marks her third year at Atlético, one of the EHF European League contenders this season.
"Playing in the Spanish championship for me is fantastic. It is a very competitive championship with very competent coaches," Lima said.
"All games are challenging as all teams prepare the games well. It is a championship in which the coaches study the opponents a lot, which requires continuous evolution and a constant adaptation of the style of play," she said.
In Portugal the support for young teams is growing and the younger players today benefit from backing that was unthinkable of a few years ago. All these dynamics can make the difference in a few years.
Lima's Spanish experience might come useful when Portugal host Spain for their EHF EURO 2022 qualifier in Parades on 10 October.
"Yes, the Spanish game is very characteristic and being part of it can be an advantage for me at the time of our game," Lima said.
"However, in the same way that I have some knowledge about the Spanish team, they also have it about me. It will be a duel of strategy."
Besides Hungary and Spain, the third opponent for Portugal in group 5 is Slovakia.
"The biggest goal of the Portuguese team is to be competitive in all games. Despite Portugal not being favourites, we want to play every game at full throttle from the first to the last second."

Lima herself is an example of the growing number of Portuguese players ready to leave the domestic league and play for teams abroad in stronger competitions.
"The evolution of Portuguese women's handball is basically due to the fact that more and more players are looking to leave the country to become handball professionals," Lima said.
But also within Portugal things are changing.
"In Portugal people work better and better at training now," Lima said. "The support for young teams is growing and the younger players today benefit from backing that was unthinkable of a few years ago. All these dynamics can make the difference in a few years."
While Lima still has many dreams in her career, like playing in the DELO EHF Champions League one day, one wish stands out.
"Without a doubt, the biggest dream I have is to qualify with the national team for a great competition, whether it is a World Championship or an EHF EURO," Lima said.
So far, Portugal have featured at a major tournament only once _ at the EHF EURO 2008 in North Macedonia, where they finished 16th and last.
That, however, only happened after a miraculous escape in qualification.
Portugal looked down and out after losing the first leg of the play-offs in Poland by nine goals (37:28), but somehow managed to turn the tide by winning the return leg at home by an 11-goal margin: 35:24.
Lima certainly wouldn't mind if Portugal could create such upset again in the upcoming qualifiers.